When it comes to insulating your home, you have several material options to choose from.
Here we will break down the history of insulation, what home insulation is best, as well as a deeper look at each type of material.

When was Home Insulation Invented?
When I was a kid I grew up in a farmhouse that was built in the late 1860s.
During renovations, we had to tear down some drywall and what we found in the walls was kind of unexpected. It wasn't the fiberglass or cellulose you might find in more modern walls, but old newspapers, photos, hay, nails, coffee cans, and a few dolls.
Not really insulation, but the thought was to fill the walls with something. We have insulated houses in the Detroit-area that were built in the mid to late 1800s and found nothing but horsehair in the walls.
It wasn't until the late 1930s that fiberglass insulation was invented by the Owens Corning Company and installed in homes.
Cellulose is actually one of the earliest types of insulation, but it didn't become a popular choice for homes until the 1950s.
Both fiberglass and cellulose are what are most commonly found in homes built between 1950 and 1980.
Foam insulation first hit the scene in the 1970s as an alternative to fiberglass or cellulose. It was a material that was easier to use in home construction because of its expanding capabilities. Foam took off as an insulation material commonly used over the past 20 years.
Since its introduction, foam insulation has been improved over the years and is now a top choice for savvy homeowners and builders because of its superior benefits.
What Home Insulation is Best? Fiberglass vs Cellulose vs Foam
Making the decision to add insulation to your home is pretty important, as your choice should be based on your needs.
The most common insulation materials found in existing homes are fiberglass, cellulose, and foam. In this section, we'll break down what each insulation material is, where it's installed, pros and cons, and cost.
Fiberglass Insulation: What it is, Where it's Installed, Pros and Cons, and Cost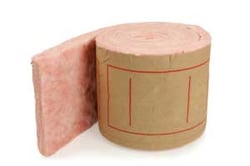 Fiberglass is an insulation material that is found in most homes. It is commonly used in two different forms – blankets, which are batts and rolls, and loose-fill. It is also available as rigid boards and duct insulation.
Manufacturers produce medium- and high-density fiberglass batts that have a slightly higher R-Value than standard batts, according to the U.S. DOE.
Fiberglass insulation can be installed in exposed wall cavities, floors and ceilings, attics, crawl spaces, and rim joists.
As an insulator, fiberglass slows the spread of heat, cold, and sound in structures. The material does this by trapping pockets of air, keeping rooms warm in the winter and cooler in the summer, according to the International Association of Certified Home Inspectors (InterNACHI).
Fiberglass batts are typically stapled into place. Most batts are made with a paper or foil backing that faces the direction of where warmth is coming from.
When installed correctly, fiberglass can create a barrier that will slow the passage of moisture but doesn't stop it or air movement completely.
Fiberglass insulation has its own set of benefits and problems you should consider before buying it for your home.
Pros:
Cons:
Small particles that come into contact with skin will lodge in pores, causing rashes, irritation, and itchiness.

Still allows for airflow, which is a major source of high energy bills and uncomfortable rooms.

When inhaled, particles can cause nosebleeds, coughing, and other respiratory ailments.

When it is disturbed, fiberglass insulation releases particulates into the air which may be inhaled by those who are installing it or removing it.

If you have to disturb the fiberglass, you must wear gloves, goggles, and make sure you are covered from head-to-toe.

Fiberglass can trap

allergens, dust

, and moisture which can lead to mold growth.
When it comes to the cost of fiberglass, the total price is determined by the size of the area that needs to be insulated, the labor needed, and the cost of installation supplies.
Since every home is different, we will use the average U.S. home size built in the 1970s of about 1,500-square-feet and Owens Corning fiberglass insulation, according to the Home Depot calculator.
Attic floor –

Using AttiCat Fiberglass Expanding Blown-In Insulation System the project would cost about $982. Using Unfaced Insulation Continuous Roll 15 inches by 25 feet will cost around $537.

Exterior walls –

Using EcoTouch Kraft Faced Insulation Batt 15 inches by 93 inches to insulate exterior walls would cost $346.

Crawl space ceiling –

Using the Unfaced Insulation Batts 15 inches by 93 inches would cost roughly $448.

Basement ceiling –

Using the Unfaced Insulation Batts 15 inches by 93 inches would cost about $448.
These prices are just estimates for the insulation material for a 1,500-square-foot home. These prices don't include the cost of supplies like fasteners, tape measure, utility knife, dust mask, safety glasses, work gloves, and a straight edge. If a contractor is hired to do the job, there are additional labor charges.
Cellulose Insulation: What it is, Where it's Installed, Pros and Cons, and Cost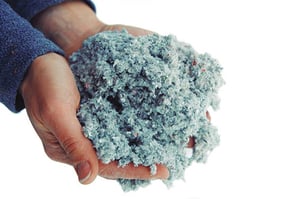 Cellulose is the oldest form of home insulation. It can be either loose-fill or blown-in insulation and used in either existing homes or new builds.
Typically, you will find cellulose in enclosed existing walls, open new walls, and unfinished attic floors. Several companies make cellulose insulation from recycled newsprint.
Cellulose insulation can be used in both existing homes and new construction. It can be blown into attic cavities as loose-fill, dense-packed into walls and floors, or wet sprayed for new construction. It helps increase heat retention and has the potential to dampen noise levels, according to the Energy Audit Blog.
Dense pack cellulose is used more commonly today for retrofitting existing homes. The dense packing into the wall cavities as thermal insulation while providing some level of sound dampening.
Wet spray cellulose has water added to it during the application process. The material has the same thermal and sound retardant properties as dense packing. Wet spray cellulose is almost always installed in new construction before the drywall is put up.
Cellulose insulation comes with its own pros and cons.
Pros:
Cellulose has more recycled material than any other commercially available insulation.

Cellulose doesn't use any greenhouse gases as propellants.

When blown into stud cavities, cellulose gets into most of the nooks and crannies.

Cellulose insulation is very inexpensive.

Boric acid, borax, or aluminum sulfate used in cellulose insulation provide resistance to mold, pests, and fire.

A machine can be rented at most home improvement stores to blow cellulose insulation into an attic, making it

a weekend DIY project for the experienced homeowner

.
Cons:
During the early 1970s retrofits, loose-fill cellulose was used for filling empty wall cavities. Due to blower machine limitations, the material compressed and settled leaving wide gaps in the wall cavities.

Modern cellulose settles up to 20 percent, which is problematic in relation to closed cavities causing the home to have high energy bills while being uncomfortable.

Cellulose must be kept dry as it absorbs up to 130 percent water by weight.

The material dries very slowly after absorbing water, causing it to deteriorate and settle as it dries.

After it absorbs the water, cellulose's chemical fire treatment is destroyed.

Dense-packed cellulose gets everywhere, spilling into the house through any openings in the wall cavity.

Homes with furnace duct systems can expect some of the cellulose dust to be recirculated through the house.

Cellulose weighs several times as much as fiberglass, which isn't an issue unless insulating an attic slope.
The cost to insulate the attic floor with cellulose varies depending on a few factors. Again, we will be using the cost of a 1,500-square-foot home.
Attic floor –

If you are using a 19-pound GreenFiber low dust cellulose blown-in insulation, it will cost about $276 and includes the free rental of the machine to blow the insulation in,

according to Home Depot.

If you decide to use cellulose batts made of denim instead, Home Depot charges around $1,887 for three pallets of 15-inches by 93-inches.
This is just a rough estimate of the cost for these materials from just one cellulose manufacturer. These prices don't include the cost of other supplies including masks, safety glasses, work gloves, a straight edge, tape measure, utility knife, or fasteners. The cost is higher if you decide to hire a professional insulation contractor.
Foam Insulation: What it is, Where it's Installed, Pros and Cons, and Cost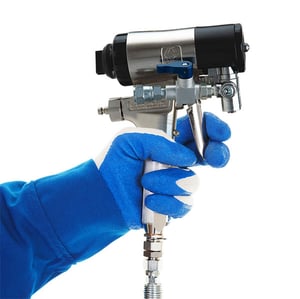 If you're considering foam insulation for your home, you have a few different options.
For your attic, crawl space, rim joist, and basement walls you will use spray foam insulation. Spray foam can be either open cell or closed cell, but in most cases open cell is used in homes while closed cell is better suited to pole barns with exposed walls. Spray foam can also be used in the open walls of a new build home.
RELATED: Open Cell vs Closed Cell Foam Insulation: Which is Better for My Home?
When it comes to enclosed exterior walls, you will be using injection foam insulation.
Spray foam insulation is an insulating material and air barrier that seals open walls, attics, crawl spaces, rim joists, and basements against air movement. This also includes areas around electrical outlets and light fixtures, and where the walls meet the windows and doors.
Unlike traditional insulation, spray foam doesn't lose its shape and fills all of the nooks and crannies, cracks, gaps, and crevices when it is installed. Open cell spray foam expands 100 times when it is sprayed into a cavity.
Injection foam is also an insulation and air barrier that seals enclosed cavities like existing walls against air movement. It never loses its shape in the cavity and also completely fills the cavity just like spray foam.
It's important to note that injection foam can be installed in your exterior walls from the outside. The process varies slightly depending on the type of siding your home has. Vinyl and aluminum siding can be removed and holes are drilled into the stud cavities.
If you have brick siding, a hole is drilled into the mortar in the stud cavity at the top, middle, and bottom. For wood siding, a hole is drilled right into the wood if the siding can't be removed. That hole is patched with a wooden plug.
Here are some of the pros and cons of spray foam insulation.
Pros:
Spray foam insulation doesn't retain water, so it also doesn't promote mold or mildew growth.

Spray foam creates an air barrier that will keep outside air from getting inside, which will reduce drafts throughout your home.

Open cell spray foam has great sound dampening qualities to make your home quieter.

When sprayed on the roof deck of a home, spray foam can help

stop the formation of ice dams

.
Cons:
Spray foam insulation is a more expensive option compared to traditional insulations.

If the material isn't installed properly air leakage is possible, which can lead to comfort issues as well as high energy bills.
Now let's look at the pros and cons of injection foam insulation.
Pros:
Injection foam does a better job at making a home more comfortable and energy-efficient when compared to traditional insulation.

Injection foam doesn't produce dust, like cellulose installed in exterior walls, so it is a cleaner choice and can help improve the indoor air quality of your home.

Foam insulation also keeps allergens and pollutants from entering the home.

Injection foam creates an air barrier that will stop cold walls and drafts.
Cons:
Injection foam insulation is a more expensive option when compared to cellulose.

If the contractor you hire doesn't specialize in foam insulation, the installers may not be properly trained leaving gaps and possible damage to the walls.
There are many factors that determine the cost of both spray and injection foam insulation. The biggest factor being the area of the home to be insulated.
The factors that determine the cost of spray foam insulation in a new build include the layout of the house, the pitch of the attic, and whether open cell or closed cell spray foam is used.
The same is true for an existing home, except injection foam would be used in the exterior walls.
The cost to insulate a new build home with spray foam that is 2,000- to 2,500-square-feet is between $10,000 and $13,000 from the top of the attic all the way down to the bottom of the basement. The price range for a smaller home around 1,000-square-feet would be between $5,000 and $7,000.
The cost to insulate an existing home with spray foam would cost between $7,000 and $21,000. This would include the attic, crawl space, and rim joist.
Finally, to insulate the existing exterior walls of your home would cost anywhere from $3,000 up to or exceeding $7,000.
Here are some related articles that talk in more detail about insulating a home with foam insulation.
How Much Does Spray Foam Insulation Cost in the Attic of an Existing Home?
How Much Does Insulating a Crawl Space with Spray Foam Cost in an Existing Home?
How Much Does it Cost to Insulate a Rim Joist with Spray Foam?
What is the Cost to Insulate Walls with Foam in an Existing Home?
How Much Does it Cost to Spray Foam a Basement?
Flash and Batt Insulation: What it is, Where it's Installed, Pros and Cons, and Cost
Flash and batt is spray foam insulation coupled with fiberglass batts.
It's a technique used by some insulation contractors where a flash of closed cell spray foam at 1- to 2-inches is applied in an effort to create an air seal and then puts fiberglass batts over it. It's typically done in exterior walls during a remodel, addition, or when building a new home.
The theory behind this technique is that the layer of closed cell spray foam gives the home an air seal and then the fiberglass adds the R-Value to get to the prescriptive code.
With most closed cell spray foam insulations, you need a minimum of 2-inches to create an air seal. There are some manufacturers that require up to 3-inches to create an air seal.
The 2-inches of closed cell is about an R-14 in the walls and the prescriptive code in Michigan for walls in new construction is R-21. The contractor adds the fiberglass just to hit the prescriptive mark and in an attempt to cut costs.
Although this method is one way to meet code and cut costs, there are problems with this model.
Let's look at the pros and cons of flash and batt insulation.
Pros:
Flash and batt is less expensive than other insulation options.

In theory, flash and batt meets prescriptive code for new construction walls.
Cons:
If less than 2-inches of closed cell is installed, an air seal isn't created, which defeats the purpose.

Fiberglass insulation retains moisture, which can lead to mold and mildew issues in the walls. This will happen if an air seal isn't created in the wall cavity. The warm air and cold air will meet in the cavity creating condensation.

If you create an air seal with 2-inches of closed cell, you don't need the added fiberglass because the performance method can be used to pass code.

A new build home shifts and settles, because closed cell is a rigid foam material it won't move with your home. This can lead to the material pulling away from the studs and allowing air into your home.
Now how about the cost?
Just like any other insulation project, the cost is determined by the size of the area that needs to be insulated.
The cost to insulate the wall cavities in a 2,000-square-foot home with flash and batt would be between one-third to half the cost of insulating the walls properly with spray foam alone.
Choosing the Best Home Insulation Based on Your Goals and Expectations
What it comes down to is choosing an insulation material that works for you.
To really make the best decision for your home, you should look at the pros and cons of each material and the goals you are looking to accomplish with your budget.
Paying to heat or cool your home can cost you a lot of money if your insulation isn't up for the challenge.
Just heating and cooling your home accounts for up to 50 to 70 percent of the energy used in the average home, according to the U.S. Department of Energy.
Reducing the air leakage in your home with insulation will make a difference in your heating and cooling bills.
Traditional insulation, like cellulose and fiberglass, are resistant to heat that is transferred through conduction. This means these materials aren't always more efficient. Fiberglass and cellulose tend to poorly protect against airflow, meaning they contribute to discomfort in your home, as well as energy loss.
Foam insulation is a better fit if your goals are to reduce air leakage and monthly energy bills as it creates both heat resistance and an air seal. It's also the best fit if you want to make your home more comfortable and you don't have to worry about frequent maintenance because it doesn't shift or settle over time.