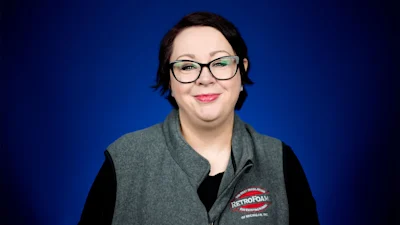 Are you considering new or updated insulation for your home and have questions about injection foam and how it works?
You have some basic ideas about house insulation, but you are looking for more answers specifically about injection foam.
RetroFoam of Michigan has been insulating homes with injection foam in Michigan's lower peninsula since 2000, and now the greater Toledo area.
We aren't like other insulation contractors, meaning that we don't do a little of this and a little of that. We specialize in foam insulation. With that comes our mission to educate every homeowner who is looking for answers on all things foam.
If you're looking to learn about injection foam, you're in the right place. In this article, we'll break down what injection foam is, how it works, what it's made of, and a whole lot more.
What is Injection Foam?
Injection foam is an insulation and air barrier that will seal enclosed cavities such as existing walls against air movement.
On the other hand, spray foam insulation can be used to insulate the open areas of the house including, the attic, crawl space, and rim joist.
Injection foam never loses its shape in the cavity, unlike conventional insulation materials like fiberglass and cellulose. Injection foam completely fills the cavity filling in cracks and gaps when it is installed. It doesn't settle, compress, or sag over time.
How Injection Foam Insulation Works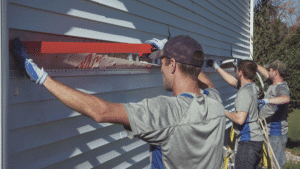 When heating or cooling your home, your insulation should keep the house's temperature consistent without the furnace or air conditioner working overtime.
This system keeps your energy bills down and maximizes your home's comfort.
When insulation works, it will impact the conduction (heat transfer) and the convection (airflow), which can both affect the comfort and energy efficiency of your home.
More traditional forms of insulation – fiberglass and cellulose – are resistant to heat that is transferred through conduction. During the winter months, that heat transfer is from the inside of your home to the outside and vice versa in the summer.
Airflow allows air movement in and out of your home through gaps in the walls, as well as the attic, crawl space, rim joist, doors, windows, and electrical outlets.
This air leakage contributes to a critical source of a home's energy loss. It also contributes to discomforts such as drafts coming through the walls, windows, and outlets.
To reduce this air leakage, foam insulation works best because it provides heat resistance and an air seal.
An added benefit of injection foam insulation is that it also has sound dampening qualities. This means it won't completely soundproof your home, but it can greatly reduce the sound transmission coming from outside.
What is Injection Foam Insulation Made of?
There are several manufacturers of injection foam insulation, but for the purpose of this article we will focus on RetroFoam injection foam.
RetroFoam is a three-part resin injection foam insulation designed to insulate enclosed cavities such as existing walls.
As the resin mixes with a foaming agent and water, it transforms into RetroFoam insulation. Looking much like shaving cream in its consistency, injection foam insulation will fill the nooks and crannies while making its way between wires and pipes when injected into existing walls.
The injection foam creates an air barrier that helps to prevent drafts and energy loss through existing exterior walls.
What is the Process of Installing Injection Foam Insulation?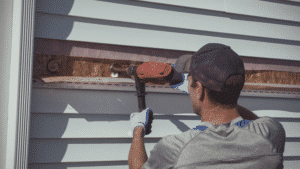 Injection foam can be installed into an enclosed cavity, such as existing walls with no need to tear down walls or waiting until you remodel. It can also be installed in concrete block walls to fill the cores.
Foam can be injected with existing walls without removing the outdated fiberglass insulation. If loose cellulose exists, the crews will remove as much of it as possible before injecting the foam insulation.
Exterior existing walls can be insulated with injection foam from the outside in most cases. There are rare instances when it is necessary for crews to insulate from inside the home.
The installation process can differ slightly depending on the type of siding your home has.
For homes that have aluminum or vinyl siding, a piece is removed from the side of the home, and a hole is drilled into each stud cavity. Foam is then injected into the holes.
A good contractor knows the cavity is completely filled by timing the cavity fill, methodical placement of the insertion holes, and with back-pressure on the insertion hole.
Once the cavity is full, the holes are plugged with Styrofoam plugs, and the siding is replaced.
For brick exteriors, small holes are drilled through the mortar joints between every stud to inject the foam insulation. When the cavities are full, the holes are re-mortared with a standard gray mortar and smoothed out.
Wood siding tends to be trickier. If the siding can be easily removed, the same process for aluminum and vinyl siding is followed. If the siding can't be removed, holes must be drilled through the wood siding and filled with wood plugs once the foam insulation has been injected.
How Does Injection Foam Insulation Affect a Home's Energy Cost?
Air that leaks through the home's envelope – the exterior walls, windows, and doors – is a waste of energy and increases a homeowner's monthly energy bills.
Creating a well-sealed envelope, coupled with the right amount of insulation, can make a significant difference in your heating and cooling bills, according to the U.S. Department of Energy.
Getting Started with Foam Fill Cavity Wall Insulation

Now that you've learned about injection foam insulation, you may have decided it is what is best for your home.
You can check out our budget calculator to give you a rough idea of the cost to insulate the exterior walls of your home.
Related Articles
Installing RetroFoam into Exterior Walls With Different Siding Types
Will Injection Foam Insulation Bow or Crack Drywall?
Injection Foam Insulation vs Spray Foam Insulation: What's the Difference?

About Amanda Ringler
Amanda previously has worked as a breaking news and crime reporter, TV news producer, and editor in Flint and Detroit. Throughout her career as a journalist, she has won several awards from The Society of Professional Journalists - Detroit Chapter and the Michigan Press Association. As part of the RetroFoam of Michigan family, Amanda uses her experience as a journalist to write content that will help educate homeowners on the benefits of foam insulation. When Amanda isn't writing, she's spending time with her husband and rescued huskies. She also loves knitting, making art, cooking, and hosting dinner and a movie night for friends and family.