carbon monoxide detector | health | home safety
Carbon monoxide is called "The Silent Killer" and with good reason.
cold house | energy efficiency | hot house
You can't win for losing when it comes to your home's comfort.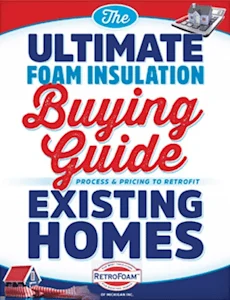 Have questions about insulating your existing home with foam? Our free educational guide compares home insulation types while answering the most frequently asked questions, including the process and pricing of foam insulation.
best michigan cities | buying home insulation
If you live in Michigan, you know that it has some of the most beautiful scenery on Earth.
Foam Insulation | injection foam insulation | spray foam insulation
When you're researching foam insulation for your home some of the terms might leave you scratching your head.
buying home insulation | cellulose insulation | fiberglass insulation | injection foam insulation | lifetime warranty | spray foam insulation
You have a lot of options when buying home insulation, so how do you compare the quotes you get from contractors.
energy efficient home | new home construction
You're building the house of your dreams that you and your family will love and cherish for the years to come.
energy efficient home | hydroelectricity | renewable energy | solar energy | wind power
You want to lower your carbon footprint and one of the ways you've decided to do it is through renewable energy.
Energy Saving Tips | Energy bill savings | energy efficient home
It's a moment you fear every month – opening your monthly energy bill.
diy spray foam insulation | electrical wiring | foam insulation cost | michigan insulation code | sound deadening
When you buy a product, you have certain expectations of how it should work but sometimes your expectations aren't reality.
Make-A-Wish Michigan | Wish-A-MIle
It was more than 93 degrees in the shade and the terrain was anything but friendly, but that didn't stop Team RetroFoam from finishing their ride on Sunday, July 28.