drafts | energy bills | high energy bills | preparing for winter | winter
Like any budding relationship, you and your new house are just getting to know each other.
R-Value | air seal | conduction | convection | spray foam insulation
It's an easy thing to find if you're talking about a tradition insulation material, but what is the R-Value for spray foam?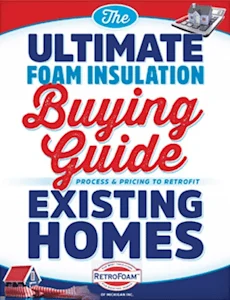 Have questions about insulating your existing home with foam? Our free educational guide compares home insulation types while answering the most frequently asked questions, including the process and pricing of foam insulation.
garage insulation | preparing for winter | winter | winter energy savings
You get your home ready for winter, so why neglect your garage?
drywall | drywall repair | injection foam insulation
All you wanted was a warmer home and now you're looking at drywall that has seen better days.
Crawl space | crawl space spray foam insulation
Creating an air seal in your crawl space is a great idea in the process of creating a comfortable home, but is spraying foam on the walls or ceiling more efficient?
ignition barrier | new build home insulation | thermal barrier
In the process of building your new home, you might hit some hiccups when dealing with passing code with spray foam insulation.
R-Value | air seal | conduction | convection | michigan insulation code
One of the greatest mysteries in home insulation is what does R-Value mean?
If you're looking for a material for home insulation that is a natural and renewable resource, cork is a great option.
winter | winter driving tips | winter safety tips
It's time to make the trek to grandma's house for the holidays, but are you as prepped as you should be for the winter driving conditions?
crawl space spray foam insulation | floor spray foam insulation
The floor of your home can be a source of comfort issues ranging from the obvious of cold floors to drafts in your home.