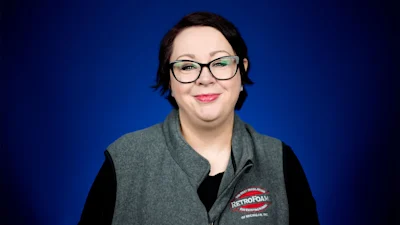 Sometimes you see an older home, and you just know you want to bring it back to its former glory.
That's what happened when Brenda Hobbs saw an old, dilapidated house in Arcadia, just two blocks from Lake Michigan.
"It has good bones and has some real potential," Brenda said of the home.
In December 2021, Brenda bought the house and got to work. For the past two years, she has been doing renovations. First, she added new windows, then foam insulation in the attic, walls, and rim joists. Next up will be replacing the siding.
Brenda has used foam insulation for other renovation projects but said the contractor she had used previously wasn't interested in helping with this house. That's when a television commercial changed the trajectory of Brenda's project.
A RetroFoam of Michigan commercial caught Brenda's attention, so she went to the website to request an estimate. She said she was really happy that not only did the office actually call her back quickly but that her project manager Joe Skelton walked through everything with her and explained what would be done and how it worked.
"It wasn't the cheap option, but they talked about the payback," she said. "The customer service really impressed me."
Brenda is retired from a management position, and one thing she has noticed in recent years is that customer service across the board is lacking. What impressed her about the RetroFoam of Michigan team is that they were very friendly and professional, and the crews came in with a purpose.
The first crew came to the house and removed all of the old insulation. Then, the installation crew finished the job.
"Two weeks later, another crew came out, and they were neat, they cleaned up after the job. It looked better than when they came," Brenda said. "They spoke very highly of the company and answered all of my questions."
This kind of customer service is what drove Brenda to work with RetroFoam of Michigan. The added bonus – the consumption of electricity and gas has gone down.
"[The house] was leaking air like a sieve. We put cardboard on the inside of the house with duct tape at the windows. We sealed up the house the best we could," She said. "When they put the foam in, we noticed a reduction in the sound. The consumption of gas and electric also went down substantially."
Breathe New Life into Your Old Home with Foam Insulation
Brenda knew she wanted a one-and-done insulation solution for her project and something that would make the home more energy efficient.
Foam insulation doesn't degrade, settle, shift, or break down over time like traditional materials do. It never has to be maintained or updated, as it will last for the structure's lifetime.
Between the product's longevity, overall professionalism, and lifetime warranty, Brenda said she would tell anyone to work with RetroFoam of Michigan.
"I have referred people to work with you guys," she said. "It goes back to the philosophy of the person doing the remodel – it's either pay now or pay later. I want it done right the first time."
You can request an estimate if you'd like to work with RetroFoam of Michigan by clicking here.
Related Articles
Historic Detroit Homes Restored with Help of RetroFoam of Michigan
How Betty Jo Reduced Her Consumers Energy Bill in Half
Monthly Energy Bills Savings from Foam Insulation 'Paid Itself Off' in Just 5 Years, according to Homeowner Jack Lash
About Amanda Ringler
Amanda previously has worked as a breaking news and crime reporter, TV news producer, and editor in Flint and Detroit. Throughout her career as a journalist, she has won several awards from The Society of Professional Journalists - Detroit Chapter and the Michigan Press Association. As part of the RetroFoam of Michigan family, Amanda uses her experience as a journalist to write content that will help educate homeowners on the benefits of foam insulation. When Amanda isn't writing, she's spending time with her husband and rescued huskies. She also loves knitting, making art, cooking, and hosting dinner and a movie night for friends and family.