attic insulation | energy savings | high energy bills
No one wants to deal with high monthly energy bills, so it makes sense to look at ways to cut them down.
Foam Insulation | drafts | energy savings | insulation
You're sitting in your home relaxing, catching up on the novel you're dying to read, when an all-too-common feeling overtakes you – the draft.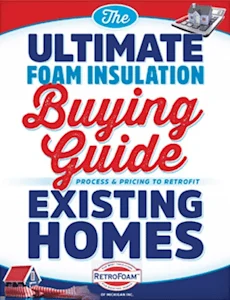 Have questions about insulating your existing home with foam? Our free educational guide compares home insulation types while answering the most frequently asked questions, including the process and pricing of foam insulation.
Consumers Energy | Foam insulation contractor | energy efficient home | energy savings
For the past five years, Consumers Energy has awarded RetroFoam of Michigan for our hard work to make homes more energy efficient.
energy savings | insulation | remodel
You're a homeowner that understands energy efficiency updates to your home will pay off in the long-run.
Home insulation cost | cellulose insulation | energy savings | fiberglass insulation | injection foam insulation | insulation | insulation cost | spray foam insulation
Traditional insulation may seem like the less expensive choice for your home, but did you know in the long run foam insulation ends up being cheaper?
FAQ | Foam Insulation | Video | energy bills savings | energy savings | monthly energy bills
Are you looking to lower your monthly energy bills and you've heard foam insulation is the way to go, but you have questions about the savings?
Crawl space | Smart Homeowner Tips | air seal | cold floors | crawl space insulation | energy savings | insulation
It's a great idea to insulate your crawl space with spray foam, it's going to bring many benefits like eliminating a lot of the drafts that can make your floor chilly and drive your energy bill up. Insulating the crawl space with foam completes the air seal which is the outermost layer of your home that stops heat flow. You want to make sure that you make the envelope right for your home when insulating a crawl space with spray foam. This is where a lot of heat can be lost and if it's cold that means your floor is cold too.
Holland | Holland Home Energy Retrofit Program | News | energy efficiency | energy savings
Along with the Holland On-Bill Loan Program, homeowners in the city of Holland will soon be getting an extra incentive to make major energy efficient improvements to their homes.