Having an uncomfortable home is already a problem homeowners don't want to deal with, but coupling that with astronomical energy bills makes it almost unbearable.
Case Study | RetroFoam Injection Foam | exterior wall insulation | injection foam insulation
Home is supposed to be a warm and welcoming place, but that wasn't the case for Steve Scherzer of Midland.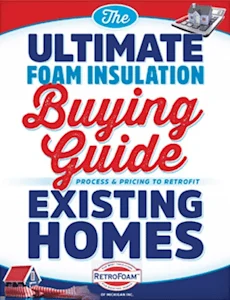 Have questions about insulating your existing home with foam? Our free educational guide compares home insulation types while answering the most frequently asked questions, including the process and pricing of foam insulation.
Case Study | Consumers Energy | customer story | injection foam insulation | spray foam insulation
For three years the Thrall family lived in their Jackson, Michigan home dealing with walls so cold it felt like they were outside. The furnace ran non-stop, gas bills were through the roof, and the Consumers Energy bill was about double the mortgage. The home would get so cold in the winter it was impossible for Betty Jo to even have plants.
Case Study | Foam Insulation | alma | farmhouse renovation
After purchasing a two story farmhouse in Alma, Michigan, Mike and Angie had a lot of renovations to complete before they could move in.
Case Study | air conditioner | exterior walls | summer
A lot can change to a property after 40 years.
Case Study | Wall Insulation | drafts
It's not fun when you feel a noticeable breeze coming from your bedroom walls.
Case Study | cold cups | cold walls | energy savings
A few months after moving into his newly purchased home in Flint, Dave soon noticed a few things he wasn't prepared for.