DIY | FAQ | spray foam on skin
You were finally confident enough in your handyman skills to try spray foam installation yourself, but things didn't go as well as you planned.
common wall insulation | exterior walls insulation | injection foam insulation
Those annoying drafts, uncomfortable rooms, and higher-than-you-care-for monthly energy bills have caused you to look into upgrading your exterior wall insulation.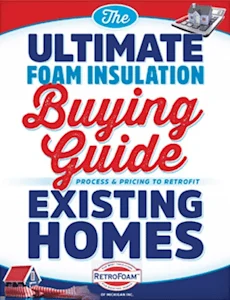 Have questions about insulating your existing home with foam? Our free educational guide compares home insulation types while answering the most frequently asked questions, including the process and pricing of foam insulation.
Energy Saving Tips | utility bills
How to cut utility bills is obvious in the winter, but in the summer not so much.
Foam Insulation | drafts | energy savings | insulation
You're sitting in your home relaxing, catching up on the novel you're dying to read, when an all-too-common feeling overtakes you – the draft.
What is a Michigan basement?
Insulation Contractor | spray foam insulation problems
You think you need some insulation updated or added to your home but the work is really dirty, time consuming and much more complicated than any DIY project you feel comfortable with.
allergens | fiberglass | foam insulation benefits | indoor air quality | insulation | moisture | mold | pollen | pollutants
Did you know the old, traditional insulation you have in your walls could be making you sick?
energy savings | insulation | remodel
You're a homeowner that understands energy efficiency updates to your home will pay off in the long-run.
Does your home get uncomfortable during the winter? Are your energy bills just outrageous? If you are living in a colder climate zone like Michigan, it is very likely you can relate.