energy efficiency | home insulation history | humidity | summer insulation problems
The snow has melted, birds are chirping, and the flowers are blooming, so that means only one thing – summer is right around the corner.
Foam Insulation | energy efficiency | existing home insulation | insulation tax credits
*Notice: There is a lot of confusion on this topic. As of the date of publication, it appeared the tax credit would be available to homeowners for 2018, whereas Congress only passed part of the bill. This is subject to change at any time, as this Bill is currently before Congress and could include home insulation. Please check with your tax preparer. Foam insulation already saves you money on your monthly energy bills and in some cases with rebates, but now you might even be eligible for a federal tax credit for insulation.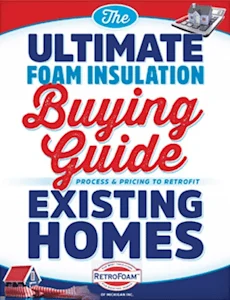 Have questions about insulating your existing home with foam? Our free educational guide compares home insulation types while answering the most frequently asked questions, including the process and pricing of foam insulation.
energy efficiency | injection foam insulation | older home insulation | spray foam insulation problems
In my job I talk to a lot of people each day, but there are just some people and projects that really stick with you.
air conditioner | energy efficiency | existing home insulation
Is your air conditioner running? Then you better catch it!
crawl space spray foam insulation | customer story | energy efficiency | existing home insulation | exterior walls insulation
Comfort isn't always the biggest problem in a home – sometimes it's when the monthly energy bills show up.
energy efficiency | energy efficient home | new home construction | new home insulation
Before you start designing the house of your dreams, you should consider ensuring your new home is energy efficient.
Holland | Holland Home Energy Retrofit Program | News | energy efficiency
A huge incentive is now in place to help City of Holland residents go green with extensive energy efficient home improvements!
Energy Saving Tips | energy efficiency | financing | michigan saves
We all have dream projects in mind to improve the energy efficiency of our homes.