Best crawl space insulation | News | crawl space fiberglass insulation | crawl space spray foam insulation | fiberglass insulation | insulation | spray foam insulation
You're tired of dealing with cold floors, so you're ready to do something about it, but you're not sure what is the best insulation for crawl spaces.
Foam Insulation | Home automation | News | Smart Homeowner Tips | Smart homes | Tax investment | energy star | generators
Do you have a check coming from Uncle Sam and you're coming up with a plan for the best way to invest your tax return?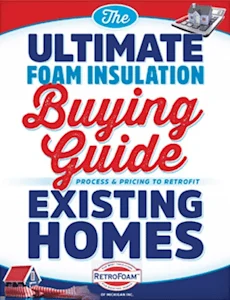 Have questions about insulating your existing home with foam? Our free educational guide compares home insulation types while answering the most frequently asked questions, including the process and pricing of foam insulation.
News | expos | home shows
If you're considering home improvements around your house, home shows are a great place to start.
News | mobile weather applications | weather
It's no secret the weather in Michigan tends to be a little fickle, so having the best weather app can help you plan your week.
Inside Look | News | injection foam insulation | retrofoam of michigan | spray foam insulation | wounded veterans
Two men are working on fixing up a Flint home to give wounded veterans a place to stay, and RetroFoam of Michigan was able to help make the house more energy efficient.
The staff from RetroFoam of Michigan, along with family and friends, will again come together for the second year to make a difference in the lives of children suffering from life-threatening conditions.