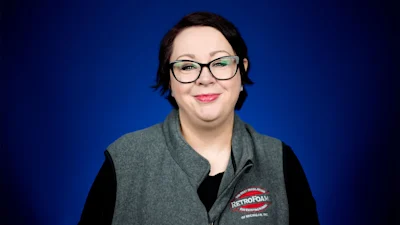 Making homes more energy-efficient and helping homeowners save money is our top priority here at RetroFoam of Michigan.
For the past eight years, we have been recognized for this work by one of the top energy providers in the state.
On Thursday, October 21, 2021, Consumers Energy held its annual Excellence in Energy Efficiency Banquet at the Henry Ford Museum of American Innovation in Dearborn. The banquet is held every year to acknowledge contractors who work with Consumers Energy in the utility company's established energy efficiency programs.
"Our team works diligently all year on saving our customers money on their energy usage," said RetroFoam of Michigan Controller Jennifer McFatridge. "We are honored for the recognition from our partners at Consumers Energy."
Throughout 2020, RetroFoam of Michigan performed more than 150 home performance installations. These completed jobs once again earned RetroFoam of Michigan entry into the elite Home Performance with Energy Star Century Club Award.
These home performance jobs are done to help make the home more energy-efficient, thus helping to save the homeowner money on their monthly energy bills.
Along with another year in the Century Club, RetroFoam of Michigan received the Continued Excellence award in the Home Performance with Energy Star category, as well as the Top Performing Contractor award in the Insulation and Windows category.
RetroFoam of Michigan was also recognized as a Gold Level Contractor during the banquet.
As another way to save homeowners money on energy costs, RetroFoam of Michigan got involved in filing paperwork for Consumers Energy customers to ensure they received rebates on their home performance projects. These projects are very specific and require proving the air seal created with foam insulation by doing a blower door test.
The blower door test measures the air exchange in a home. This helps to identify where the air is leaking into and out of the house.
If you'd like to read more about our work with Consumers Energy to make homes more energy-efficient, check out the Awards and Recognition page on our website. If you want to read up on foam insulation and how it works to make a home more comfortable and energy-efficient, check out the Learning Center.
Related Articles
RetroFoam of Michigan Recognized with Prestigious Century Award for Home Performance with Energy Star (2019)
RetroFoam of Michigan Receives Energy Efficiency Recognition Fifth Year in a Row (2018)
RetroFoam of Michigan Recognized for Energy Efficiency by Consumers Energy (2017)
RetroFoam of Michigan Recognized at Consumers Energy 2016 Excellence in Energy Efficiency Banquet (2016)
RetroFoam of Michigan Earns Excellence in Energy Efficiency Award by Consumers Energy (2015)
About Amanda Ringler
Amanda previously has worked as a breaking news and crime reporter, TV news producer, and editor in Flint and Detroit. Throughout her career as a journalist, she has won several awards from The Society of Professional Journalists - Detroit Chapter and the Michigan Press Association. As part of the RetroFoam of Michigan family, Amanda uses her experience as a journalist to write content that will help educate homeowners on the benefits of foam insulation. When Amanda isn't writing, she's spending time with her husband and rescued huskies. She also loves knitting, making art, cooking, and hosting dinner and a movie night for friends and family.