RetroFoam of Michigan Receives Energy Efficiency Recognition Fifth Year in a Row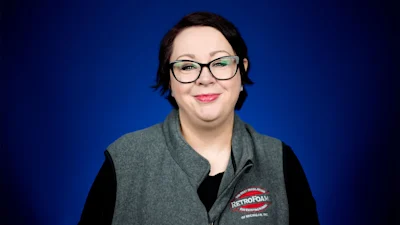 For the past five years, Consumers Energy has awarded RetroFoam of Michigan for our hard work to make homes more energy efficient.
On Thursday, May 3, the Consumers Energy Excellence in Energy Efficiency Banquet was held at the Michigan International Speedway in Brooklyn, Michigan. The annual banquet is held to acknowledge contractors across the state who participate in Consumers Energy's energy efficiency programs.
Raising the Bar Award in the Home Performance with Energy Star Award category and the Preferred Contractor Network – Outstanding Performance award in the Insulation and Windows Awards category were given to RetroFoam of Michigan.
The Raising the Bar Award was given to RetroFoam of Michigan because we had around 67 home performance insulation jobs that got homeowners more than $40,000 in customer rebates from Consumers Energy. RetroFoam of Michigan also went from silver up to gold status and completed energy efficiency courses to continue our education and to improve our business knowledge.
RetroFoam of Michigan also received the Preferred Contractor Network – Outstanding Performance award due to our high customer satisfaction ratings with Consumers Energy customers. We fill out the rebate applications for the customer, providing a good experience for the homeowner.
In 2017, RetroFoam of Michigan took home two major awards at the banquet – New Contractor of the Year in the Home Performance Category and Top Performing Contractor.
Consumers Energy is Michigan's largest utility, providing natural gas and electricity to residents in all 68 lower peninsula counties. If you'd like to learn more about the variety of energy efficient programs offered by Consumers Energy, check out the utility's website.
Related Articles
RetroFoam of Michigan Recognized at Consumers Energy 2016 Excellence in Energy Efficiency Banquet
RetroFoam of Michigan Earns Excellence in Energy Efficiency Award by Consumers Energy
About Amanda Ringler
Amanda previously has worked as a breaking news and crime reporter, TV news producer, and editor in Flint and Detroit. Throughout her career as a journalist, she has won several awards from The Society of Professional Journalists - Detroit Chapter and the Michigan Press Association. As part of the RetroFoam of Michigan family, Amanda uses her experience as a journalist to write content that will help educate homeowners on the benefits of foam insulation. When Amanda isn't writing, she's spending time with her husband and rescued huskies. She also loves knitting, making art, cooking, and hosting dinner and a movie night for friends and family.