RetroFoam of Michigan Recognized for Energy Efficiency by Consumers Energy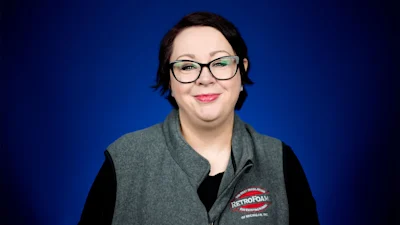 For the fourth straight year, RetroFoam of Michigan received awards from Consumers Energy due to their work to make homes more energy efficient.
The Consumers Energy Excellence in Energy Efficiency 2017 Awards Banquet was held on Thursday, June 1 at Spartan Stadium in Lansing. The banquet is held each year to acknowledge contractors across Michigan who participate in energy efficiency programs through Consumers Energy.
This year RetroFoam of Michigan took home two major awards for their efforts in making customers' homes more energy efficient and getting them the most rebates.
"We appreciate the work that RetroFoam and other Michigan businesses are doing every day to deliver energy efficiency savings that help power our state's economy," said Tim Sparks, Consumers Energy's vice president of energy supply operations. "By collaborating with RetroFoam, we are able to build on the $1 billion in customer savings that our energy efficiency programs have delivered since 2009."
In the Home Performance with Energy Star Award category, RetroFoam of Michigan won New Contractor of the Year. RetroFoam of Michigan received the award based on having the highest number of jobs at 45 with the highest amount of rebates at $34,000.
RetroFoam of Michigan made it to the top 10 list of contractors in application submissions in the Home Performance with Energy Star category and only started the program in July 2016.
The next award category was Insulation & Windows Awards where RetroFoam of Michigan won the Top Performing Contractor – Insulation. This award is given to the insulation contractor that has some of the highest numbers for the amount of rebates given to customers, customer satisfaction, and flawless paperwork.
RetroFoam of Michigan has been participating in the Insulation and Windows program for several years. In 2016 they had the second highest number of applications submitted in the program.
In 2016, RetroFoam of Michigan was presented with the Excellence in Energy Efficiency Award for Highest Natural Gas Savings for all Windows and Insulation contractors in 2015. Previously RetroFoam of Michigan was awarded the leading contractor in Highest Energy Savings in 2013 and 2014.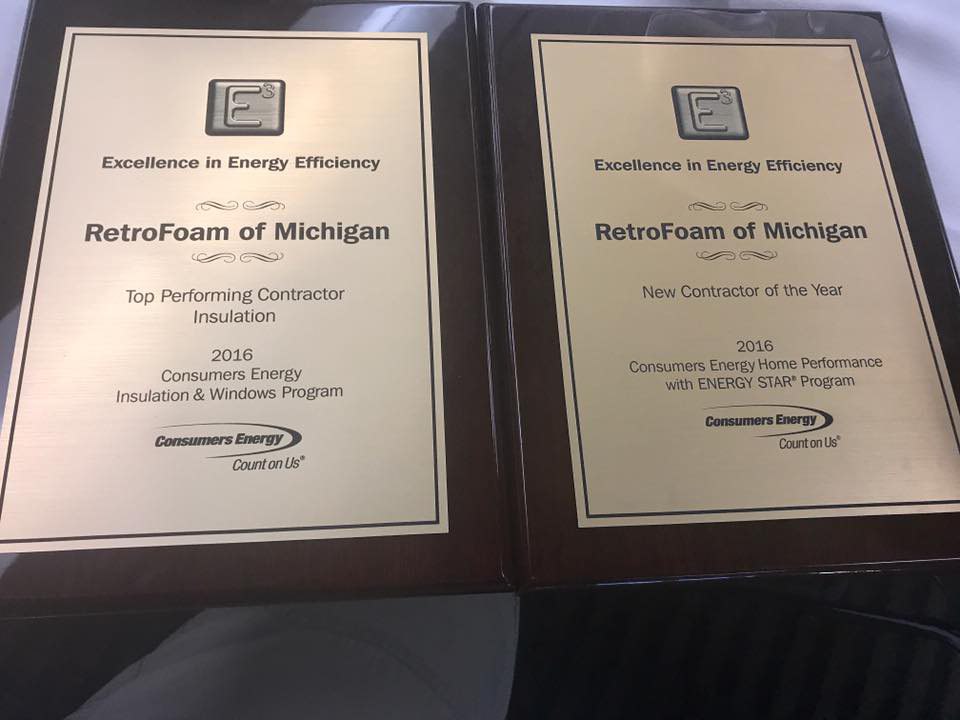 Other contractors presented with awards in the Home Performance with Energy Star category included:
Outstanding Customer Satisfaction
Ecotelligent Homes, LLC
Highest Average Energy Savings per Customer
Active Energy Engineering
Highest Energy Savings and Total Customer Rebates
Bel-Aire Heating and Air Conditioning
New Contractor of the Year
RetroFoam of Michigan
Continued Excellence
The Insulation Man
Raising the Bar
Blessing Company
Top Performing Contractor
Blanket Insulation
Winners in the Insulation & Windows Awards category included:
Highest Customer Satisfaction – Insulation
Attic Insulation and Ventilation Pros
Highest Customer Satisfaction – Windows
D&W Windows
Preferred Contractor Network – Outstanding Performance
Weathergard Window Company, Inc.
Top Performing Contractor – Insulation
RetroFoam of Michigan
Top Performing Contractor – Windows
1-800-HANSONS
Top Performing Contractor – Overall
Wallside Window Company
Consumers Energy also recognized several Michigan contractors for energy efficiency in New Home Construction and Heating, Cooling & Water Heating.
Consumers Energy is Michigan's largest utility, providing natural gas and electricity to 6.7 million of the state's 10 million residents in all 68 lower peninsula counties. To learn more about Consumers Energy's variety of energy efficiency programs, click here.
About Amanda Ringler
Amanda previously has worked as a breaking news and crime reporter, TV news producer, and editor in Flint and Detroit. Throughout her career as a journalist, she has won several awards from The Society of Professional Journalists - Detroit Chapter and the Michigan Press Association. As part of the RetroFoam of Michigan family, Amanda uses her experience as a journalist to write content that will help educate homeowners on the benefits of foam insulation. When Amanda isn't writing, she's spending time with her husband and rescued huskies. She also loves knitting, making art, cooking, and hosting dinner and a movie night for friends and family.