DIY | FAQ | spray foam on skin
You were finally confident enough in your handyman skills to try spray foam installation yourself, but things didn't go as well as you planned.
FAQ | Foam Insulation | Video | energy bills savings | energy savings | monthly energy bills
You're looking to lower your monthly energy bills, and you've heard foam insulation is the way to go, but you have questions about the savings?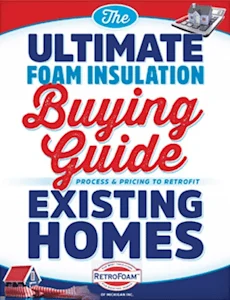 Have questions about insulating your existing home with foam? Our free educational guide compares home insulation types while answering the most frequently asked questions, including the process and pricing of foam insulation.
FAQ | attic | attic insulation | insulation | spray foam | unvented attic | vented attic
You're looking to re-insulate your attic with spray foam because you're tired of losing money right out through the roof, but there are just a few more things to consider.
FAQ | new home insulation | spray foam insulation
When you're planning to build your new home, you likely have a lot of questions about insulation, but where do you turn?
FAQ | pole barn spray foam insulation | spray foam insulation
If you do a lot of work in your pole barn, you need that space to be comfortable no matter what weather Mother Nature is throwing at you.
FAQ | home insulation | home insulation safety | injection foam insulation | spray foam insulation
While doing your research on insulation for your home, you are probably finding conflicting reports on the safety of foam insulation.