The Most Frequently Asked Questions and Answers About Spray Foam Insulation for Pole Barns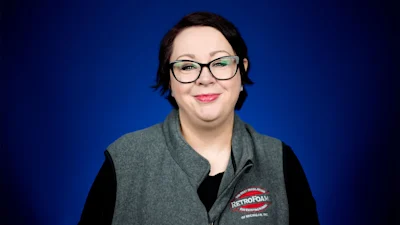 If you do a lot of work in your pole barn, you need that space to be comfortable no matter what weather Mother Nature is throwing at you.
Choosing the best insulation for your pole barn is important whether it's your man cave, second garage, or extra storage, because usually that is a space where you need to regulate the temperature and even the humidity.
Spray foam pole barn insulation not only creates the air seal you need to achieve those goals, but also reduces your monthly energy bills.
Top Spray Foam Insulation Pole Barn FAQs
RetroFoam of Michigan has been insulating pole barns across the lower peninsula for more than a decade. Our office staff, estimators, and crews get asked a lot of questions, so we have compiled the most common here to help you find the answers you need for your project.
How Does Spray Foam Insulation Compare in Price to Fiberglass?
While foam insulation is around two to three times more expensive than fiberglass, there's more to consider than the price tag.
Spray foam is more expensive, but the air seal it creates and the savings on monthly energy bills are just the tip of the iceberg. Not to mention the comfort factor when you're out working in your shop.
There are also things to consider about fiberglass.
Fiberglass doesn't create an air seal, which means it allows for air leakage. That is going to lead to higher monthly energy bills as you try to regulate the temperature in your pole barn. Another problem with fiberglass is it comes with a replacement cost. Fiberglass will settle after time, which means it will also lose its insulation capabilities and cost you money to replace it.
Spray foam insulation won't need to be replaced, will work to keep the temperature and humidity right where you want it, and will keep you comfortable and happy with lower monthly energy bills. Fiberglass can't regulate the temperature, and humidity, or keep moisture out of your pole barn like spray foam can.
What Type of Financing is Available for Insulating My Pole Barn?
Some customers opt to finance their pole barn insulation project.
Many contact their bank or credit union to find out what financing options are available to them. Others prefer to apply for traditional term loans financing through one of our partners. The approval process is quick and easy.
RELATED: How to Plan and Pay for Your Foam Insulation Cost
Is Open Cell or Closed Cell Spray Foam Insulation Better to Use in My Pole Barn?
It really depends on whether the walls of your pole barn will be exposed or covered.
If the walls of your pole barn will be exposed, closed cell is a better option. This is because closed cell is very dense, so it can take the occasional knock and bump of machinery and tools.
If your walls will be enclosed after the spray foam is applied, then open cell is the best option. Open cell is more pliable, helps dampen sound, and doesn't retain moisture.
When it comes to the roof deck, open cell is the best option because if you spring a leak, the material will let you know by letting the water move through it. Closed cell doesn't allow that to happen because of its denser composition.
RELATED: Open Cell vs Closed Cell Foam Insulation
How is Spray Foam Pole Barn Insulation Installed?
Before a pole barn can be insulated, any items in the building need to be moved to the middle of the structure before spray foam pole barn insulation can be installed.
Once the installation crew has ensured everything is out of the way, they will tape plastic over the windows and doors.
Next, they suit up and start spraying the walls and the ceiling. When finished the crew cleans up and does a final walkthrough with the owner before collecting the final payment.
RELATED: RetroFoam of Michigan's Process From Estimate to Install
How Long Does it Take to Insulate a Pole Barn?
The length of time it takes to insulate a pole barn with spray foam depends on the size of the structure.
A very large structure could take two days, or it could take two crews to complete the install in one day. A good contractor's goal will be to finish every project in one day when possible.
Can Just the Ceiling or Just the Walls of the Pole Barn be Insulated?
This is your project, so if you want just the walls done or just the ceiling, that is up to you.
It's important to note though that if you want to create an air seal in your pole barn, you'll have to eventually do both. Using spray foam for either the walls or the ceiling and trying to use a traditional insulation material for the rest of the structure won't give you the coverage you're looking for.
What is the Recommended Pole Barn Spray Foam Thickness?
Pole barn spray foam thickness really depends on which material is being used.
We usually recommend open cell spray foam to be 6- to 10-inches on a roof deck or ceiling and 3-inches on the walls.
Closed cell spray foam should be 4- to 5-inches on the ceiling or roof deck and 2- to 3-inches in the walls.
RELATED: How Thick Does Spray Foam Insulation Need to Be?
What is the Cost to Spray Foam a Pole Barn?
The biggest factor that determines the cost to insulate your pole barn is the size of the area to be insulated.
The next factor is if the contractor will be applying open cell or closed cell spray foam. There are differences between how the two perform, but they both create an air seal.
When it comes to the cost of the two, open cell is less expensive than closed cell.
RELATED: How Much Does Spray Foam Insulation Cost for a Pole Barn?
How Much is Your Minimum Charge?
All foam insulation contractors will have a minimum charge that can vary depending on several factors. Our minimum charge is between $1,600 to $2,000 depending on the project and the type of foam insulation used.
Is Spray Foam Insulation Free of Toxins and Harmful Chemicals?
Spray foam is safe to use in your pole barn.
Our spray foam is certified Gold Green and has minimal off-gassing. It is completely non-toxic. We've installed it in hospitals, fire stations, retirement homes, and public schools.
How Does Spray Foam Insulation Work for Sound Deadening?
Open cell spray foam is great for sound dampening.
While it won't soundproof your pole barn completely, it will help cut down on the noise coming from whatever you are working on. Open cell spray foam can reduce sound transmission by up to 80 percent.
Is Spray Foam Insulation Flammable?
If there was a fire in your pole barn, spray foam insulation won't promote the fire spreading.
Our foam insulations are Class 1 Fire Rated. If there were a fire, once the flame is removed the spray foam does not continue to burn.
Will Spray Foam Insulation Absorb Water?
The quick answer is no.
Open cell spray foam allows water to move right through it. This is great if for some reason your pole barn springs a leak.
Closed cell spray foam won't allow the water to pass through it, but it won't retain it either.
Can You Insulate the Pole Barn in the Winter?
Your pole barn can be insulated in any and all-weather conditions – even the winter.
Our estimators and crews are braving all weather conditions from downpours to snowstorms. The only time a scheduled installation would be rescheduled is if there is a weather-related state of emergency.
RELATED: Can You Spray Closed Cell Foam Insulation in Cold Weather?
Does Expanding Foam Stick to Metal?
Yes, it will.
We could spray foam upside down on to glass and it will stick. The only time foam has an issue sticking to metal is if there is a buildup of condensation. If that is the case, we can manually try to wipe down the surface or try to do a flash coat, which is just a thin layer to start.
Condensation issues are best to be avoided by regulating the temperature and humidity of the workspace.
Can My Overhead Door be Insulated with Spray Foam?
Absolutely.
Typically, the overhead door is insulated with closed cell because it can be done with a thinner coating. This is important because most overhead doors have to fold, and the thin layer allows it to do so.
It's important to note if your overhead motor can handle the additional weight.
Learn Even More About Pole Barn Spray Foam Insulation
If you want to continue your educational journey on the benefits of spray foam, check out the Learning Center on our website.
You can also learn even more specifically about your pole barn by downloading out Ultimate Foam Insulation Buying Guide for Pole Barns.
About Amanda Ringler
Amanda previously has worked as a breaking news and crime reporter, TV news producer, and editor in Flint and Detroit. Throughout her career as a journalist, she has won several awards from The Society of Professional Journalists - Detroit Chapter and the Michigan Press Association. As part of the RetroFoam of Michigan family, Amanda uses her experience as a journalist to write content that will help educate homeowners on the benefits of foam insulation. When Amanda isn't writing, she's spending time with her husband and rescued huskies. She also loves knitting, making art, cooking, and hosting dinner and a movie night for friends and family.