What is Closed Cell Spray Foam Insulation? What it's Made of, How it Works, & More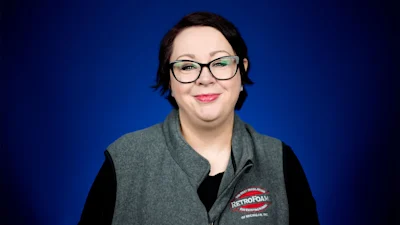 Are you in the process of deciding the type of spray foam you want to use as your new or updated insulation, but you need a little more information on closed cell spray foam?
Closed cell spray foam can be used in attics, crawl spaces, rim joists, pole barns, existing homes, vans, and new construction. While it can be used in these areas, it is more commonly used in pole barns, vans, and commercial buildings.
With more than 17 years of experience insulating homes across Michigan's lower peninsula, and the greater Toledo area, RetroFoam of Michigan knows the answers to your questions about closed cell foam insulation and its benefits as an insulation material.
In our continued efforts to educate people interested in foam insulation, we will talk about what closed cell spray foam is, how it works, and what it's made of, plus a whole lot more.
Now let's get started on this closed cell spray foam educational journey.
What is Closed Cell Spray Foam?
Closed cell spray polyurethane foam (SPF) is a low expanding, spray-applied plastic that forms an air seal wherever it is installed and is known to have a high R-Value.
Closed cell is commonly used in pole barns, vans, and commercial buildings. There are also instances where the durable makeup of closed cell is a good fit in new construction homes, attics, rim joists, and crawl spaces.
Spray foam insulation is known to resist heat transfer extremely well and offers an effective solution in reducing air infiltration. Reducing this air infiltration can help lower monthly energy bills and make for an energy-efficient space.
How Closed Cell Spray Foam Insulation Works
Closed cell spray foam insulation is more commonly used in pole barns, vans, and commercial buildings.
This is because it helps to maintain a constant temperature in the structure and creates an air seal.
The Federal Emergency Management Agency (FEMA) has classified closed cell spray foam insulation as highly resistant to floodwater and damage due to its ability to reject bulk water.
Closed cell spray foam insulation can help prevent moisture and condensation throughout the area where it is installed.
What Closed Cell Spray Foam Insulation Has to Offer
Closed cell spray foam insulation creates an air seal, but there are a lot more benefits to the material than just that.
Closed cell spray foam is durable, which means it can be left exposed, and it can take a beating.
Vans and tiny homes are a great fit for closed cell spray foam because of its lower expansion rate.
Closed cell doesn't retain water and also doesn't allow moisture to move through it.
Mold and mildew don't stand a chance in the insulation, as closed cell spray foam doesn't promote or sustain their growth.
What is the Difference Between Closed Cell and Open Cell Spray Foam Insulation?
There are two types of spray foam insulation offered here at RetroFoam of Michigan – closed and open cell spray foam.
Some contractors only offer either open or closed cell foam, as they are both effective air barriers and insulators. Either type may be better than the other for different applications, but it's always good to have options.
Closed cell spray foam is built tough. This rigid spray foam performs great in flood-prone areas since it can reject bulk water. It is also great for any project where you plan to leave the foam exposed because of its durability. Closed cell also provides an air seal and continuous insulation.
Open cell spray foam consistently outperforms traditional insulation like fiberglass and cellulose. The foam insulation provides high-performance thermal insulation and air sealing. Open cell foam insulation also has sound dampening qualities. This type of foam insulation also allows leaks to drain through, letting you identify those trouble spots sooner for repair. A safety feature with open cell is it typically uses water as its blowing agent.
What is Closed Cell Spray Foam Insulation Made of?
Closed cell spray foam insulation's main ingredients are chemical and water-blown. They also have organic chemical compounds derived from petroleum extracts.
The closed cell spray foam RetroFoam of Michigan offers is environmentally safe, Class One Fire Rated, and doesn't retain water. Spray foam insulation is made when:
Two liquid components (ISO and resin) are mixed together. The components are mixed at the site where the insulation will be installed. The two liquids come in different drums or containers and are usually referred to as container "A" and container "B."
The "A" container is usually made up of methylene diphenyl diisocyanate and polymeric methylene diphenyl diisocyanate.
The "B" container is typically a blend of polyols, catalysts, blowing agent, flame retardant, and surfactants.
The reaction of the "A" and "B" happens when the two are combined and, in a matter of seconds, expands to create the foam.
The foam then seals the gaps and forms a barrier wherever it is applied.
The "A" container and "B" container are both proprietary to each spray foam manufacturer. Most "A" barrels will share components, but each manufacturer will have its own proprietary blend.
What is the Process of Installing Closed Cell Spray Foam Insulation?
After receiving an estimate from a trusted contractor, you're ready for the installation to begin.
In most cases, RetroFoam of Michigan only installs closed cell spray foam insulation in pole barn walls that are left exposed, commercial buildings, and vans. There are rare instances where closed cell is the better option for certain areas of the home.
If the closed cell is installed in an existing structure where there is already traditional insulation, the fiberglass and cellulose will need to be removed first. In the case of a new build structure, pole barn, or commercial structure.
On the day of the installation, there is going to be some prep work that needs to be done before the foam is sprayed.
Anything in the area where the foam is supposed to be sprayed will need to be moved out or covered in plastic. The flooring, windows, doors, and other surfaces are also covered to ensure the foam doesn't get on them.
Once all of the prep work is done, crews will run a hose to the area to be insulated. They will then suit up and begin spraying the areas.
When they are finished, the crews clean up so that it looks just like it did before the work began.
Homeowners do have concerns about off-gassing and VOCs when it comes to closed cell spray foam. This all really comes down to the quality of the spray foam that is used. For example, the closed cell spray foam we install has low VOCs, or volatile organic compounds, meaning it does off-gas but not in large amounts. The re-occupancy time is also only around 2 hours, instead of the 24 hours some spray foams require.
How Does Closed Cell Spray Foam Insulation Affect Energy Cost?
Many homeowners are looking to make their homes more energy-efficient and perform year-round without straining the household budget.
Both open cell and closed cell spray foam insulation help to reduce heating and cooling expenses, making the home more energy-efficient, according to Icynene-Lapolla. An added benefit of closed cell spray foam is that it has a high R-Value.
Through its air sealing properties, closed cell spray foam insulation limits air leakage and maintains an even temperature throughout the structure.
Getting Started with a Free Estimate
Now that you have learned all there is to know about closed cell spray foam insulation, you may have decided to this the best insulation for your project.
If you live in Michigan's lower peninsula and are ready to schedule a free in-home estimate, give us a call at 866-900-3626, or fill out the form on our website. You can also check out our budget calculator to give you a rough idea of the cost to insulate your home or pole barn.
Related Articles
How Much Does Spray Foam Insulation Cost?
Open Cell vs Closed Cell Foam Insulation: Which is Better for My Home?
About Amanda Ringler
Amanda previously has worked as a breaking news and crime reporter, TV news producer, and editor in Flint and Detroit. Throughout her career as a journalist, she has won several awards from The Society of Professional Journalists - Detroit Chapter and the Michigan Press Association. As part of the RetroFoam of Michigan family, Amanda uses her experience as a journalist to write content that will help educate homeowners on the benefits of foam insulation. When Amanda isn't writing, she's spending time with her husband and rescued huskies. She also loves knitting, making art, cooking, and hosting dinner and a movie night for friends and family.