How Much Does Spray Foam Insulation Cost for a Pole Barn in 2024? (Prices/Rates/Factors)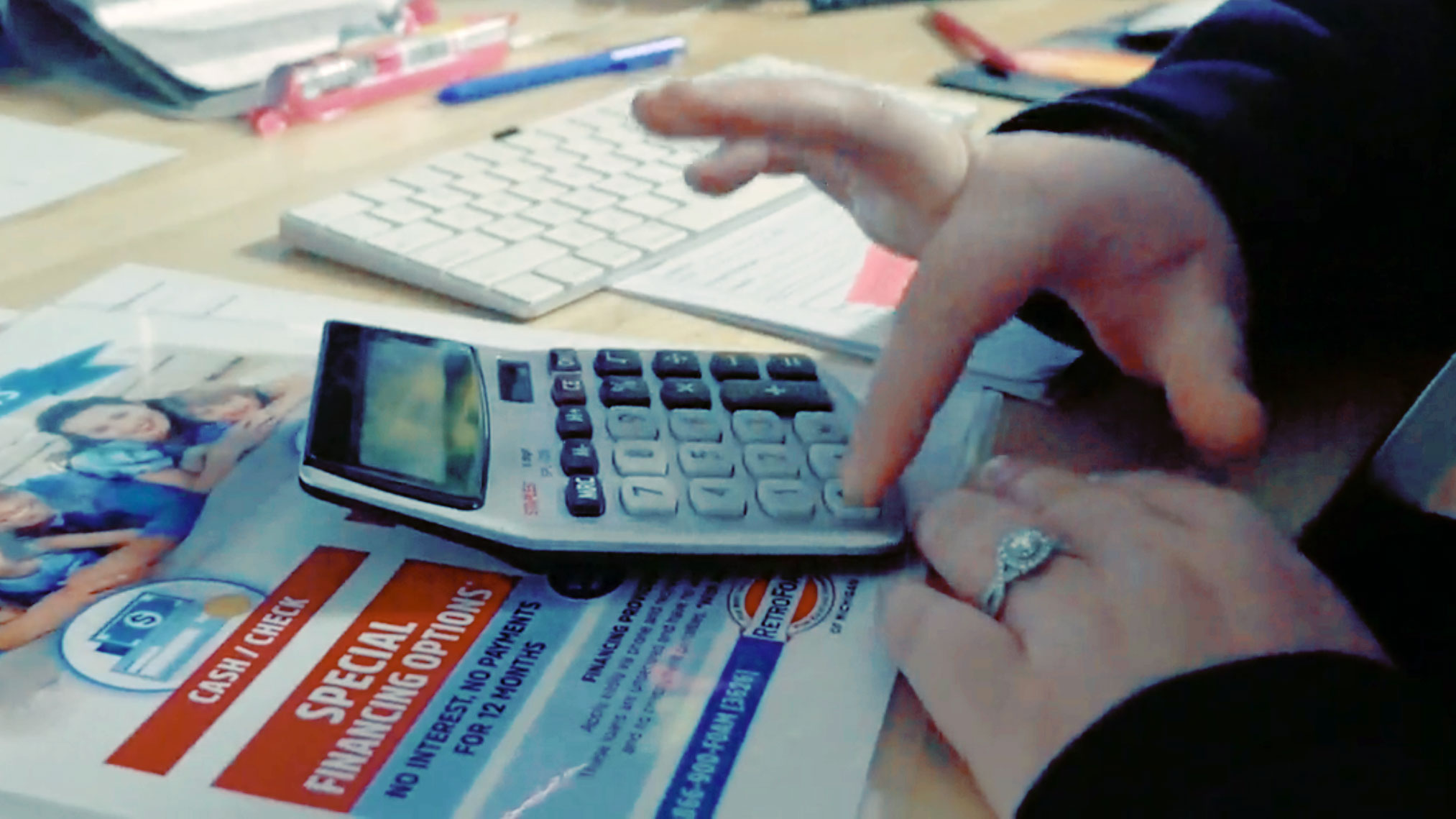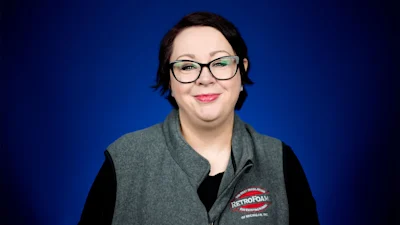 It's where you keep your muscle car, or maybe it's a workshop where you spend most of your time working. Either way, your pole barn is a space you need to keep comfortable.
With over 20 years of experience, RetroFoam of Michigan knows insulating your pole barn with spray foam will keep the structure weather-conditioned and will help regulate the temperatures inside.
Whether you use your pole barn for storage, a workshop, or running a business out of it, you need that space to be a comfortable workplace.
Spray Foam Insulation Cost for a Pole Barn
Pole barns come in various shapes and sizes, meaning the price range is very wide.
Pole barns run the gamut on size. Some pole barns could be a 10-foot by 20-foot structure that acts as a second garage, while others could be a 50-foot by 200-foot workshop or warehouse a person is running a business out of.
The projected cost to insulate a pole barn varies between $8,000 and $20,000 depending on the size of the structure and the area that needs to be insulated.
What Factors Determine Metal Building Spray Foam Insulation Cost?
The biggest factors in determining the cost of insulating a pole barn are the size of the area to be insulated and the material used.
Typically, contractors use spray foam to insulate a pole barn, but the decision must be made on whether to use open cell or closed cell spray insulation.
There are several differences between open cell and closed cell spray insulation, including the composition, blowing agent, sound-dampening capabilities, and moisture permeability. Spray foam insulation, regardless of the type, is going to create an air seal and insulate your pole barn.
On the walls of the pole barn, deciding what kind of spray foam to use is best determined by whether the area will be exposed or not. If the owner doesn't plan to cover the foam with drywall, then a good contractor would recommend the closed cell foam. This is because it is a much more durable material, so if it is run into by a forklift or hit with tools, it's not going to get damaged.
Open cell foam tends to be much more pliable and very soft, meaning it would have to be covered on the walls to avoid damage.
On the ceiling of the pole barn, a contractor usually recommends open cell because it can be applied thicker and easier at a lower cost to the customer. The open cell gives a really solid insulation on the lid of the building.
Why Spray Foam Insulation for a Metal Building or Pole Barn?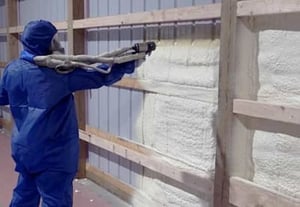 Most people insulate their pole barns to be more comfortable, regulate temperature, and cut down on noise.
If the pole barn is used for storage for a hot rod or a boat, because those are very expensive items, a person would want to make the space weather-conditioned and also have the ability to regulate the temperature. Insulation helps to keep the temperature in the pole barn regulated and allows for the control of humidity levels.
When the pole barn is used as a workshop where you do woodworking, metallurgy, or any kind of craftsmanship, you will want the space to be comfortable. The ability to regulate the temperature so that it is physically comfortable while you work is a must.
Finally, sound buffering is another factor, especially if the pole barn is near the house. Some customers use their pole barns as a shop and use big, loud machining tools. Insulating the pole barn can cut down on the amount of noise heard when you're up late working with the grinder.
Open cell spray foam has great sound-deadening qualities, so you can work through the night without waking up your household and neighbors.
What are the Benefits of Pole Barn Insulation?
The biggest benefit of insulating a pole barn is that it will be more comfortable inside the structure.
The pole barn will also be much less costly to heat and will help to weather condition the items stored inside.
What Needs to Be Done Before the Pole Barn Can Be Insulated?
The only preparation that needs to take place is to move furniture, materials, equipment, or anything being stored in the pole barn must be moved.
A good contractor will ask that everything be moved at least three feet from the walls or to the center of the room.
The Day of the Spray Foam Install
On the day of the job, crews will come and make sure everything has been moved away from the walls.
Next, they will get to work taping plastic over windows and doors.
The fun begins when crews suit up and begin spraying foam on the walls and ceiling.
In most cases, it is possible to also insulate the overhead door of the pole barn using the closed cell foam. The closed cell foam is used on the door because it does not expand very much. Crews will then cut some of the angles off to ensure the door opens and closes.
How Long Does it Take to Insulate a Pole Barn?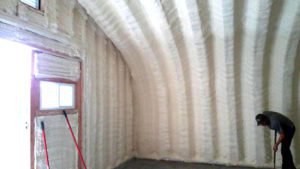 The length of time it takes to insulate a pole barn or metal building with spray foam depends on the size of the structure.
A very large structure could take two days or two crews to do it in one day.
A good contractor's goal will be to finish every project in one day when possible.
Can Just the Ceiling or Just the Walls of the Pole Barn Be Insulated?
An experienced contractor will always suggest the entire pole barn be insulated.
That's because pole barns have very thin walls, and if they are metal, that metal is a conductor of heat and cold.
So when it is cold outside, it will radiate that coldness inside, and when it's hot outside, it will radiate the heat. Without insulation, the building is going to get either very hot or very cold.
Insulating the entire pole barn will create an air seal to keep the outside air from leaking in.
Fees and Taxes in Addition to Spray Foam Pole Barn Cost
An experienced and trustworthy contractor won't hit you with hidden fees and costs after the job is done.
The estimate you agree to and sign should be the project's final cost.
Getting Started with a Free Estimate
If you are in Michigan's lower peninsula or greater Toledo and are ready to schedule a free estimate, give us a call at 866-900-3626 or fill out the form on our website.
You can also check out our foam insulation budget calculator to give you a rough idea of the cost of insulating your pole barn with spray foam.
Related Articles
The Most Frequently Asked Questions and Answers About Spray Foam Insulation for Pole Barns
The Ultimate Foam Insulation Buying Guide for Pole Barns
Pole Barn Insulation Problems: 5 Issues to Keep an Eye Out For
About Amanda Ringler
Amanda previously has worked as a breaking news and crime reporter, TV news producer, and editor in Flint and Detroit. Throughout her career as a journalist, she has won several awards from The Society of Professional Journalists - Detroit Chapter and the Michigan Press Association. As part of the RetroFoam of Michigan family, Amanda uses her experience as a journalist to write content that will help educate homeowners on the benefits of foam insulation. When Amanda isn't writing, she's spending time with her husband and rescued huskies. She also loves knitting, making art, cooking, and hosting dinner and a movie night for friends and family.