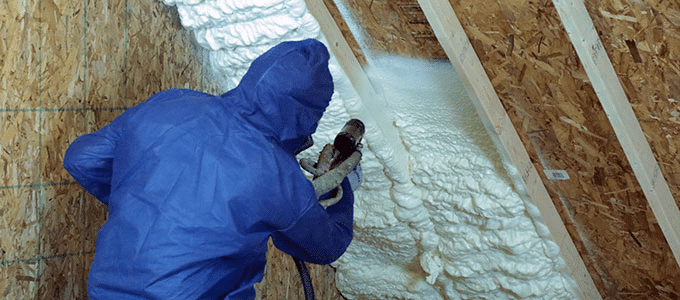 Subscribe
What is Spray Foam Insulation? What it's Made of, How it Works, & More
spray foam | spray foam insulation | Foam Insulation | insulation
As you have been researching insulation choices for your project, you have probably come across many different types of insulation including fiberglass, cellulose, and spray foam.
You have heard about spray foam, but you aren't too familiar with it or how exactly it works.
Icynene spray foam is a newer type of insulation that has been around since 1986.
Many newer homes are being insulated with spray foam for their energy efficiency and comfort benefits. At the same time, homeowners of existing homes are deciding to retrofit their attics, walls, and crawl spaces with spray foam to fix uncomfortable room issues as well as save money on monthly energy bills. Spray foam is also a great option for pole barns.
RetroFoam of Michigan has more than 15 years of experience insulating thousands of home in the lower peninsula, so we know a lot about spray foam and the benefits of insulating your home with it.
What is Spray Foam Insulation?
Spray foam insulation is an insulation and air barrier material that seals walls, floors and ceiling cavities against air movement. This includes spaces around electrical outlets and light fixtures, and also where walls meet windows and doors.
Spray foam can be sprayed into an open cavity, like in new construction, attics, crawl spaces and rim joists.
Spray foam never loses its shape. Unlike conventional insulation materials, spray foam fills cracks, gaps and crevices on installation. It won't compress, sag or settle over time.
How Spray Foam Insulation Works
Open cell and closed cell spray foam insulates your home while creating an air seal. The insulation has many benefits including sound control, deterring mold growth, and reducing air flow while stopping drafts and cold floors. It also has the ability to help lower your monthly energy bills.
Spray foam insulation impacts the conduction (heat transfer) and the convection (air flow) which affects your home's comfort and energy efficiency. Insulation's overall job is to resist heat flow in or out of a space. It keeps your warm house warm in the winter and your cool home cool in the summer.
When thinking of traditional insulation – fiberglass and cellulose – think of it like the comparison of a wool sweater and a windbreaker.
A wool sweater on a cold fall day is warm and welcome. That same wool sweater doesn't help you keep warm if the wind is blowing and flowing right through it. A windbreaker will be much more effective in keeping you warm, much like spray foam.
Air leakage is a problem for many homes and this contributes to the home's energy loss as well as the discomforts of drafts, cold floors, and ice dams. Some homes can leak enough air each day to fill two blimps, so imagine the impact that has on heating and cooling bills.
Some open cell spray foam insulation expands up to 100 times its original size to fill every nook and cranny in the cavity. With traditional insulation – fiberglass and cellulose – spaces and gaps that aren't filled can leak air.
Using spray foam can lead to a draft-free and energy efficient home.
What Is the Difference Between Open Cell and Closed Cell Spray Foam Insulation?
Spray foam can be either open cell or closed cell foam insulation.
Open cell spray foam is very light and pliable due to its composition. As open cell foam dries, the gas inside the cells escape through openings in the cell's wall resulting in foam that is light and pliable that shifts as it settles.
Closed cell spray foam is a much more dense and heavy material. It creates a dense surface that is more resistant to weathering and temperature change.
What is Spray Foam Insulation Made of?
When most spray foams are made, two liquids combine causing a chemical reaction to form the spray polyurethane foam. The two liquids come in different drums or containers and contractors usually refer to one container as the "A" side and the other container as the "B" side, according to the website Spraypolyurethane.org.
The "A" side of a spray polyurethane system is usually made up of methylene diphenyl diisocyanate (MDI) and polymeric methylene diphenyl diisocyanate (pMDI).
The "B" side is typically a blend of polyols, catalysts, blowing agent, flame retardant, and surfactant, according to the website.
When the "B" side is introduced to the "A" side there is a reaction creating foam.
The "A" side and the "B" side are both proprietary to each spray foam manufacturer. Most "A" sides will share components, but each manufacturer will have their own proprietary blend.
Icynene spray foam insulation's main ingredients are water-blown and organic chemical compounds derived from petroleum extracts. The spray foam is environmentally safe, class one fire rated, and doesn't retain water.
What is the Process of Installing Spray Foam Insulation?
After you receive a quote from the contractor and you're ready for the installation to begin, the first part of the job will start when a crew comes to your home and removes any existing insulation from the area that is to be insulated.
The next day of the install job, crews will come to your home and run a hose to the area to be insulated – the attic, crawl space, rim joist in an existing home. Uncovered walls in new construction and pole barns can also be sprayed with foam insulation, as well as concrete block walls.
Once everything has been sprayed, the crew cleans up the area so that it looks just like it did before the job was started.
How Does Spray Foam Insulation Affect a Home's Energy Cost?
Air leakage can account for as much as 40 percent of the energy cost to heat and cool your home, according to the Department of Energy. That is the equivalent of leaving a window open 24 hours a day, all year long.
Only spray foam insulation protects against the single biggest source of heat flow – air leakage – because it forms an effective air barrier.
Getting Started with a Free Estimate
So now that you've learned about spray foam insulation, you may have decided it is what is best for your home.
If you live in Michigan's lower peninsula and are ready to schedule a free in-home estimate give us a call at 866-900-3626, or fill out the form on our website. You can also check out our budget calculator to give you a rough idea of the cost to insulate your home.


Save
Save