Spray Foam Insulation for New Build Homes: Answers to Frequently Asked Questions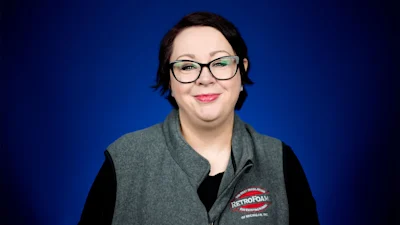 When you're planning to build your new home, you likely have a lot of questions about insulation, but where do you turn?
We're here to help.
Answers to the Most Common Questions About Spray Foam Insulation for New Home Construction
RetroFoam of Michigan has been insulating new build homes for more than a decade across the lower peninsula. We get asked a lot of questions, so we have compiled the most common ones here with the answers you need to get started.
RELATED: Clearing Up Misconceptions about Spray Foam Insulation
How Much More Does Spray Foam Insulation Cost vs Fiberglass and Traditional Insulation Materials?
Foam insulation is two to three times more expensive than traditional insulation, like cellulose or fiberglass.
While foam is more expensive upfront, the air seal reduces the long-term cost of spray foam with lower monthly energy costs, no future insulation replacement costs, as well as the comfort problems solved by foam insulation.
When building a new home, it is important to not only look at the initial costs, but also the lifetime cost of the insulation as well as the future problems it will prevent.
It's also important to note that cellulose and fiberglass will settle and breakdown over time and loose insulation performance. This also adds more cost as these materials need to be replaced.
READ MORE: Is the Up-Front Cost of Spray Foam Insulation Worth it When Building a New Home?
Will Spray Foam Pass Insulation Code Requirements?
The quick answer – yes, spray foam insulation passes code.
The longer answer gets into the difference between prescriptive requirements and performance. While traditional insulation meets code through prescriptive requirements with R-Value, foam meets code through performance because it is a superior material that creates an air barrier.
READ MORE: How to Pass Code Without Meeting Prescriptive R-Value
Is Open Cell or Closed Cell Spray Foam Better to Use in My New Build Home?
Open cell spray foam is the better option for your new build home compared to closed cell foam.
A new home tends to shift and settle over time, so your insulation needs to move and flex with it. That is open cell because it is pliable, unlike closed cell, which is more rigid and dense.
Closed cell is great for pole barns or commercial buildings.
Both open cell and closed cell create an air seal wherever they are applied.
READ MORE: Open Cell vs Closed Cell Foam Insulation: Which is Better for My Home?
Will My New House be Too Tight if I Use Spray Foam Insulation?
This is a common misconception.
In a new build home, an HVAC contractor will determine the size of the system your home needs, which ensures your new house won't be too tight and will have good air quality and humidity.
READ MORE: Can Spray Foam Make My House Too Tight?
How Much Money Can I Save on Energy Bills with Foam Insulation?
We have customers that say they save between 15 to 50 percent off of their monthly energy bills.
These percentages vary because of things like the construction of the home, thermostat settings, and lifestyle preferences. It really boils down to how long you plan on living in your newly built home. The longer you live in the home, the more the savings will significantly add up over the years.
READ MORE: 5 Common Comfort and Energy Bill Savings According to RetroFoam of Michigan Reviews
What is the Average Cost of Spray Foam Insulation for New Construction Homes?
The spray foam insulation cost for a new build home runs the gamut due to size. The square footage of the home is always going to be the number one factor when the cost of the project is determined.
Another consideration is the difficulty of the job. Some houses are built like a box, which makes installation easy, while a house with a more complex layout is more difficult and has more square footage, meaning it will cost more.
The average home we insulate is between 2,000- and 2,500-square-feet. The average cost of spray foam insulation for new build homes is between $10,000 and $15,000 from the attic to the crawl space.
READ MORE: How Much Does Spray Foam Insulation Cost When Building a New Home?
Is Flash and Batt Insulation a Good Idea?
Flash and batt is spray foam insulation with fiberglass batts. It's a method used by some insulation contractors where a flash of closed cell spray foam at 1- to 2-inches is applied in an effort to create an air seal and then puts fiberglass batt insulation over it to fill the cavity. It is typically suggested to save money and pass code, but we don't recommend it due to various problems it can cause.
READ MORE: Flash and Batt Insulation Problems: 4 Issues You Want to Avoid
How Long Does the Foam Insulation Install Take?
The time really comes down to being scheduled around other contractors who are also working on the home. When it comes to the install day, two crews come to the home, and to spray from the attic to the basement could take one to two days, depending on the size of the house.
READ MORE: RetroFoam of Michigan's Process from Estimate to Install
How Much is Your Minimum Charge?
All contractors, insulation contractors as well, will have a minimum charge that can vary depending on a few different factors. Our minimum charge is between $1,600 and $2,000, depending on the project and the type of foam insulation used.
Can I Use Spray Foam in My Cathedral Ceiling?
Absolutely.
The cavities of the cathedral ceiling would be sprayed before the ceiling was put in place. This creates an air seal that will keep the warm air in your home in the winter from escaping through the roof in the winter months and will help keep your house cool in the summer.
Can You Put Spray Foam on My Roof Deck?
Yes, and it will help you save money on those monthly energy bills.
The roof deck of the attic is usually recommended when installing spray foam. This is because it seals the envelope you are creating in your home with foam insulation. This also opens your attic up to be used as storage, or however you see fit.
READ MORE: Spray Foam Attic Floor or Rafters: Which is Best to Insulate?
Can I Spray Foam Interior Walls to Cut Down on Noise?
Yes, those interior walls can be insulated.
Open cell spray foam insulation can reduce sound transmission by up to 80 percent. So, while it doesn't eliminate noise completely, it does reduce it greatly.
READ MORE: Soundproofing vs Sound Dampening a Room: What's the Difference?
Will the Areas Around the Windows or Doors Be Sprayed as Part of the Installation?
This depends on the contractor.
It is actually a complimentary service we provide when insulating new build homes.
We spray a window and door foam around the windows and doors to ensure there won't be any air leaks around them.
If a New Build Home Has Corner Gaps, Will They Be Filled?
It depends on the insulation contractor, but a good contractor will fill those corner gaps using spray foam.
We don't want to leave any areas open where the outside air can sneak it.
What if I Need to Rewire My Home After the Foam Insulation Install?
Hopefully, with a new home this won't be an issue, but if it is, there's nothing to worry about.
Open cell spray foam is very pliable. This means wire can be run through it if needed in the future.
READ MORE: How to Snake a Wire Through a Wall with Insulation
Is it Safe to Spray Foam Over the Electrical Wires and Plumbing?
Absolutely.
Spray foam will keep your electrical wires from shifting in the walls and will also protect your plumbing from any temperature differences.
Learn More About Spray Foam Insulation for New Build Homes
You can learn even more in your foam insulation journey by checking out the Learning Center on our website.
You can also check out our Ultimate Foam Insulation Buying Guide for New Build Homes to learn more specifically about meeting code, the best options for your new home, and more.
Related Articles
Michigan Insulation Code: New Home Insulation Requirements
What to Consider When Building an Energy Efficient Home
6 Tips to Get on the Same Page with Your Building Code Inspector During New Home Construction
About Amanda Ringler
Amanda previously has worked as a breaking news and crime reporter, TV news producer, and editor in Flint and Detroit. Throughout her career as a journalist, she has won several awards from The Society of Professional Journalists - Detroit Chapter and the Michigan Press Association. As part of the RetroFoam of Michigan family, Amanda uses her experience as a journalist to write content that will help educate homeowners on the benefits of foam insulation. When Amanda isn't writing, she's spending time with her husband and rescued huskies. She also loves knitting, making art, cooking, and hosting dinner and a movie night for friends and family.