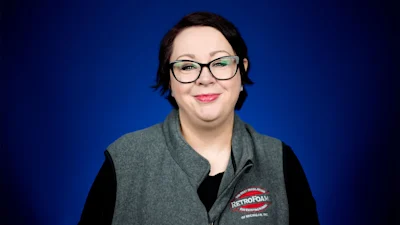 Before you start designing the house of your dreams, you should consider ensuring your new home is energy efficient.
Building an energy-efficient home won't just save you energy usage but also money in the long run. Before you start building your home is the best time to decide exactly how efficient you want the new house to be.
RetroFoam of Michigan has more than 20 years of experience helping homeowners make their new and existing homes energy efficient with foam insulation.
We'll talk more about air sealing with foam in a bit, so let's get into the nitty-gritty of designing an energy-efficient home.
Designing an Energy Efficient Home
When you are in the planning process of designing your new house, really the best option to optimize home energy efficiency is taking the whole-house approach, according to the U.S. Department of Energy.
This approach is recommended because it ensures that you, your contractor, and building professionals consider all the things that will affect the energy usage in your new home. The conditions of the area where you will be building and the climate zone are also taken into account.
Along with the conditions listed above, other things that are considered in this approach by the U.S. Department of Energy include:
The U.S. Department of Energy's Better Buildings division offers a Home Energy Score that provides a rating of the home's efficiency and improvements and areas to gain savings.
Other things to Consider for Building an Energy Efficient House
The items listed above are just some of the major things to consider when looking for a whole-house system regarding energy efficiency.
The Department of Energy has several suggestions for building an energy-efficient home. So, let's take a look at some of those and other proven suggestions.
Ultra-Efficient Homes
An Ultra-efficient home integrates state-of-the-art energy-efficient construction, appliances, and lighting with commercially renewable energy systems.
These systems include solar water heating and solar electricity.
Depending on the climate zone and terrain, the architect can incorporate passive solar heating and cooling and energy-efficient landscaping plans.
Advanced House Framing
Advanced house framing can reduce lumber use and waste when you're building a new home.
This framing also improves energy efficiency in a wood-framed house, according to the DOE.
Cool Roofs
Using highly reflective materials to reflect more light and absorb less heat from sunlight creates a cool roof.
This method helps to keep homes cooler during hot weather.
A cool roof is a great thing to have in addition to an adequate air seal.
Foam insulation on the attic's roof deck can also help keep the house cool in the summer and warm in the winter. Spray foam insulation creates an air barrier while providing thermal resistance. This means the air you pay to heat or cool stays inside, and outdoor air stays out.
Foam insulation creates the air seal the DOE recommends for energy efficiency. Traditional insulation, like cellulose and fiberglass, still allows air to pass through it, which can lead to your furnace or air conditioner working overtime to keep your new home comfortable.
Energy Efficient New Build Home Insulation
We've outlined the things to consider when designing your energy-efficient new home and what other methods can help you achieve your plans.
As stated above, foam insulation is the best option when looking to create an air seal in your home.
When you're ready to talk about insulation for your new home build, call us at 866-900-3626 to schedule a free estimate or fill out the form on our website.
In the meantime, head on over to our Learning Center to get the complete picture of how foam insulation can help you achieve your energy efficiency dreams.
Related Articles
What is Home Performance with Energy Star?
How Much Money Will Foam Insulation Save on Monthly Energy Bills?
What is Stack Effect? (Definition/Importance/Impact)
About Amanda Ringler
Amanda previously has worked as a breaking news and crime reporter, TV news producer, and editor in Flint and Detroit. Throughout her career as a journalist, she has won several awards from The Society of Professional Journalists - Detroit Chapter and the Michigan Press Association. As part of the RetroFoam of Michigan family, Amanda uses her experience as a journalist to write content that will help educate homeowners on the benefits of foam insulation. When Amanda isn't writing, she's spending time with her husband and rescued huskies. She also loves knitting, making art, cooking, and hosting dinner and a movie night for friends and family.