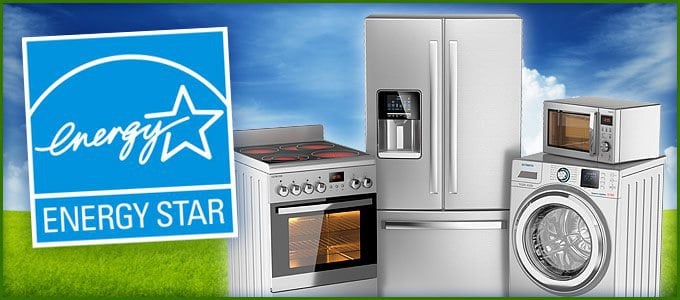 As homeowners, we all rely heavily on the Big Four.
You know, dishwashers, refrigerators, ovens and laundry machines.
These appliances, no matter the style, are products that make our everyday lives more enjoyable and convenient.
Yet they also make our lives more expensive.
Appliances like the Big Four account for nearly 13% of household energy costs.
So it only makes sense to determine if you can save money on such a significant investment.
Turns out you can.
The star of the appliance store
The Department of Energy promotes visualizing appliances as having two price tags: the initial upfront cost and the annual cost of actually operating the appliance.
You might find a cheap appliance but the annual cost to operate it negates any initial gains. Another appliance might cost more upfront, but annual operation costs are much cheaper.
This is the advantage of choosing Energy Star appliances.
Their washers and refrigerators are usually 20% more energy efficient than standard washers and refrigerators. Dishwashers that are Energy Star-qualified use nearly 50% less water than dishwashers purchased before 1994.
Because of those energy efficiencies, the second price tag, known as the yellow Energy Guide label, stays lower.
Brummels Home Furnishings in Zeeland and Wyoming, Michigan, dedicates about 25 - 30% of its floor space to Energy Star washers, refrigerators, and dishwashers, said Dan Brummel, co-owner of the company. The biggest challenge is most people assume modern appliances are more energy-efficient than what they previously owned. They don't realize Energy Star is the next level.
That said, Brummel said he's noticed certain homeowners focused on Energy Star appliances.
"We do get people asking for it," he said.
Using your appliances wisely
After you've purchased an Energy Star appliance, you can reduce energy costs even more.
For example, when using your dishwasher, run only full loads, scrape your food instead of rinsing it off the plate, and let your dishes air dry.
As you use your refrigerator, keep checking the seal on the doors. The Department of Energy suggests a simple test. Close the door over a piece of paper, half in the refrigerator and half out. If you can easily pull out the paper, it's to adjust the latch or replace the seal.
Then there's laundry machines. Fill up the washing machine because it uses nearly the same amount of energy no matter the size of the load. Wash with cold water whenever possible, since water heating accounts for about 90% of energy needed to run a washer. Avoid the sanitary cycle because it's a serious energy drain.
Conclusion
When it comes to the Big Four, take extra time to consider Energy Star appliances.
Then adjust how you use those appliances.
Money saved.
You win.