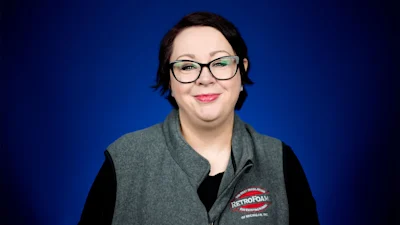 You chose cathedral ceilings for your new home and now it's time to decide what kind of insulation best fits your needs.
Insulating a cathedral ceiling right the first time can save you a lot of headaches in the future, which is why it's so important to know what the best insulation option is to get the job done.
If you're looking for insulating a cathedral ceiling advice, RetroFoam of Michigan has you covered. We have insulated our fair share of cathedral ceilings, so we can explain to you what materials are the best fit.
You're looking for information and we're here to help. Here we'll discuss the top three options – cellulose, fiberglass, and open cell spray foam.
Best Way to Insulate Cathedral Ceiling
When it comes to insulating your new home there are likely a lot of things you want, like energy efficiency and making sure your home is comfortable, as well as healthy.
Your insulation dreams can come true if you choose the right insulation material right from the beginning.
Let's take a look at your cathedral ceiling insulation options and the pros and cons that go along with them.
Cellulose Cathedral Ceiling Insulation
Cellulose insulation can be installed in your cathedral ceiling, but it can be a tricky installation.
If your insulation contractor isn't using wet applied cellulose, then they would have to staple a fine mesh screen to the underside of the roof trusses. They would then place the hose towards the top and fill in behind the mesh with cellulose.
Pros:
Cellulose can get into most nooks and crannies.
Cellulose is an inexpensive insulation option.
Boric acid, borax or aluminum sulfate used in cellulose insulation provides resistance to pests, mold, and fire.
Cellulose has more recycled materials than any other commercially available insulation.
Cons:
Modern cellulose settles up to 20 percent, which is problematic in relation to cathedral ceilings. This can lead to air leakage and high energy bills.
Cellulose must be kept dry because it absorbs up to 130 percent water by weight.
After absorbing water, cellulose dries very slowly which causes it to deteriorate and settle. The chemical fire treatment is also destroyed.
Cellulose weighs several times as much as fiberglass, which lends itself to settling, especially in a slanted space.
Still allows for air movement through the material, which leads to an uncomfortable home and high energy bills.
Fiberglass Cathedral Ceiling Insulation
Fiberglass insulation is the next option for your cathedral ceiling.
Fiberglass is installed by stapling the batts to the underside of the roof before the drywall is hung.
Pros:
When installed properly, is suited for the stud cavities in the cathedral ceiling.
Cons:
Still allows for air movement through the material.
Fiberglass can trap allergens, dust, and moisture which can lead to mold growth.
Fiberglass is known to sag over time, especially if it becomes wet.
If the fiberglass isn't cut to fit properly the studs in the ceiling, there will be voids left with no insulation coverage.
Open Cell Spray Foam Cathedral Ceiling Insulation
Spray foam is another option for your cathedral ceiling, more specifically open cell spray foam.
Open cell spray foam is a better fit for cathedral ceilings when compared to closed cell because of its expanding capabilities. During the installation, the foam is sprayed on the underside of the roof. Open cell has a high expansion rate when applied, which means it fills all of the nooks and crannies.
While both create an air seal, closed cell doesn't have that same expansion rate that open cell has.
Pros:
Creates an air seal that prevents air leakage into and out of the home.
Fills all of the nooks and crannies in the cathedral ceiling.
Some spray foams use water as a blowing agent, so it is safe for your home and the environment and has no odor.
In conjunction with spray foam throughout the entire home, the building envelope is sealed creating a comfortable and energy efficient home.
Cons:
Spray foam is more expensive than traditional insulation options.
Some spray foams on the market have an odor after installation.
If installed improperly, the spray foam may not fill all of the cavities in the cathedral ceiling.
Choosing the Best Cathedral Ceiling Insulation
When it comes to the best cathedral ceiling insulation, it comes down to what your wants and needs.
If you want to go with a cheaper option, that's your prerogative. That's why it's important to keep those pros and cons in mind before you buy.
If you want to learn more about these insulation options for your cathedral ceiling, read even more about options for your entire new home in our article What are the Best Insulation Options for New Homes?
About Amanda Ringler
Amanda previously has worked as a breaking news and crime reporter, TV news producer, and editor in Flint and Detroit. Throughout her career as a journalist, she has won several awards from The Society of Professional Journalists - Detroit Chapter and the Michigan Press Association. As part of the RetroFoam of Michigan family, Amanda uses her experience as a journalist to write content that will help educate homeowners on the benefits of foam insulation. When Amanda isn't writing, she's spending time with her husband and rescued huskies. She also loves knitting, making art, cooking, and hosting dinner and a movie night for friends and family.