Michigan Insulation Code: New Home Insulation Requirements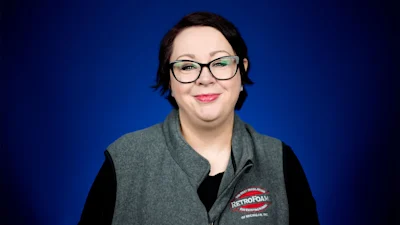 The home of your dreams is just on paper for now, but before you break ground, you must understand Michigan Insulation Code.
When building a new home, it's important to understand the code and what you need to do to meet that code while building the home of your dreams.
RetroFoam of Michigan has been insulating new homes across Michigan's lower peninsula for more than 15 years, so we understand the codes, climate zones, performance and prescriptive code, and how to make sure it all works together with a home performance check.
In our continued efforts to educate homeowners, we have compiled information we hope you will find helpful as you start on this adventure of building your new home.
What is Michigan's Energy Code for Insulation?
Essentially, Michigan's Energy Code for Insulation is what the residential building code and the International Building Code prescribe as safe and efficient to insulate a home.
It is the standard for most builders to use those two codes to base how much insulation you need, how it needs to be installed, what types of insulation materials to use in certain areas of the home, and depths.
Each state has its own insulation code that depends on its climate zone. We'll get more into that in a bit.
What is the International Building Code?
The International Building Code (IBC) is a model building code developed by the International Code Council.
The IBC has been adopted to use as a base code standard by most jurisdictions in the U.S. because the code addresses both health and safety concerns for buildings based on prescriptive and performance-related insulation requirements.
These code provisions are added every few years to protect public health and safety while avoiding unnecessary cost or preferential treatment over one material or method of construction over another.
Many builders and contractors will argue one code against the other. For example, the Michigan building code doesn't lean in favor of air sealing, while the IBC states that air barriers seal the envelope of the home, which is important to energy efficiency.
Each state's building code will supersede the IBC because those codes are climate-specific.
What is Michigan's Climate Zone?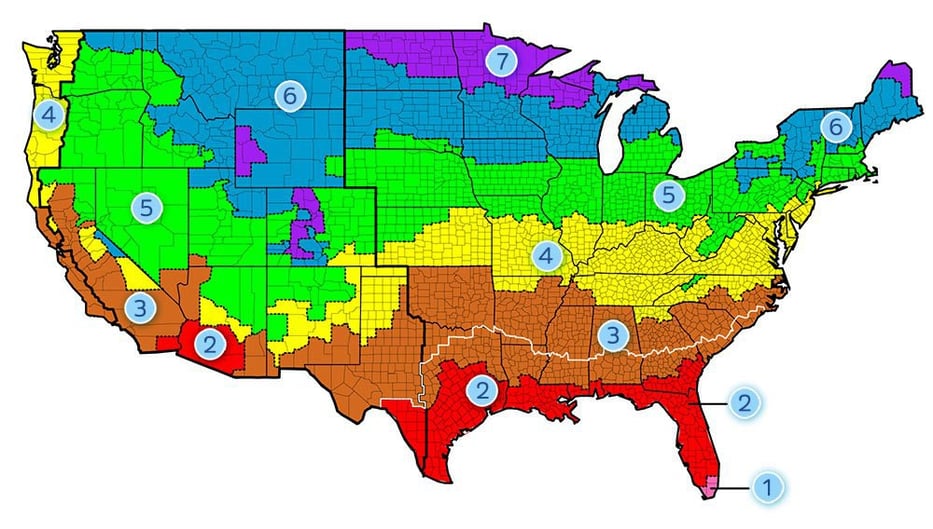 The climate is an essential thing that is taken into account, and that's when contractors look at the code to determine residential insulation requirements.
Michigan is in climate zone 5 through 7, but let's talk more about what that means.
Michigan's building code is vastly different than Florida's, for example, due to the differences in temperature fluctuations, relative humidity, and the temperature outside versus inside.
Michigan also requires more shielding on the home for wind, whereas a state like Arizona doesn't.
A very generic rule of thumb is the colder your state can get, the more R-Value will be required to insulate your home. Michigan, Wisconsin, and Minnesota will have higher building code insulation requirements than let's say Tennessee.
Insulation is generically thought of as a material that keeps things warm, but insulation like foam can also help to keep a home cool. When it comes to insulation code, the contractor is trying to make a number based on what is prescribed.
Here is a look at how climate zones are broken up, according to the U.S. Department of Energy:
Hot-Humid

Mixed-Humid

Hot-Dry

Mixed-Dry

Cold

Very-Cold

Subarctic

Marine
Parts Michigan's lower peninsula falls into the cold range, while some spots of northern Michigan and the upper peninsula fall in the very cold climate range.
Ways to Meet Building Code Insulation Requirements: Performance vs Prescriptive
Meeting code is pretty simple, as it's just pass or fail. Prescriptive is the best-known way to meet code because some contractors aren't familiar with alternative methods.
There is another way to meet code without necessarily worrying about the R-Value numbers – performance.
Performance and prescriptive are both pass or fail based on efficiency and safety. The contractor is just taking a different way to get there.
Performance tends to be more complicated because the contractor has to prove certain things. The contractor has to prove the insulation material creates an air seal, that it has an aged R-Value, and different variables. In a nutshell, the contractor is showing the inspector that based on numbers and test results that the insulation material will perform in an efficient way and will be safe.
Creating an air barrier with foam insulation isn't covered in Michigan's prescriptive code, but it passes performance. That air barrier will prevent air leakage into and out of your new home, which can account for nearly 30 percent of a home's heating and cooling costs.
Traditional insulation, like cellulose and fiberglass, will meet prescriptive code when it comes to R-Value, but they still allow for air movement.
Basically, what performance does is it takes all of the data that prescriptive doesn't take into account. Prescription says you need to meet a certain R-Value, whereas performance takes into account R-Value, air permeability, and water solubility.
RELATED: How to Pass Code Without Meeting Prescriptive R-Value
How to Check a Home's Performance
The most common ways to check a home's performance is to take all of the house data – your insulation data, room assemblies, etc. – and plug it into a computer program.
REScheck is a very common program used. In previous years it was the quickest and easiest program to use because you can enter your data, and it gives you a pass or fail.
There are more complicated programs that are considered to be more prestigious.
The HERS Index is a measurement of a home's energy efficiency. HERS is the more popular program for checking performance at this time. Many homeowners want a HERS rating for their homes because it adds value when they decide to sell.
Another program is the REM/Design. The program was specifically designed with the needs of homebuilders, remodelers, energy consultants, and designers in mind. REM/Design calculates heating, cooling, hot water, lights and appliance loads, consumption, and costs.
Houses that have been certified by LEED are another hot commodity when it comes to resale. LEED, or Leadership in Energy and Environmental Design, is a certification for green building. It's similar to appliances being Energy Star certified. It's more complicated and detailed in requirements. It breaks down the longevity of the house while looking at the mechanicals, plumbing, wiring, and numerous other factors.
What is the Future of Building Code for Insulation?
New codes come out every three years, so it's good to make sure your builder is on top of this.
The big trend for the future is a favoring towards air seals, which could see the requirement of house wrap, a blower door test, and continuous insulation.
A blower door test isn't required yet, but it could be soon in the next code.
Every house has to achieve a certain amount of air exchange in a given day. Basically, if you run your blower door test and you have a rating that is too high, you're getting too much air inside the house from the outside. That means there is too much air leakage.
This is another reason why contractors are moving towards the performance method of meeting code with foam insulation because it creates that air barrier.
RELATED: Air Changes Per Hour: What it Means and How Many Do You Need
Understanding Michigan Insulation Code
The main thing you should understand is why something needs to be done to meet code, so you should always question the new home insulation requirements.
You want to ensure you have a builder that can explain all of your options, as well as prescriptive code and performance.
It's also important that you read up on the code for the Michigan insulation requirements before you ever break ground. The code changes every few years, so make sure you are familiar with the latest versions.
You can find Michigan's code on Lara's website.
Choosing the Right Insulation Contractor for the Job
It's important that you work with a contractor that knows the state and international building codes. Don't be afraid to ask questions, so your dream home is a comfortable and energy-efficient space.
If you decide you want foam insulation in your home and live in Michigan's lower peninsula, give us a call at 866-900-3626 or fill out the form on our website.
Related Articles
What are the Best Insulation Options for New Homes?
New Home Insulation Problems: 5 Things You Don't Want to Happen
6 Tips to Get on the Same Page with Your Building Code Inspector During New Home Construction
About Amanda Ringler
Amanda previously has worked as a breaking news and crime reporter, TV news producer, and editor in Flint and Detroit. Throughout her career as a journalist, she has won several awards from The Society of Professional Journalists - Detroit Chapter and the Michigan Press Association. As part of the RetroFoam of Michigan family, Amanda uses her experience as a journalist to write content that will help educate homeowners on the benefits of foam insulation. When Amanda isn't writing, she's spending time with her husband and rescued huskies. She also loves knitting, making art, cooking, and hosting dinner and a movie night for friends and family.