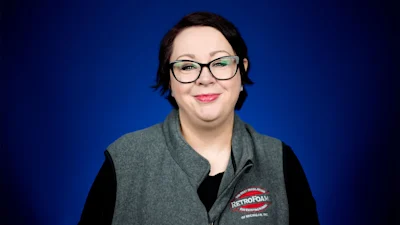 As an insulation contractor, we get asked tons of questions about foam insulation for existing homes, including the foam insulation installation process, cost, safety, and worst-case scenarios.
RetroFoam of Michigan has been installing existing home insulation across the lower peninsula since 2002. We are licensed, insured, and don't subcontract the job out. All of our crews are trained by our foam manufacturers -- because foam insulation is all we do.
Top FAQ About Foam Insulation for Existing Homes
Since we get so many questions about foam insulation for existing homes, we have compiled a list of the most frequently asked to help homeowners get all the information they need as they consider making their homes more comfortable and energy-efficient.
What's the difference between RetroFoam injection foam and spray foam insulation?
The difference comes down to the way the two materials are installed because there is no difference in the efficiency of the products.
Spray foam insulation can be used in new build homes or in the attic, crawl space, or rim joist, as well as any open cavity.
RetroFoam is an injection foam that can be injected into the enclosed walls of an existing home.
READ MORE: Injection Foam Insulation vs Spray Foam Insulation: What's the Difference?
How much money does spray foam insulation save on monthly energy bills?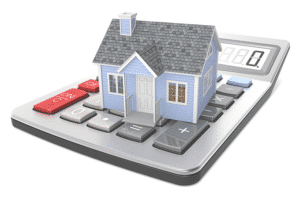 Our customers have said they saved anywhere between 15 to 50 percent on their monthly energy bills depending on certain factors, like the age of the home, construction, thermostat settings, and lifestyle preferences.

READ MORE: 5 Common Comfort and Energy Bill Savings According to RetroFoam of Michigan Reviews
How much does spray foam insulation cost vs fiberglass and cellulose?
Foam insulation is two to three times more expensive than blown-in cellulose and fiberglass.
While foam is more expensive, it pays you back with the air seal it creates which saves you money on monthly energy bills.
READ MORE: The Total Lifetime Cost of Foam Insulation: It's Less Than You Think
What type of financing is available for existing home insulation?
There are a few options for financing your insulation project.
Michigan Saves offers low-interest loan for energy-efficient home updates.
We also offer financing from GreenSky.
Does old insulation need to be removed before foam insulation can be installed in existing homes?
It depends on the area of the home that is being insulated.
If you are insulating the attic, crawl space, or rim joist, then the old insulation must be removed for the spray foam to work properly.
If you are insulating your exterior walls, in most cases the old insulation can stay where it is, as the injection foam will compress it as it fills the cavity.
READ MORE: Do I Need to Remove Old Insulation Before Installing New?
Is open cell or closed cell spray foam insulation better to use in my house?
In the majority of cases, open cell spray foam is the better option to use in your home compared to closed cell.
While both create an air seal, open cell has sound dampening qualities, doesn't conceal leaks, and is a softer more pliable material. Closed cell will conceal leaks in the home, is more rigid, more expensive, and doesn't dampen sound. Closed cell is a much better option for pole barns or commercial buildings.
READ MORE: Open Cell vs Closed Cell Foam Insulation: Which is Better for My Home?
Can the drywall pop off or crack in existing walls during the injection foam installation process?
While rare, injection foam can bow or crack drywall.
The good news is, in the event the drywall is damaged, any good contractor will make repairs at no cost to the homeowner. At RetroFoam of Michigan, we offer a lifetime warranty that covers the homeowner.
How long does it take to install spray foam insulation in an existing house?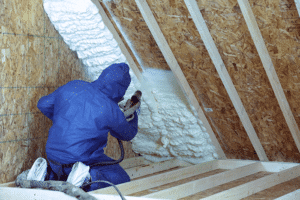 Most houses can be insulated in a day or less, but there are instances where it can take two days especially if old insulation is being removed from a large area like the attic.
What factors impact the cost of foam insulation in an existing home?
The size of the area to be insulated is the number one factor that determines the cost.
The material used, application thickness and the type of siding you have on your home are other determining factors.
READ MORE: How Much Does Foam Insulation Cost for an Existing Home?
How much is your minimum charge?
All foam insulation contractors, like other contractors, will have a minimum charge that can vary depending on a number of variables.
Our minimum charge is between $1,600 and $2,000, depending on the project and type of foam insulation used. This is important to keep in mind if you only plan to insulate a small area.
How do you know when a wall cavity is completely full of foam insulation?
The foreman at the job will run the injection hose all the way to the top of the exterior wall cavity and then all the way to the bottom.
If the foreman runs into any obstructions or blockages, another hole will be drilled either above or below it and more foam will be injected to ensure the cavity is completely filled.
Is foam insulation free of toxins and harmful chemicals?
The quick answer is yes, both injection foam and spray foam insulation are safe to have in every area of your home.
The spray foam insulation we use is certified Gold Green and has low VOC. RetroFoam injection foam has no off-gassing and is completely non-toxic.
How does siding affect the process for using injectable foam insulation for existing homes?
Most houses have either aluminum, vinyl, wood, or brick siding.
The process for installing injection foam to insulate exterior walls is different for each of these.
For homes that have aluminum or vinyl siding, a piece is removed from the side of the home and a hole is drilled into each cavity. Foam is injected into the holes, the hole is plugged, and the siding is replaced.
For brick exterior, small holes are drilled through the mortar joints between every stud to inject the foam insulation. When the cavities are full, the holes are re-mortared with a standard gray mortar.
Wood siding is handled differently if the siding can be removed, it is handled similarly to aluminum or vinyl siding. If it can't be removed, holes must be drilled through the wood siding, the foam is injected into the cavities, and the holes are filled with wood plugs.
READ MORE: Installing RetroFoam into Exterior Walls with Different Siding Types
Can injection foam insulation be installed from the inside?
Injection foam installation can absolutely be done from the inside.
There is a lot of prep work that is done before this can be done as it is more intrusive. Everything must be removed from the walls at least 6-feet, furniture must be covered, as well as the floors and any surfaces.
Holes are then drilled into the drywall into each stud cavity and the foam is injected. Once the cavity is full, a plug is put into place and a rough coat of drywall mud is applied over the top of it.
Will plaster or paneling impact injection foam installation?
Will injection foam leave you with bowed paneling or cracked plaster?
Anything is possible, but it's not common.
In the case of plaster walls, they are actually a bit stronger than drywall, so it's less likely to crack. When it comes to paneling, the installation is a little different because of how delicate it is. A good insulation contractor will ensure the pressure doesn't build up in the wall cavity and will be much gentler in the installation process.
What rebates are available for insulating my home?
There are rebates available to residential customers who make energy-efficient home improvements from Consumers Energy, DTE, and SEMCO, as well as a few other companies across Michigan.
Rebates could be up to $50 for insulating a rim joist, $250 for an attic, or up to $1,000 for insulating the entire house. During your estimate, your estimator will discuss what insulation rebates you may qualify for.
READ MORE: Finding Insulation Rebates to Lower the Cost of Home Insulation
How does foam insulation work for sound deadening?
The thicker, softer material of open cell foam reduces sound waves keeping outdoor noise out where it belongs.
The foam insulation will deaden the sound but won't soundproof it.
READ MORE: Soundproofing vs Sound Dampening a Room: What's the Difference?
How do you insulate a cathedral ceiling with no attic access?
There are a few ways to insulate cathedral ceilings in existing homes.
In some cases, you can drill through the roof to inject foam insulation. In this case, the work would need to be coordinated with a roofing contractor.
The most effective option is to cut strips into the ceiling and spray foam into each cavity. The ceiling drywall is then replaced and a rough patch of mud is spread on the seams. The homeowner will need to finish it off and paint it.
Learning More About Spray Foam Insulation for Existing Homes
If you would like to continue your educational journey in regards to foam insulation for existing homes, head on over to the Learning Center on our website.
Related Articles
Clearing Up Misconceptions about Spray Foam Insulation
About Amanda Ringler
Amanda previously has worked as a breaking news and crime reporter, TV news producer, and editor in Flint and Detroit. Throughout her career as a journalist, she has won several awards from The Society of Professional Journalists - Detroit Chapter and the Michigan Press Association. As part of the RetroFoam of Michigan family, Amanda uses her experience as a journalist to write content that will help educate homeowners on the benefits of foam insulation. When Amanda isn't writing, she's spending time with her husband and rescued huskies. She also loves knitting, making art, cooking, and hosting dinner and a movie night for friends and family.