What is the Average Cost of Spray Foam Insulation for an Existing House in 2023? (Prices/Rates/Factors)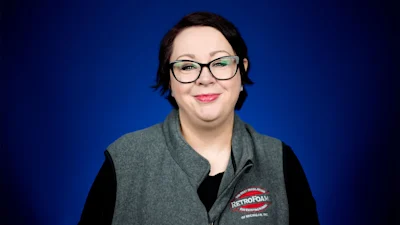 Your home is one of the biggest investments you will make in your life and where you will spend most of your time, so comfort needs to be a top priority.
Insulating your home using injection foam and spray foam can make a difference year-round, not only keeping you cool in the summer and warm in the winter but also saving you money on your monthly energy bills.
All of this sounds well and good, but what's the price tag? I know that's what you're here for, and I promise to break it all down, including what factors determine the cost.
In this article, we'll discuss price ranges and factors for everything from the entire home to individual areas of the home. It's always best to insulate and seal the building envelope, but sometimes it makes sense to only insulate certain areas of the home at a time.
Not Every House is the Same
Several factors come into play that leads to the final cost for an entire home installation project, as well as insulating the areas of the home individually.
The size of the areas that need insulation is one of those factors. Not every area of the home is the same, so the best way to get an exact amount will be to have a project manager come to your home to take a look at it as a whole, as well as insulate just the attic, walls, rim joist, or crawl space.
But fear not, for the purpose of informing you of the process, we will use price ranges to help you get an idea of how much the project could cost you.
It's important to note before we get started that every spray foam insulation contractor will have a minimum charge. Our minimum charge is between $1,600 and $2,000, depending on the project and the type of foam used.
Average Cost of Spray Foam Insulation for an Entire Existing House
The cost of spray foam insulation for a house with foam varies widely.
The price range is from $8,000 all the way up to $20,000.
The size of the treated surface area is what makes that price range so vast. The size of your living space is not considered when factoring in the price.
There are several other factors that determine how much it is going to cost to insulate an entire existing home, but the number one factor is the size of the area to be insulated.
Attic Spray Foam Insulation Cost
The total projected cost to insulate an attic in an existing home ranges between $5,000 up to or exceeding $10,000.
Insulating the attic with spray foam will help reduce the heat loss through that space by sealing the building envelope of your home and saving you the most money on energy bills.
Injection Foam Insulation Cost for Insulating Existing Walls
Typically when someone has their walls insulated, they do all of the exterior walls.
The cost for doing all of the exterior walls will range anywhere from $4,000 up to or exceeding $8,000.
Cold walls and drafts could be reduced after insulating your exterior walls with foam.
Crawl Space Spray Foam Insulation Cost
The average cost to insulate a crawl space with spray foam is between $2,000 and $3,000.
Insulating the crawl space with spray foam will reduce the cold floors you experience during the winter, thus making your home much more comfortable.
Rim Joist Spray Foam Insulation Cost
The projected cost to insulate a rim joist with spray foam is between $1,200 and $1,500.
Insulating the rim joist with spray foam will cut down on the drafts you feel from around your baseboards.
What Factors Determine the Cost of Spray Foam Insulation for a House?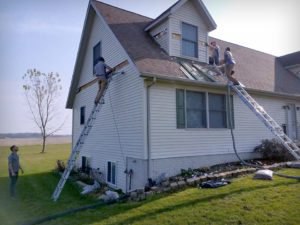 As mentioned above, the size of the area to be insulated is the number one factor.
It is determined by the height of your walls, the pitch of your attic, the size of your crawl space, and how many stories your home has.
The second factor that greatly determines the cost of an insulation project is the difficulty of the job.
This breaks down to the kind of siding you have. Vinyl siding is very easy to work with, but brick siding tends to be more difficult.
Vinyl siding is the easiest to work with, while aluminum siding tends to be slightly more difficult. Vinyl siding is easy to pop off of the home to drill holes where the foam will be injected. The same applies to aluminum siding, although the process is slightly different. Once the foam is installed, the holes are filled with foam caps.
Brick siding is harder to work with and requires crews to drill into the mortar to get to a point where they can inject the foam. Holes are drilled into the top, middle, and bottom of each stud cavity to ensure the stud cavity is filled. After the foam is injected and the cavities are full, then mortar must be used to fill in the holes that were drilled.
With all of these factors, a person who has a larger area to insulate along with brick siding will get a higher estimate than a person who has a smaller area to insulate with vinyl or aluminum siding.
Another difficulty of the job is whether there is access to the area that is to be insulated. Will strips need to be cut into the cathedral ceiling so it can be sprayed? Is there enough room to get into the crawl space, or will the floor need to be cut?
There's a lot to think about, but your project manager will explain all of this to you during the estimate.
RELATED: Insulating Exterior Brick Walls: Should the Wythe Cavity or Between the Studs Be Done?
Ways to Reduce Foam Insulation Cost for a Home
Many utilities offer energy-efficient rebates to encourage homeowners to update or add insulation to their homes.
These rebates could be as small as around $50 for insulating the rim joist to as large as about $1,000 for insulating the entire home.
Most things you buy don't pay you back, but the money saved on monthly energy bills will add up to be a net gain in the long term. Some customers have saved as much as up to 10 percent on their monthly bills on the low end, whereas others have seen their bills cut in half.
There are many factors that determine the amount you save on energy bills after your home has been insulated. These other factors include having the right sized HVAC system for your home and your energy usage in general, just to name a few.
Types of Insulation Products Offered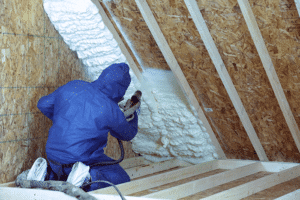 When an entire home is insulated by RetroFoam of Michigan with foam, there are two types of products used – RetroFoam injection foam and Icynene-Lapolla spray foam.
Essentially it comes down to areas that are considered an open cavity or a closed cavity.
RetroFoam will be used throughout the house in any area that has closed cavities, such as walls.
Spray foam will be used in areas that are open cavities, including attics, crawl spaces, and rim joists.
Spray foam would also be used in homes with cathedral ceilings. In this case, strips would be cut into the ceiling, and the foam would be sprayed into each cavity. Once the foam is applied, the cut strips would be replaced with a rough patch of drywall mud to cover the seams.
There are two types of spray foam, open cell and closed cell, which have different properties and applications that can also impact the cost. In most cases, we recommend open cell spray foam in the home, but there are instances when closed cell is the better option. This can change the cost because closed cell tends to be a more expensive product.
RELATED: Open Cell vs Closed Cell Foam Insulation: Which is Better for My Home?
Other Services Offered When Using Spray Foam Insulation in an Existing House
Free estimate – A project manager comes to your home, takes measurements and looks for trouble areas, and then gives you a quote of how much the project will cost. They will also discuss any discounts and rebates you could be eligible for.
Free concierge program – A concierge is assigned to each customer who will stay with them throughout the entire process. The concierge will know the project like the back of their hand.
Help to complete financing – For customers who are looking to get their project financed, an employee at the contractor's office will help walk the customer through the process.
Clean-up before the project – Almost every home has existing insulation in the attic that will need to be removed. The contractor should have a crew that comes out to the home and spends several hours removing the old insulation from the attic, crawl space, and rim joist to prepare the space for spray foam.
Clean-up after the project is complete – After the insulation job is completed, crews work to return the home to the way it looked before the project was started. This includes cleaning the siding and vacuuming up any foam on the ground. The spray foam crew is going to clean up the plastic they laid down and make sure the inside of the home where they worked looks just like it did before they arrived.
Rebates – Most customers get rebates from their energy provider. A good contractor will send those rebates in for the customer after the job is done.
Lifetime Warranty – The lifetime warranty is sent to the homeowner after the project is completed. This warranty is valid for the life of the home and is transferable.
All of these above services should be included in the price of the project, so there are no added charges.
RELATED: The RetroFoam of Michigan Process from Estimate to Install
How Much Time Does it Take to Insulate a Home with Foam Insulation?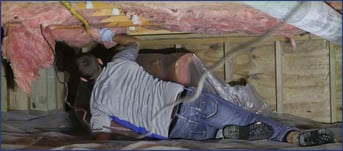 An entire existing home insulation project takes approximately two days.
The first day is spent cleaning out existing insulation in the attic, crawl space, and rim joist, depending on the scope of the project, and preparing it for spray foam. This process takes about 4 to 6 hours, depending on the scope of work.
On the second day, the two crews show up in the morning ready to work. Spraying and injecting foam can range anywhere from 6- to 9-hours depending on the size of the job.
Let's do a deeper dive into the time it takes to insulate each area of the home.
Attic: 5 to 8 hours to spray foam insulation.
Rim Joist: 1 hour to spray foam insulation.
Crawl Space: 2 to 3 hours to spray foam insulation.
Walls: 5 to 8 hours to inject foam insulation.
Fees and Taxes in Addition to the Cost of Spray Foam Insulation for a House
There are no additional fees or hidden costs once the job is completed.
The estimate you sign and agree to is the final cost of the project.
One thing you may want to double-check is whether the county you live in requires you to have any kind of permit for the work you plan to have done. That permit could cost anywhere between $1 and $500, depending on the scope of work that needs to be done. It's always best to check with your county to have a better idea of what that permit could cost.
Is Spray Foam Insulation Worth the Extra Cost?
Is your home or certain rooms in your home freezing in the winter and scorching hot in the summer? Cold floors making your feet cold? Are uncomfortable drafts annoying your family? Outrageous energy bills putting a strain on your wallet?
Spray foam in certain areas of your home could be the answer.
When it comes to the importance of comfort and energy efficiency, many homeowners have decided the benefits way outweigh the cost. That's because they have seen savings on their monthly energy bills. After all, their furnace or AC unit no longer has to run constantly to maintain a constant, comfortable temperature.
Get Started with Our Spray Foam Insulation Cost Calculator
When you are ready to schedule a free in-home estimate and live in Michigan's lower peninsula or the greater Toledo area, give us a call at 866-900-3626, or fill out the form on this page.
If you want to continue your educational journey into the world of foam insulation, you can also head over to our Learning Center, where there is a ton of resources available.
You can also check out our budget calculator to give you a rough idea of the cost of the project, but keep in mind that it doesn't include any discounts or rebates you could be eligible for.
Related Articles
How to Plan and Pay for Your Foam Insulation Cost
Home Insulation: Everything Homeowners Need to Know
The Total Lifetime Cost of Foam Insulation: It's Less Than You Think
About Amanda Ringler
Amanda previously has worked as a breaking news and crime reporter, TV news producer, and editor in Flint and Detroit. Throughout her career as a journalist, she has won several awards from The Society of Professional Journalists - Detroit Chapter and the Michigan Press Association. As part of the RetroFoam of Michigan family, Amanda uses her experience as a journalist to write content that will help educate homeowners on the benefits of foam insulation. When Amanda isn't writing, she's spending time with her husband and rescued huskies. She also loves knitting, making art, cooking, and hosting dinner and a movie night for friends and family.