How to Repair Drywall That Has Been Blown Out by Injection Foam Insulation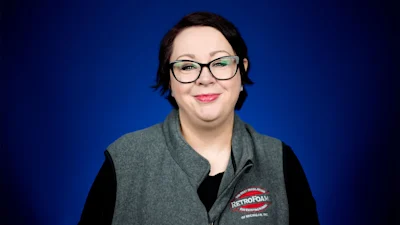 All you wanted was a warmer home and now you're looking at drywall that has seen better days.
Your insulation contractor was injecting foam insulation into your existing exterior walls when you noticed them starting to bow and crack.
While rare here at RetroFoam of Michigan, it does happen and the bowing and cracking aren't always because of the injection foam. Our lifetime warranty covers not just the product but our workmanship and would cover this if it were to happen, but not every insulation contractor offers that sort of thing, so it's good to know how to fix it.
Since the worst can happen and not all insulation contractors offer a lifetime warranty, we thought we would explain our process of how to repair drywall if it becomes bowed or cracked during the injection foam insulation installation process.
Drywall Wall Repair If Bowing or Cracks Occur
The worst-case scenario has happened during your injection foam installation and the drywall has bowed and cracked but fear not because it can be repaired.
Before we discuss how to fix it, let's take just a moment to talk about how we got here.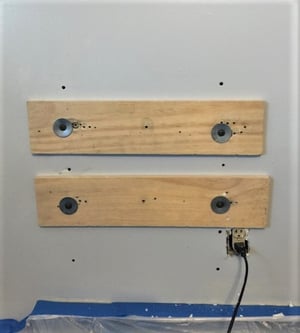 To err is human, so it is possible that operator error lead to the drywall damage because the cavity is overfilled. Other reasons the drywall might bow or crack is because the drywall was improperly installed or there was previous damage to the wall.
Now you know why it happened so let's cover how to repair it.
Here at RetroFoam of Michigan, we have Eric Vibert who is our go-to when this happens, and he explained the repair process to me and sent me the photos you see in this article for reference.
Eric said typically, if the drywall bows out and bulges, an experienced contractor can anchor a board across the drywall into the studs. By doing this the drywall is pushed back into place and can be re-anchored to the studs.
A rough patch of mud is then put over those new screw holes and is sanded.
That wall is now flattened back out and just needs a little sanding and paint to look like it did before.
A crack in the drywall is treated the same, but obviously, there is a little more involved as more mud is needed.
Pine boards are screwed into the studs where the crack is located as the crack was likely caused by bowing. Once the drywall is re-secured it's time to mud the crack.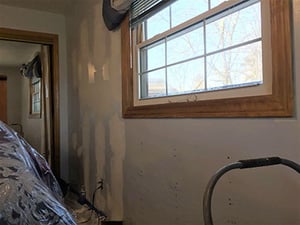 The crack has to be mudded and sealed back up. Once this is done, just like those screw holes, you are free to do a little sanding and painting to get your wall back to normal.
The important thing here to keep in mind is that a good contractor will do this for you as part of the warranty on their workmanship. It's always important to discuss what kind of warranties a contractor offers, if they are insured, and if they are licensed before work begins on your home.
Insulating Existing Walls with Foam Insulation
As I said before, while it doesn't happen very often there is the possibility that injection foam can bow or crack your drywall.
Don't let this keep you from hiring a contractor to injection foam insulation into walls in your home. It's best to keep the what-ifs in mind when buying home insulation, but your contractor can give you peace of mind from their experience and loyalty to homeowners.
Ask them questions about if this were to happen, how do they handle it and that can give you a good indication if they are the right fit for the job.
Related Articles
How to Insulate a House Without Taking Down Drywall
Injection Foam vs Spray Foam Insulation: What's the Difference?
How Do Crews Know if the Wall Cavity is Full When Injecting Foam Insulation?
About Amanda Ringler
Amanda previously has worked as a breaking news and crime reporter, TV news producer, and editor in Flint and Detroit. Throughout her career as a journalist, she has won several awards from The Society of Professional Journalists - Detroit Chapter and the Michigan Press Association. As part of the RetroFoam of Michigan family, Amanda uses her experience as a journalist to write content that will help educate homeowners on the benefits of foam insulation. When Amanda isn't writing, she's spending time with her husband and rescued huskies. She also loves knitting, making art, cooking, and hosting dinner and a movie night for friends and family.