Will Plaster or Paneling Impact Injection Foam Installation?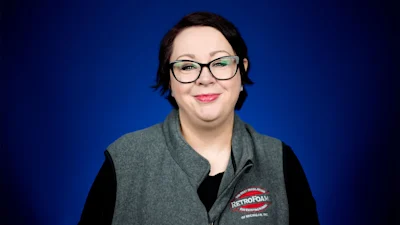 You see a lot in your injection foam insulation research about drywall, but what if you have plaster or maybe you have paneling?
Will the injection foam leave you with paneling that's bowed or plaster that is cracked?
These are legitimate concerns and depending on the contractor and if they offer any kind of warranty, these things could cost you even more money to fix.
RetroFoam of Michigan has insulated thousands of homes since we started in 2002. Out of all those homes, we've encountered our fair share of paneling and plaster, enough so that we know what to expect and how to work with these walls.
In our continued efforts to educate homeowners, we will discuss both types of walls, what could happen during installation, and how to fix it.
Injection Foam Insulation Installation with Plaster or Paneling Walls
Just because drywall is the more common wall material most insulation contractors work with, doesn't mean there aren't tons of paneling or plaster walls out there with a desperate need for insulation.
When it comes to the installation, the injection foam process for existing walls is exactly the same as drywall. A row of siding is removed outside, holes are drilled into the stud cavity, the foam is injected, then the holes are plugged, and the siding is replaced.
Now that the process is out of the way, let's take a look at the differences in the install of plaster or wood paneling versus drywall.
Injection Foam Installation for Plaster Walls
There is this thought that plaster walls are weaker and easier to break than drywall when it comes to injection foam installation.
That's not actually correct. Plaster is actually a little bit stronger than drywall, so in most instances, it is less likely to crack.
It is rare for drywall to crack, and the same is true for plaster walls. However, repairing plaster is a much different process.
Drywall is easier to cut out and replace, but plaster, on the other hand, tends to be more difficult to repair. When plaster cracks, you can't push it back in like you can with drywall during the repair process. Even if the drywall needs to be replaced, it can be a simple process.
When there is a break in the plaster, it's not like drywall where the piece can be removed and replaced.
The best way to fix the plaster is to preserve the existing plaster around the crack rather than tearing it out. The Spruce recommends scoring the crack open, spreading on a thin layer of joint compound, covering the wet crack with tape, feathering the compound a few inches past the tape, and letting it dry. Next, you sand, feather again, and repeat.
It's a timely process but will leave the plaster looking as good as new when it's finished.
Injection Foam Installation for Paneling
Paneling can be a less sturdy wall material to work with.
Wood paneling will bow or buckle due to humidity levels changing, a house settling, or if the nails come loose. This all lends itself to paneling being a fickle thing to work with, but here's how a good contractor will do it.
The installation here is a little different. The process is the same, but the technique is changed. Instead of letting the pressure build-up in the cavity, a good injection foam installer will be much gentler to avoid any stops in the wall cavity pushing the injection foam hose out.
Depending on the degree the panel bows out, there is the possibility it can be tacked back on with nails. In most cases though, drywall screws can be used to secure the paneling back to the wall. In extreme cases, a section of paneling may need to be replaced.
While the installation process is the same for homes with paneling, it is done with a much more delicate technique.
Get Foam Insulation for Your Home
Whether your home has plaster, wood paneling, or drywall you now know the installation process isn't really all that different.
The best thing to do to quell your concerns is to talk with your foam insulation contractor about their process with your specific wall material. It doesn't hurt to ask upfront what experience they have working with paneling and plaster.
A good contractor will offer some manner of warranty that will cover the product, as well as the workmanship so if anything goes wrong it won't cost you any more money.
If you want to learn more about our process and the benefits of the foam we use, check out the Learning Center on our website.
About Amanda Ringler
Amanda previously has worked as a breaking news and crime reporter, TV news producer, and editor in Flint and Detroit. Throughout her career as a journalist, she has won several awards from The Society of Professional Journalists - Detroit Chapter and the Michigan Press Association. As part of the RetroFoam of Michigan family, Amanda uses her experience as a journalist to write content that will help educate homeowners on the benefits of foam insulation. When Amanda isn't writing, she's spending time with her husband and rescued huskies. She also loves knitting, making art, cooking, and hosting dinner and a movie night for friends and family.