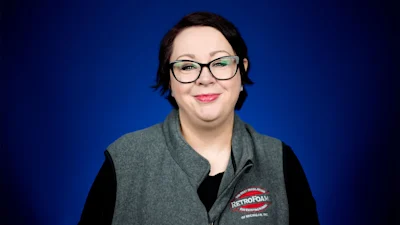 Noise can be an annoying problem in both your home and your office.
Whether it's hearing everything that your neighbors do or you're looking for some privacy for a meeting at work, soundproof insulation has become something you are seriously looking into.
Before you get started, it's important to know the difference between soundproofing and sound deadening. Soundproofing a room means you are making it impervious to sound, while sound deadening reduces the sound transmission into the room.
Insulation, either fiberglass or injection and spray foam, can be used to deaden the sound in your home or office. So, if you're looking for insulation to soundproof your home or office it isn't going to do the trick and you'll need to look into some more intense acoustical methods for soundproofing.
RetroFoam of Michigan has been helping homeowners and business owners make their spaces quieter. It all comes down to understanding how sound is transmitted, and we will explain how that works to you.
Let's take a look at what you need to know about insulation materials that will make your space quieter.
The Best Sound Deadening Materials for Homes and Offices
When it comes to cutting down on the noise in your home or office, your options are either fiberglass batts or spray foam and injection foam insulation.
Soundproofing Fiberglass Insulation for Homes and Offices
Owens Corning makes a sound attenuation batt that is unfaced, lightweight, flexible fiberglass insulation batts that are designed to control noise in metal stud cavity walls. This would make it ideal for office buildings.
There is also the regular fiberglass batts that are faced with either a kraft or foil vapor retarder.
The problem that comes along with fiberglass, is it still allows for air movement.
Sound will travel through your home the same way air does, through any openings or cracks. With that being said, if the batts aren't cut to perfectly fill the cavities, then air gets inside and so does the noise.
There is also the added concern of installing the fiberglass. This installation would have to be done either as the structure was being built or during a remodel, as the ceiling and drywall would have to be removed to put the fiberglass into place.
RELATED: Fiberglass insulation Problems: 6 Things to Watch Out For
Soundproofing Spray Foam and Injection Foam Insulation for Homes and Offices
Foam insulation will dampen the sound coming into your home or office by up to 80 percent.
While it does drastically reduce the sound coming into your space, it doesn't 100 percent soundproof it. But a little noise reduction can actually go a long way, but more on that in the next section.
Unlike fiberglass batts, injection foam insulation can be installed in the walls without taking down your drywall. Spray foam can be installed in cathedral ceilings by cutting panels into the ceiling and spraying the foam into the cavities.
Foam insulation is made to expand, so it completely fills the cavity where it has been installed. This stops air movement, which greatly reduces the sound transmission, not to mention cold or hot air that is trying to get inside the space.
When it comes down to it, your expectations should drive the choice you make.
Measuring Sound Transmission
When considering sound deadening insulation materials, it's important to look at the material's Sound Transmission Class (STC).
The STC is a single number rating used to indicate the effectiveness of an entire construction assembly, like a partition, wall, floor, or ceiling, in resisting the passage of airborne noise, according to the Insulation Institute.
Basically, the higher the STC rating, the better soundproofing performance you will see. Let's look at the numbers provided by the Insulation Institute and what that means about the sound of loud speakers that can be heard from the other side of a wall.
STC 25 – Easily understood
STC 30 – Fairly understood
STC 35 – Audible, but not intelligible
STC 45 – Must strain to hear
STC 48 – Barely audible
STC 50 – inaudible
The sound attenuation batt has an STC rating of 49 with one layer of drywall on each side, according to Owens Corning.
The injection foam and the spray foam we use both have an STC rating of 41.
Fiberglass does have a higher STC rating, but it really comes down to how both of the insulation materials perform as a whole and your expectation of quietness.
If you want your home or office to also be more energy-efficient and comfortable, then you need to consider the pros and cons of fiberglass and foam insulation.
Choosing the Best Sound Deadening Insulation for Your Needs
You now know the best course of action to dampen or deaden the sound coming into your home or office.
You need to consider your expectations and pick the right solution for what you want to accomplish. You should also consider if the insulating value of the material has any value to you, the installation method, and how much of a mess you want to deal with.
If you want to learn more about the added benefits of foam insulation, check out the Learning Center on our website.
About Amanda Ringler
Amanda previously has worked as a breaking news and crime reporter, TV news producer, and editor in Flint and Detroit. Throughout her career as a journalist, she has won several awards from The Society of Professional Journalists - Detroit Chapter and the Michigan Press Association. As part of the RetroFoam of Michigan family, Amanda uses her experience as a journalist to write content that will help educate homeowners on the benefits of foam insulation. When Amanda isn't writing, she's spending time with her husband and rescued huskies. She also loves knitting, making art, cooking, and hosting dinner and a movie night for friends and family.