FAQ | attic | attic insulation | insulation | spray foam | unvented attic | vented attic
You're looking to re-insulate your attic with spray foam because you're tired of losing money, but there are just a few more things to consider.
FAQ | attic | hot roof | insulation | unvented attic
While doing your research on insulating your attic you may have come across a term you've never heard of before – hot roof.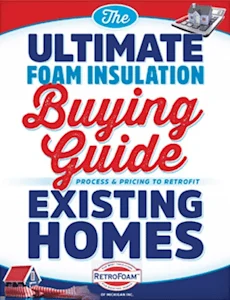 Have questions about insulating your existing home with foam? Our free educational guide compares home insulation types while answering the most frequently asked questions, including the process and pricing of foam insulation.
FAQ | VOC | off gas | re-occupancy time | spray foam
The goal of any homeowner is to make their home an even better place to live. The next item on your list is insulation, but there's a question over off-gas. The word contractors use for off-gas is VOC or volatile organic compound. It's basically all of the little bits that are expelled during the process of spraying something. Off-gas is in your hairspray, your kid's body spray, and anything you brought home from the dry cleaners. But does spray foam insulation off-gas?
FAQ | insulation | paint | paint foam insulation | spray foam
Spray foam insulation is great for making your home more comfortable and energy efficient, but the yellow-beige color is begging for a makeover.
FAQ | Featured | Foam Insulation | insulation | remove old insulation | retrofit
The saying goes "out with the old and in with the new" and it's true when installing foam insulation in your home.
FAQ | air seal | airtight house | indoor air quality | insulation
You know about the benefits of foam insulation for your home, but you still have questions on whether the material can create an airtight house that will make it too tight.
Crawl space | Smart Homeowner Tips | air seal | cold floors | crawl space insulation | energy savings | insulation
It's a great idea to insulate your crawl space with spray foam, it's going to bring many benefits like eliminating a lot of the drafts that can make your floor chilly and drive your energy bill up. Insulating the crawl space with foam completes the air seal which is the outermost layer of your home that stops heat flow. You want to make sure that you make the envelope right for your home when insulating a crawl space with spray foam. This is where a lot of heat can be lost and if it's cold that means your floor is cold too.
FAQ | Foam Insulation | drywall | insulate walls | insulation | retrofoam | walls
Feeling drafts through your outlets and feeling cold spots on your walls? It might be time to insulate your exterior walls, but you're worried you'll have to tear down all your drywall.
Foam Insulation | closed cell | insulation | open cell
You've decided to go with spray foam insulation because you feel it's the best insulation choice for your home, but now you have another decision to make for your home – choosing open cell or closed cell spray foam.