building envelope | freezing pipes | spray foam insulation
Not many things will ruin your day like having frozen pipes in your home.
Energy Saving Tips | energy efficient home | home thermostat | programmable thermostat
It was never really exciting to shop for a new thermostat for your home, until now.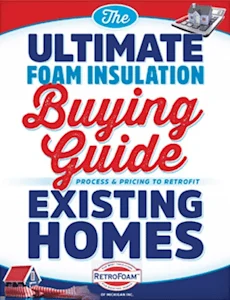 Have questions about insulating your existing home with foam? Our free educational guide compares home insulation types while answering the most frequently asked questions, including the process and pricing of foam insulation.
air seal | conduction | convection | injection foam insulation | spray foam insulation
You don't fill your thermos with your morning coffee thinking it will be cold by the time you get to work.
air seal | home insulation | injection foam insulation | spray foam insulation
Just floating down the lazy river reaching into your cooler to grab a cold beverage is the epitome of comfort.
Existing walls insulation | injection foam insulation
Imagine getting injection foam insulation installed in your existing walls and all of a sudden the walls begin to bow or crack.
condensation in house | dew point | humidity | moisture | mold in house
When you hear the term "dew point" you likely think of the weather outside.
attic | truss lifting | wood framing
Are you noticing that your ceiling looks almost warped?
energy efficiency | energy star | home insulation
We started 2018 with a goal of insulating more than 100 homes as part of the Home Performance with Energy Star program.
Home Buying | Real Estate | insulation
Pressure mounts when you're in the home-buying process.