energy efficiency | energy star | home insulation
We started 2018 with a goal of insulating more than 100 homes as part of the Home Performance with Energy Star program.
Home Buying | Real Estate | insulation
Pressure mounts when you're in the home-buying process.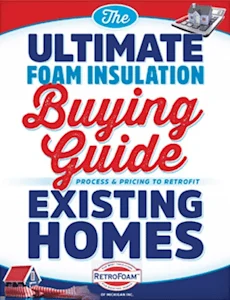 Have questions about insulating your existing home with foam? Our free educational guide compares home insulation types while answering the most frequently asked questions, including the process and pricing of foam insulation.
Michigan residents that have been putting off energy efficient home improvements may want to make them a priority after Consumers Energy recently announced an extra incentive for installing insulation and replacing windows before the end of September.
On its own, R-value doesn't carry much clout as an effective guide. Also See, "True Definition of Foam Insulation R-Value"
Consumers Energy | DTE Energy | Energy Rebates | Tax Credits | energy savings
When investing in new insulation or renovation, you should know about the tax credits and rebates you may qualify to use. Energy efficiency is a sweeping trend, as it assists in lowering greenhouse gas emissions and other pollutants. Additionally, it can lower utility bills and send tax rebates and credits your way.
Foam Insulation | R-Value | insulation
To most people, insulation's R-value is the most important factor of that insulation, but is that the case with foam insulation? Also See, "R-Value: Why There's More To Consider"