Consumers Energy | energy savings | energy star | home performance | injection foam insulation | spray foam insulation
For the past six years, RetroFoam of Michigan has been recognized by Consumers Energy for the work we do to make homes more comfortable, but on Thursday we hit an all new milestone.
Consumers Energy | DTE Energy | Energy bill savings | Foam Insulation | high energy bills | high summer electric bills
Like most of us, you are probably wondering why your electric bills are so much higher in the summer.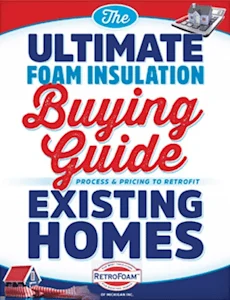 Have questions about insulating your existing home with foam? Our free educational guide compares home insulation types while answering the most frequently asked questions, including the process and pricing of foam insulation.
Consumers Energy | Foam insulation contractor | energy efficient home | energy savings
For the past five years, Consumers Energy has awarded RetroFoam of Michigan for our hard work to make homes more energy efficient.
Case Study | Consumers Energy | customer story | injection foam insulation | spray foam insulation
For three years the Thrall family lived in their Jackson, Michigan home dealing with walls so cold it felt like they were outside. The furnace ran non-stop, gas bills were through the roof, and the Consumers Energy bill was about double the mortgage. The home would get so cold in the winter it was impossible for Betty Jo to even have plants.
Award | Consumers Energy | News | energy efficiency
For the third straight year, RetroFoam of Michigan was presented a major award by Consumers Energy.
Award | Consumers Energy | Excellence in Energy Efficiency | News
RetroFoam of Michigan's commitment to energy efficiency has not gone unnoticed. Consumers Energy has once again awarded RetroFoam of Michigan the Excellence in Energy Efficiency Award for Highest Total Electrical Savings in 2014. This is the second straight year that RetroFoam has been granted this top achievement award from Consumers Energy.