Team RetroFoam Finds Innovative Ways to Help Make-A-Wish Michigan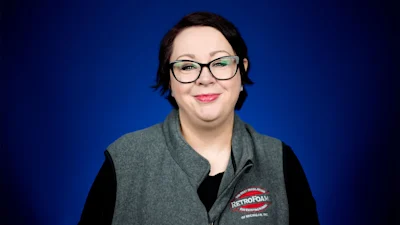 Over the past year, many people have adapted their routines because of the pandemic.
From everyday living to special events, the world as we know it has changed in attempts to keep everyone safe. This is also true for an organization that is close to the hearts of the RetroFoam of Michigan team -- Make-A-Wish Michigan.
Each year, RetroFoam of Michigan has put together a team of riders to participate in the Wish-A-Mile bike tour hosted by Make-A-Wish Michigan. This is the 34th year for the annual ride, which is one of the organization's biggest fundraisers for the year.
This is the second year the annual ride had to go virtual, but that didn't deter Team RetroFoam from still being involved in helping grant wishes.
Previously, Team RetroFoam got their bikes ready to go and rode in either the 300-mile or 50-mile tour. This year, the team put in their miles a little differently.
RetroFoam of Michigan Office Manager, Stacey Barlow, helped coordinate the team and encouraged them to put them miles in, but they'd be using their feet this year.
On Wednesday, July 7, dozens of Team RetroFoam members met up at Barber Park in Montrose Township to walk one mile together. Over the preceding months, the team had been logging the number of miles they walked.
With that final mile, the team logged more than 1,000 miles and raised $19,037 for Make-A-Wish. Barlow said the last two years have been difficult when it comes to raising money because of the pandemic, but that didn't stop the team from doing their part.
"It (the Wish-A-Mile bike tour) has been virtual the last few years, and we're doing all that we can to pull our team together and make some extra money to meet our goal this year," Barlow said. "We're doing it for the kids."
Barlow went on to say thanks to the generosity of the homeowners we work with, as well as our sponsors, Team RetroFoam met their goal of $20,000.
Erin Hayes, a customer support concierge at RetroFoam of Michigan, lost her brother Christopher when he was 19-years-old to kidney disease. She said she knows first-hand what Make-A-Wish does for children suffering from life-threatening diseases.
"I had a brother that I lost in 2004, and he was part of Make-A-Wish. Me and my family, through Make-A-Wish, went to Disney World for an entire week," Hayes said. "I have seen from the backside what this does for children in need, so I am absolutely enthused that I can take part in the Wish-A-Mile with my company."
If you'd like to learn more about the annual Wish-A-Mile bike tour and the work Make-A-Wish Michigan does to grant wishes to sick children, check out their website.
Related Articles
Team RetroFoam Adapts to New Virtual Make-A-Wish Bike Tour to Grant Wishes - 2020
New Team RetroFoam Riders Battle Heat, Rough Terrain to Grant Wishes - 2019
Thankful Riders, Wish Kids Makes Volunteering for Wish-A-Mile Bike Tour a Humbling Experience - 2018
About Amanda Ringler
Amanda previously has worked as a breaking news and crime reporter, TV news producer, and editor in Flint and Detroit. Throughout her career as a journalist, she has won several awards from The Society of Professional Journalists - Detroit Chapter and the Michigan Press Association. As part of the RetroFoam of Michigan family, Amanda uses her experience as a journalist to write content that will help educate homeowners on the benefits of foam insulation. When Amanda isn't writing, she's spending time with her husband and rescued huskies. She also loves knitting, making art, cooking, and hosting dinner and a movie night for friends and family.