Thankful Riders, Wish Kids Makes Volunteering for Wish-a-Mile Bicycle Tour a Humbling Experience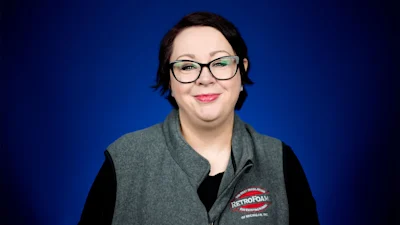 I am not the athletic type, so riding a bicycle for 300-miles just wasn't in the cards for me, but I knew I wanted to lend a hand in some way.
Last year I was able to volunteer at Make-A-Wish Michigan's Heroes Hurrah, which is the last day of the Wish-a-Mile bike tour. That experience sparked a need for me to be more involved.
In 2016, RetroFoam of Michigan partnered with Make-A-Wish Michigan in an effort to help grant wishes to children with life-threatening conditions. For every job RetroFoam of Michigan insulates, $5 is given to Make-A-Wish Michigan, and this doesn't include the money homeowners decide to donate as a match, which many donate well above.
We also have a small team of riders who participate in the annual Wish-A-Mile bike tour in July – which is a three-day 300-mile ride or a 50-mile bike ride. Riders need to raise a minimum amount of funds to participate in the ride.
This year we raised more than $15,000. We also sponsor one of the break-stops, which is where my story begins.
Appreciation from Riders
Break-Stop 2 really changed my life this year and has awoken in me the passion to make a difference.
I spent three days at Break-Stop 2 at a table our company provided. Our team, as well as co-workers, made a list of items that riders asked for. Stacey Barlow, Customer Concierge for RetroFoam of Michigan, orchestrated our volunteer efforts this year.
Stacey, Retrofoam of Michigan General Manager Eric Garcia, and I made the hike up to Cadillac for the first day of volunteering.
It was raining and chilly, so we threw on some boiling water to hand out coffee to help wake-up and warm-up the riders. That first day of gratitude from everyone was so nice and helped me realize that I didn't need to be a rider to make a difference – I could be there to support the riders and whatever they needed.
These three days I helped apply BioFreeze on sore muscles, I handed out hot chocolate and coffee, pinned racing numbers, and helped open packets of Ibuprofen. Every time someone said "thank you" I made sure to thank them and tell them how much it meant to everyone that they were riding because when it comes down to it they are the superstars.
Talking to the riders and hearing them say our break-stop is the best and how much they appreciate us is an amazing feeling. It's a feeling that will bring me out every single year to make sure these teams of bicyclists get everything they need.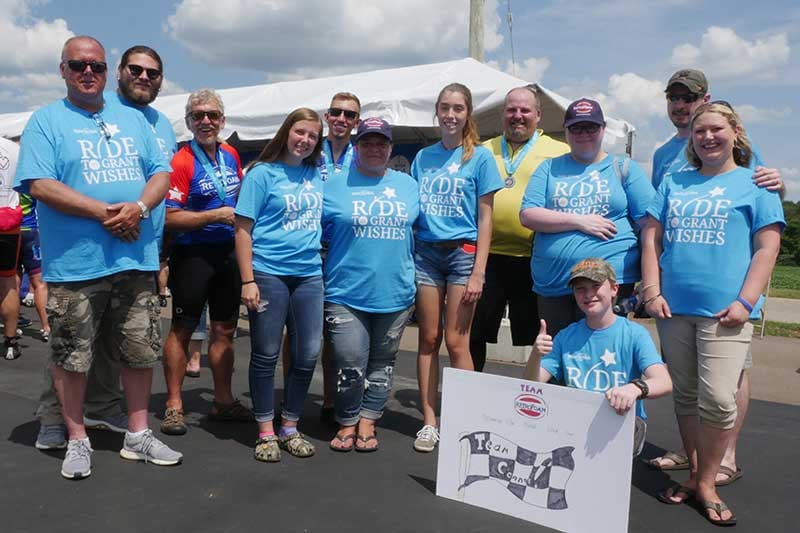 Where it All Comes Together -- The Finish Line
While their appreciation and thanks are a great feeling, there is nothing that beats the warmth and love on the last day at the finish line.
This is where the Wish Kids get to see the riders who are helping to make their wishes come true. After they cross the finish line, the riders meet their Wish Kid who gives them all medals. The absolute joy in the eyes of these children as they meet their riders can bring even the hardest of people to tears.
These kids have been through so much at such a young age, but to talk with them and hang out with them you would never know it. They are full of life and energy, and most of all love for the people that have done so much to help them through such a hard time in their lives.
RetroFoam of Michigan's special Wish Kid is Connor. He is battling Sturge-Weber syndrome, which is a neurological disorder.
Last year, Connor was in his wheelchair as Team RetroFoam crossed the finished line. This year he was able to not only stand but even walk around a little with help from his mother.
This is why we ride, and this is why we volunteer.
Seeing the joy on Connor's face when he sees his team is the most heartwarming feeling. He is an amazing little boy with a huge heart who has become a part of our family.
This year of volunteering and seeing the blood, sweat, and tears of riders and then the look of love and appreciation from the Wish Kids fueled me, our team, and our company to become even more involved next year.
If you would like to learn more about Make-A-Wish Michigan and their efforts to grant wishes to sick children, check out their website.
About Amanda Ringler
Amanda previously has worked as a breaking news and crime reporter, TV news producer, and editor in Flint and Detroit. Throughout her career as a journalist, she has won several awards from The Society of Professional Journalists - Detroit Chapter and the Michigan Press Association. As part of the RetroFoam of Michigan family, Amanda uses her experience as a journalist to write content that will help educate homeowners on the benefits of foam insulation. When Amanda isn't writing, she's spending time with her husband and rescued huskies. She also loves knitting, making art, cooking, and hosting dinner and a movie night for friends and family.