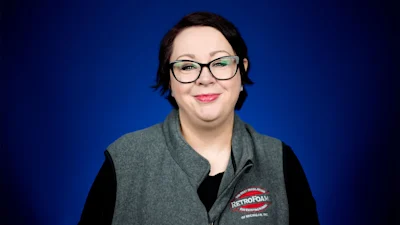 The hills, fatigue, and pain didn't stop
Team RetroFoam from completing 300-miles in just three days
, because they knew who would be waiting at the finish line.
That was 6-year-old Connor.
Connor is battling Sturge-Weber syndrome (SWS), which is a neurological disorder that is marked by a distinctive port-wine stain on the forehead, scalp, or around the eye.
The stain is a birthmark that is caused by an overabundance of capillaries near the surface of the skin. The blood vessels on the same side of the brain as the stain may also be affected, according to Healthline.com.
Connor has suffered from seizures and even a stroke, but he continues to fight by attending physical therapy, speech therapy, and occupational therapy on a weekly basis.
Connor's wish was to go to Disney World – wishes like this is why Team RetroFoam rides.
"Riding 300-miles on a bike for this great cause recharges my heart and soul enough to last another year," said RetroFoam of Michigan owner Mark Massey. "We appreciate all the support from our friends, customers, and business partners affording us this great opportunity."
Make-A-Wish Michigan's 30th Annual Wish-A-Mile bike tour took place July 27 through July 30. Riders bicycled from Traverse City all the way down to Michigan International Speedway. The 300-mile ride coincides with the Wish-A-Mile 50, a one-day, 50-mile ride, as well as WAM Jr., a half-mile kids ride for ages 5-years-old to 13-years-old.
"The ride was an amazing experience that allowed me to meet some of the strongest, most courageous people in the world. My fellow riders were also great," said RetroFoam of Michigan General Manager Eric Garcia. "Riding 300-miles in 3 days seemed like an incredible task, though it pales in comparison to the kids we are riding for. Three hundred miles of hills, heat, wind, fatigue, and pain – all to support and meet someone who has more strength and courage than I could ever imagine."
For every home insulated by RetroFoam of Michigan, a minimum of $5 is set aside to benefit Make-A-Wish Michigan. The homeowner is then offered the opportunity to match that $5, but many have given well above that match. This year Team RetroFoam raised $17,528 for the 2017 ride, well above the $14,500 goal the team set thanks to the generosity of customers, friends, and family.
"Our 30th Annual Wish-A-Mile® Bicycle Tour was an amazing celebration of 30 years of riding to grant wishes," said Karen Davis, president & CEO of Make-A-Wish® Michigan. "Because of the passion and dedication of our riders, sponsors, volunteers and supporters, we raised more than $2.4 million (and counting!) to grant life-changing wishes to our courageous Michigan kids. We are so grateful for the generosity of our wonderful WAM community and inspired by their commitment to bring hope, strength and joy to our wish kids and families."
Team RetroFoam weren't the only members of the RetroFoam family to get involved with the Wish-A-Mile event. Tammie Massey, Stacey Barlow, and Madison Barlow volunteered for the first two days of the ride manning break stops where riders could grab a snack, something to drink, and tune-up their bicycles if needed.
During the last day of the ride, called the Heroes Hurrah, RetroFoam of Michigan employees Ashley Bedtelyon and Amanda Ringler volunteered during the event.
Volunteering for the event was something that meant a lot to Bedtelyon.
"Volunteering for Make-A-Wish this year was one of the most humbling experiences I've ever had," said RetroFoam of Michigan office manager Ashley Bedtelyon. "Seeing all the riders, volunteers, families, and friends support such an amazing cause was touching and emotional for me. But of course, it's all for the Wish Kids and seeing them, despite all the struggles they have faced at young ages, with the biggest smiles and excitement all day really put life into perspective."
RetroFoam of Michigan decided to partner with Make-A-Wish Michigan in 2016. The organization's mission is to grant the wishes of children with life-threatening medical conditions to enrich the human experience with hope, strength, and joy.
RetroFoam of Michigan plans to increase their involvement for next year with a higher goal, as well as more riders and volunteers.
To learn more about Connor and his battle with SWS, check out his Facebook page Connor's Battle with Sturge-Webber Syndrome.
About Amanda Ringler
Amanda previously has worked as a breaking news and crime reporter, TV news producer, and editor in Flint and Detroit. Throughout her career as a journalist, she has won several awards from The Society of Professional Journalists - Detroit Chapter and the Michigan Press Association. As part of the RetroFoam of Michigan family, Amanda uses her experience as a journalist to write content that will help educate homeowners on the benefits of foam insulation. When Amanda isn't writing, she's spending time with her husband and rescued huskies. She also loves knitting, making art, cooking, and hosting dinner and a movie night for friends and family.