Subscribe
Who Are the Best Manufacturers of Fiberglass Insulation?
best fiberglass manufacturers | fiberglass insulation | insulation
Insulation is an important addition to your home, but choosing the right material for your budget and needs is important too.
If you are considering fiberglass insulation for your home, the next thing to tackle is deciding which manufacturer to use. The best manufacturers of fiberglass insulation include Johns Manville, Guardian, Knauf, and Owens Corning.
RELATED: How Much Does Fiberglass Insulation Cost?
RetroFoam of Michigan specializes in injection and spray foam insulations with more than 15 years of experience insulating homes across the lower peninsula. While foam is our forte, we have dealt with fiberglass in homes that need updated or new insulation.
We occasionally have customers that are looking for a cheaper insulation option who are curious about the different manufacturers of fiberglass.
As a part of our ongoing efforts to provide our customers with the best information, we have compiled a list of the best fiberglass insulation manufacturers.
Best Fiberglass Insulation Manufacturers
Fiberglass insulation – which is made up of extremely fine glass fibers – is an insulation material that can be found in most homes. Fiberglass insulation is most commonly used as either blankets that come in batts or rolls and loose fill. Fiberglass is also available as rigid boards and duct insulation
Currently fiberglass manufacturers produce medium- and high-density batt insulation products that have a slightly higher R-Value than standard batts, according to the U.S. Department of Energy.
Johns Manville
Johns Manville fiberglass insulation can work in each room of the home with R-Values ranging from R-11 to R-38. Here is a look at the fiberglass insulation products JM offers and their benefits.
JM Kraft-Faced batts and rolls are ideal for moisture control in exterior walls. It is available in pre-cut batts to fit standard wall cavities or rolls that can be cut to fit any size cavity.
The thermal and acoustical insulation offers R-Values between R-11 to R-38.
JM Comfort Therm fiberglass insulation is wrapped in plastic for less itch and dust during the installation process. The poly-encapsulated thermal and acoustical insulation is available with a vapor-retardant plastic facing or without the facing for use in hot, humid climates. It comes in pre-cut batts or rolls.
JM unfaced building insulation is made with formaldehyde-free thermosetting binder that provides a better indoor air quality. It is made for effective heat control from the exterior while controlling unwanted noise in the interior walls.
Johns Manville Climate Pro blown-in fiberglass insulation is designed to fit into hard to reach cavities and corners. The material's R-Value ranges between R-11 to R-60.
Guardian
Guardian offers fiberglass insulation spray, blown-in, and batts. Here is a look at Guardian's products and benefits.
Guardian's UltraFit Plus is a spray-on fiberglass insulation. It's R-Value varies between R-14 to R-40 depending on the thickness of the material applied.
Guardian Fatt Batt has a R-Value of R-49 at 15 inches thick. There are 6 pieces of batt insulation per bag.
Guardian Supercube II is a loose-fill fiberglass insulation that works in attics, walls, and floors. The material's R-Value ranges between R-11 and R-60 in open attics and R-15 to R69 in closed cavities.
Attic Guard Plus is a premium loose-fill fiberglass insulation. The R-Value ranges from R-11 to R-60 for open attics and R-15 to R-69 for closed cavities.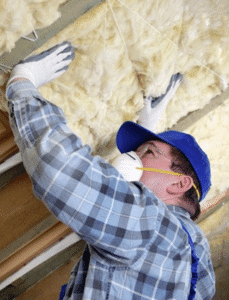 Knauf Insulation

Knauf Insulation manufactures thermal and acoustical glass mineral wool insulations for residential customers, as well as commercial, industrial, marine, original equipment manufacturer, and metal building applications. Here is a look at their fiberglass insulation materials.
Knauf's EcoBatt insulation doesn't look like traditional forms of fiberglass insulation due to its natural brown color that represents a level of sustainability. EcoBatt insulation combines sand, recycled bottle glass and ECOSE technology to create the sustainable insulation. The natural color assures no phenol formaldehyde, acrylics, or artificial colors are used to manufacture the material. The R-Value ranges between R-11 and R-38 in various areas of the home.
Jet Stream Ultra blowing wool insulation is an unbonded, virgin fibrous glass blowing insulation designed with optimal thermal properties, as well as coverage and blowing characteristics that help completely fill the cavity. The blown insulation doesn't settle and is made with recycled content. The R-Value varies between R-11 and R-60 for attics and R-15 to R-39 for walls cavities.
EcoFill Wx blowing wool insulation is also unbonded, virgin fibrous glass blowing insulation with a high degree of post-consumer recycled material, as each bag contains the equivalent of 30 recycled bottles. It is designed for weatherizing and retrofitting existing homes. The material doesn't settle once it is installed in walls. The insulation R-Values range between R-11 and R-60 in the open attic and R-15 to R-39 in wall cavities.
The EcoRoll glass mineral wool insulation is made with ECOSE technology and contains a high concentration of sand and at least 60 percent post-consumer recycled glass. The ECOSE technology ensures no phenol, formaldehyde, acrylics, or artificial colors are used to manufacture the material. The material has consistent quality, low dust, and easy-cutting resilient fiber.
Owens Corning
Owens Corning develops, manufactures, and markets insulation, roofing, and fiberglass composites. Here is a look at the fiberglass insulation they offer.
AttiCat expanding blown-in insulation system releases fiberglass insulation that expands inside the machine. It is a self-feeding system that helps to put the insulation where the homeowner wants it. It is an optimized process for minimal handling of the fiberglass material. The R-Value ranges between R-13 and R-60 in attics of new and existing homes.
EcoTouch Pink fiberglass insulation with PureFiber technology delivers comfort to the home while helping the structure stay cool in the summer and warm in the winter. The material will also help reduce monthly heating and cooling costs and offers exceptional thermal and acoustical performance. The material is certified to include a minimum of 58 percent total recycled content and is formaldehyde free. It comes in batts and rolls with R-Values ranging from R-13 to R-38.
Choosing the Best Insulation for Your Home
RetroFoam of Michigan has been insulating thousands of homes across the lower peninsula with foam insulation, so we know that foam is the superior insulating material over other traditional insulation like fiberglass.
If you are curious about the benefits of foam insulation and how it can dramatically increase the comfort levels in your home, along with lowering your monthly energy bills, check out our Guide to Insulation for more information.