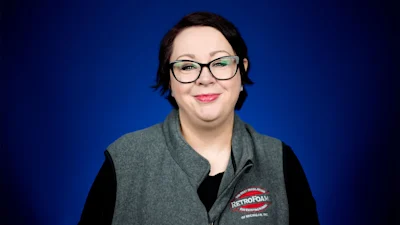 You've had enough of the drafts coming through around the windows in your home, so it's time to take action.
Window insulation foam will help reduce those drafts that are annoying you.
Those drafts happen because when the window was installed, the contractor likely didn't insulate the cavity around it, but there is a fix that will keep you from cursing your windows.
RetroFoam of Michigan has been helping homeowners make their homes more comfortable and energy-efficient since 2002. While we specialize in high-pressure foam insulation, we understand how window insulation foam works and how it can help you.
Not only do we understand how the canned foam works, but we're going to explain to you how to install it. Let's get started.
What is Window Insulation Foam?
Window insulation foam is a low-pressure polyurethane canned spray foam that is low-expanding and designed to create an air seal around your windows. It can also be used around drafty doors, as well.
Window insulation can foam can be purchased at any home improvement store, just make sure you aren't accidentally buying a froth pack or DIY spray foam kit.
Supplies Needed to Seal Around a Window Frame
Just like any other Do-It-Yourself project, you're going to need some supplies to get the job done.
Aside from a hammer and nails, here are some of the things you'll need before getting to work.
Four to five cans of window and door spray foam insulation.
A respirator mask.
A utility knife to cut the foam if need be.
Work gloves.
Safety goggles.
How to Seal a Window Frame
Creating an air seal around a window sounds like a big project, but it's not quite as difficult as you may think depending on the approach you take.
You can either remove the frame around the window or remove the entire window to spray the foam into the cavity.
The best method to insulate around the window and ensure the cavity is full is to just remove the frame. This is a much easier process as well. Once you have removed the frame if there is any old insulation around the window you should first remove that and then spray the canned foam around the gap.
Getting rid of the old, dirty insulation if there is any will give you a blank canvas to work with. Just keep in mind it's important to fill every nook and cranny.
The install is very easy to control when insulating around the window because the can is a low-pressure foam. It also doesn't have a high expansion rate, which means it's easy to see where the material is and where you still need to spray.
Once you have filled all the gaps, just put the frame back on around the window. If the foam has been installed correctly, you will have an air barrier that will finally put an end to those pesky drafts.
As an aside, if you are getting new windows, make sure the contractor you hire insulates and creates an air barrier around the windows to save you the hassle of having to do it later.
Air Seal Your Entire Home
Now that you know how to seal the space around your windows, you can start working on making your home more comfortable.
Just stopping these leaks can help make your home comfortable and more energy-efficient but think about the bigger picture. What if you could make your entire home the space you have always dreamed of?
Comfortable, inviting, and not too bad on the wallet.
If you want to learn more about foam insulation for other areas of your home, check out the Learning Center on our website.
About Amanda Ringler
Amanda previously has worked as a breaking news and crime reporter, TV news producer, and editor in Flint and Detroit. Throughout her career as a journalist, she has won several awards from The Society of Professional Journalists - Detroit Chapter and the Michigan Press Association. As part of the RetroFoam of Michigan family, Amanda uses her experience as a journalist to write content that will help educate homeowners on the benefits of foam insulation. When Amanda isn't writing, she's spending time with her husband and rescued huskies. She also loves knitting, making art, cooking, and hosting dinner and a movie night for friends and family.