Attic spray foam insulation | attic insulation | can light insulation covers | recessed lights
Your attic is in desperate need of insulation, but you're wondering how spray foam insulation around recessed lights is going to work out.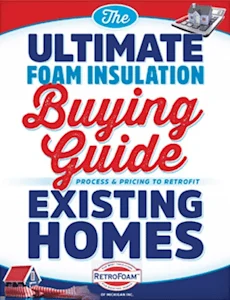 Have questions about insulating your existing home with foam? Our free educational guide compares home insulation types while answering the most frequently asked questions, including the process and pricing of foam insulation.
REScheck | building code inspector | hers rating | home performance | michigan insulation code
You're about to start building your new house and you know you want spray foam insulation, but that means you'll need either a HERS Rating or REScheck to meet building code insulation requirements.
cellulose insulation | exterior wall insulation | house sheathing | injection foam insulation
You're all set to have injection foam insulation installed in your exterior walls, but something has been discovered that has pushed the brakes on the project.
home insulation | mineral wool insulation
There are a lot of insulation options out there and one you have been coming across is mineral wool insulation.
FAQ | new home insulation | spray foam insulation
When you're planning to build your new home, you likely have a lot of questions about insulation, but where do you turn?
insulation | new build home insulation | new construction insulation cost
The blueprints have been drawn up, and you have decided on countertops and flooring for your new home, but now it's time to look into the cost of spray foam insulation.
fiberglass insulation problems | flash and batt insulation | flash and batt problems | spray foam insulation problems
Flash and batt insulation is used most commonly in new construction homes or remodeled homes in the walls, but that doesn't mean it doesn't come with its fair share of problems.