Insulation Installation Process | RetroFoam Injection Foam | injection foam insulation
Are you dealing with drafty outlets and walls that are cold to the touch?
Attic cellulose insulation | Attic fiberglass insulation | Attic spray foam insulation | Best attic insulation | attic | cellulose | fiberglass | insulation | spray foam
You are looking to insulate your attic to keep heat from escaping, but you're not sure which insulation type will meet your needs.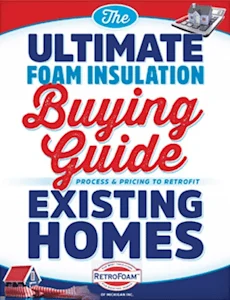 Have questions about insulating your existing home with foam? Our free educational guide compares home insulation types while answering the most frequently asked questions, including the process and pricing of foam insulation.
sound dampening | sound deadening | spray foam insulation
You've heard that spray foam insulation for sound deadening can make your home quieter, but is that really true?
injection foam insulation | sound dampening | soundproofing | spray foam insulation
All you want is some peace and quiet in your home, so soundproofing seems like the best option to achieve your goal.
attic insulation | hot attic | unvented attic | vented attic
Is it the sun or is it your attic? Sometimes it's so hot, you can't really tell the difference.