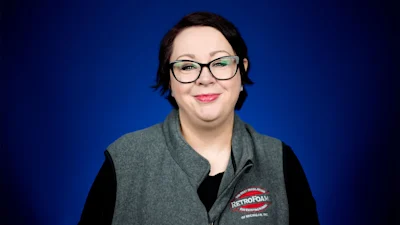 It's a nightmare many homeowners dread every winter – frozen pipes.
Having your pipes freeze can be a nightmare in and of itself, but if those frozen pipes burst, you're in for a headache and out a lot of money to fix it, as well as any damage it causes.
We here at RetroFoam of Michigan aren't plumbers, but we do know exactly how you can prevent frozen pipes. We have been insulating homes with foam insulation since 2002 and know that insulation is just one of the ways to keep your pipes from freezing.
We're all about educating homeowners, so we're going to discuss how to thaw pipes that have frozen and how to prevent them from freezing in the future.
How to Thaw Frozen Pipes
The pipes that freeze the most frequently are the ones exposed to extreme cold in unheated areas like basements, crawl spaces, attics, garages, and kitchen cabinets.
The pipes running against your exterior walls that may have little to no insulation are also capable of freezing.
The first sign your pipes have frozen is if only a trickle of water comes out of your faucet.
Your next steps need to be careful and precise because if the pipe has already burst and you run the water, it's going to leave a huge mess in your home. If you find the pipe has already broken, turn off the water at the main shutoff valve.
You can find the main shutoff valve either at the water meter or where the mainline enters your home.
If the pipe hasn't burst yet, the Consumers Report suggests turning on the faucet, because running water through the pipe will help to melt the ice.
Some other ways you can thaw those frozen pipes is by applying direct heat to the section of the pipe that is frozen. You can do this by using a heating pad, hairdryer, space heater, or towels soaked in hot water.
Once you have full water pressure again coming from the faucet, go through the rest of your house and check the remaining faucets. The Consumers Report states if one section of pipe was frozen there is the possibility that other sections of pipe are frozen as well.
If you aren't able to find the section of frozen pipe on your own or you can't get to it, your best bet will be to call in a plumber.
Prevent Frozen Pipes
Now that you have lived through the frozen pipes you need to prevent them the next year, and that should start before the cold season hits.
The Red Cross suggests checking around your home to find the water supply lines in unheated areas. Once they have been located, you can install products that are made specifically to insulate water pipes. These products include pipe sleeves and heat tape. In a pinch, the Red Cross states even newspaper wrapped around the pipes could work.
Once the cold weather hits there are some other things you can do to help prevent the frozen pipes, according to the Red Cross.
If your water supply lines are in the garage, make sure you keep the garage door closed.
Let the water drip from your faucets when the weather gets very cold outside. Running that water at even a trickle will help to keep your pipes from freezing.
Keep your thermostat set at a constant temperature. You might end up with a higher monthly energy bill, but by doing this you will avoid a costly repair job. Maintain this temperature even if you plan on going away during the cold weather.
Adding Insulation to Avoid Frozen Pipes
Adding insulation to your home is another way to avoid your pipes from freezing every winter, according to the Red Cross.
If your pipes are outside of the building envelope of your home then they aren't part of the conditioned space. This means the air you pay to heat isn't reaching them. Making your walls, attic, and crawl space a part of the building envelope, or the living space helps to protect your pipes against freezing.
The construction of a home that puts the pipes in a position to be outside of the building envelope is also part of the problem and makes freezing pipes hard to prevent.
The key is to add an insulation material that creates an air barrier and won't allow those cold temperatures into your home in the first place. Traditional insulation, like fiberglass and cellulose, still allows for air movement but foam insulation is an air barrier.
If you would like to learn more about creating an air barrier in your home, check out the Learning Center on our website.
About Amanda Ringler
Amanda previously has worked as a breaking news and crime reporter, TV news producer, and editor in Flint and Detroit. Throughout her career as a journalist, she has won several awards from The Society of Professional Journalists - Detroit Chapter and the Michigan Press Association. As part of the RetroFoam of Michigan family, Amanda uses her experience as a journalist to write content that will help educate homeowners on the benefits of foam insulation. When Amanda isn't writing, she's spending time with her husband and rescued huskies. She also loves knitting, making art, cooking, and hosting dinner and a movie night for friends and family.