Energy Saving Tips | Energy bill savings | energy efficient home
It's a moment you fear every month – opening your monthly energy bill.
diy spray foam insulation | electrical wiring | foam insulation cost | michigan insulation code | sound deadening
When you buy a product, you have certain expectations of how it should work but sometimes your expectations aren't reality.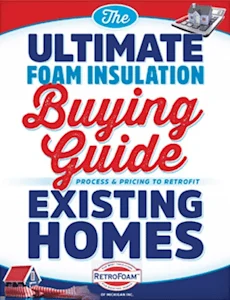 Have questions about insulating your existing home with foam? Our free educational guide compares home insulation types while answering the most frequently asked questions, including the process and pricing of foam insulation.
Make-A-Wish Michigan | Wish-A-MIle
It was more than 93 degrees in the shade and the terrain was anything but friendly, but that didn't stop Team RetroFoam from finishing their ride on Sunday, July 28.
energy efficient home | home insulation | insulation rebates
You know adding the right insulation to your home could save you a ton of money on your monthly energy bills, but wait, there's more.
A fire has ripped through your home.
buying home insulation | insulation contractors
Looking for an insulation contractor can be a daunting task as you want the best company for your project.
Energy Saving Tips | utility bills
How to cut utility bills is obvious in the winter, but in the summer not so much.
Cool house | Foam Insulation | Smart Homeowner Tips | summer
Is your air conditioner working overtime trying to keep your house cool in the summer?
air seal | energy efficiency | energy efficient home | energy star | foam insulation benefits | home performance
Home performance is something you should take seriously, especially if you want an energy efficient home.
basement flooding | basement insulation
Whether it's from heavy rain or a busted pipe, several feet of water in your basement is bad news bears.