fiberglass insulation | insulation removal | pole barn | pole barn spray foam insulation | spray foam insulation
You built the man cave of your dreams in this nice big pole barn, but something's just not quite right.
Wall Insulation | injection foam insulation
You see a lot in your injection foam insulation research about drywall, but what if you have plaster or maybe you have paneling?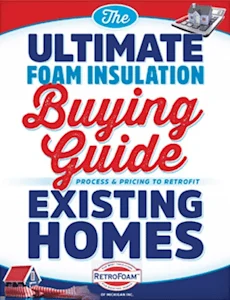 Have questions about insulating your existing home with foam? Our free educational guide compares home insulation types while answering the most frequently asked questions, including the process and pricing of foam insulation.
insulation removal | spray foam insulation
When you're about to have spray foam installed in your home, there are some things you need to do before the job can start.
energy efficiency | home insulation history | humidity | summer insulation problems
The snow has melted, birds are chirping, and the flowers are blooming, so that means only one thing – summer is right around the corner.
Insulation Contractor | buying home insulation | home insulation
Are you courting a few potential insulation contractors and need to know how to narrow down your choices?
Pests | allergens | cellulose insulation | fiberglass insulation | health | mold in house | remove old insulation
If you've done your research, you know that a superior insulation material can keep a lot of unwanted things out of your home – like allergens, pests, uncomfortable air, and moisture.
closed cell spray foam insulation | open cell spray foam insulation
Through your research online about spray foam you might see a lot of people stating that closed cell is the better option when compared to open cell.
common wall insulation | exterior wall insulation | injection foam insulation | spray foam insulation
You're sitting in your living room relaxing and there is that old familiar smell – your neighbor's cigarette smoke.