Why Removing Fiberglass Insulation from the Pole Barn Before Spray Foam Installation is Important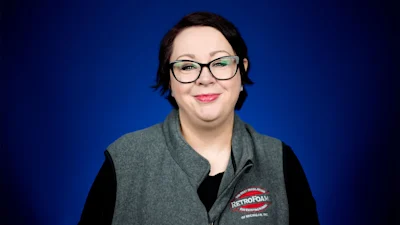 You built the man cave of your dreams in this nice big pole barn, but something's just not quite right.
During construction, you went with the cheaper option of fiberglass insulation and it's starting to show. You can't maintain a constant temperature and you're having trouble with humidity levels. These are just a few of the pole barn insulation problems you could be experiencing.
Now you want to upgrade to spray foam for the air seal it creates, along with other benefits, but you're left wondering why you can't just leave the old fiberglass where it is? Won't it add more R-Value?
No, you shouldn't and no it won't. Here's why.
RetroFoam of Michigan doesn't just insulate homes – we've insulated our fair share of pole barns too. Just like in a house, there are a lot of good reasons why removing old fiberglass insulation is in your best interest. The biggest being that spray foam and fiberglass aren't friends and they don't play nice together. Injection foam is a little more forgiving, but we'll get into those specifics in a minute.
In our continued efforts to educate homeowners like you, we're gonna explain why removing fiberglass insulation before you have spray foam installed in your pole barn is so important.
Why Remove Fiberglass Insulation from the Pole Barn?
Let's get real.
If your fiberglass has gotten wet or dirty, it's not doing you any favors. When the material comes into contact with moisture, like from the condensation on the metal walls, it loses its insulating properties anyways.
If the fiberglass insulation is retaining any moisture at all it is also pushing against the metal structure of the pole barn. This will inevitably lead to rust forming, not to mention the mold or mildew that can grow in the insulation.
Another big reason to remove the old fiberglass has a lot to do with the spray foam application.
A good contractor knows the best way to install spray foam insulation is directly onto the metal walls and ceiling. Aside from that, you can't really spray the foam onto the fiberglass anyways. Even if it has a visqueen backing, a good contractor wouldn't recommend it. There won't be good adhesion and there is the likelihood that all of the insulation would pull away from the wall.
Fiberglass Insulation Removal Safety
A good contractor will take care of removing fiberglass insulation, but there is a safety aspect to it.
This is because fiberglass is made up of fine glass fibers and when those fibers are disturbed they can embed in the skin, eyes, and even the lungs.
Fiberglass insulation removal safety is very important, so it should only be done by a person who has experience working with the material. When removing old fiberglass insulation, it's important to wear protective gear that ensures all skin is covered, as well as protective eye wear, face masks, and gloves.
For spray foam it is required the fiberglass be removed, but there is a way to get around removal and still have foam insulation installed.
What if the Pole Barn Walls are Covered?
Now if your walls are enclosed, spray foam might not be the best option. This also means, as long as the walls aren't higher than 15-feet or have a cavity of 12-inches deep or more, then injection foam can be used in the walls.
This installation can be done from the inside or the outside, depending on your preference.
If you don't mind the contractor drilling into the drywall, the crew would drill holes in the middle of each cavity and run the hose from the top to the bottom. The injection foam will compress the existing fiberglass.
Most contractors make sure the holes are plugged and a rough patch of mud is applied to the areas where the holes were drilled.
In the case of installing from the outside, the crew would drill right through the metal wall and follow the same procedure of running the hose up and down the stud cavity. Once the foam has been injected and the cavities are filled, then a plastic plug with ribs is popped into the drilled hole. In the rare chance that the plug doesn't fit snuggly, the installer would caulk around it to make sure it stays in place.
Now, if the walls are tall and deep, then injection foam just isn't a good fit. In this instance, many contractors prefer to cut strips into the drywall so they can remove the fiberglass and spray the wall cavity through the access strips.
Once the wall cavity is completely filled, those strips are replaced, and a rough patch is put around the seams.
The biggest thing to take away from this is spray foam can't work properly and create the air seal you're seeking if the old fiberglass is present. Injection foam, if it is a good fit for the project, can create the same air seal while compressing the old fiberglass.
It's worth mentioning though, if moisture and condensation have been problems in your pole barn, you'll want to remove the fiberglass anyways before it does serious damage to the structure.
The Best Pole Barn Insulation
Spray foam insulation is the best option for your pole barn by itself because it creates an air seal that combats issues you don't want to have where you store your cars, boats, or machinery like high humidity and condensation.
There is a lot to learn when it comes to making your pole barn the best space it can be. Our "Ultimate Foam Insulation Buying Guide for Pole Barns" has all the information you need from cost, our installation process, and so much more.
Related Articles
The Most Frequently Asked Questions and Answers About Spray Foam Insulation for Pole Barns
Will Spray Foam Rust Metal Buildings?
What is the Best Pole Barn Insulation? (Spray Foam vs Fiberglass vs Foam Board)
About Amanda Ringler
Amanda previously has worked as a breaking news and crime reporter, TV news producer, and editor in Flint and Detroit. Throughout her career as a journalist, she has won several awards from The Society of Professional Journalists - Detroit Chapter and the Michigan Press Association. As part of the RetroFoam of Michigan family, Amanda uses her experience as a journalist to write content that will help educate homeowners on the benefits of foam insulation. When Amanda isn't writing, she's spending time with her husband and rescued huskies. She also loves knitting, making art, cooking, and hosting dinner and a movie night for friends and family.