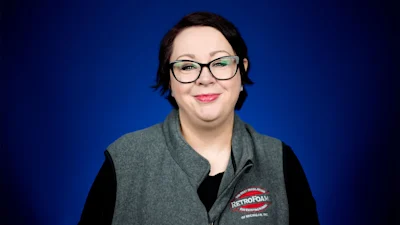 All it takes is a few bad apples to spoil the bunch.
That can also be true of spray foam materials that have left a pole barn or other metal building with rust. It's not so much spray foam as a whole as it is a few offenders.
RetroFoam of Michigan has been spraying foam insulation for more than 17 years, and we get asked a lot if our product will rust pole barns or other metal buildings. The quick answer to that is "no" but we're going to break down that answer further.
In our continued efforts to educate homeowners, we will talk about the misconception that all spray foam will rust metal and what spray foam insulation for metal buildings works best.
Will Spray Foam Rust Metal Buildings?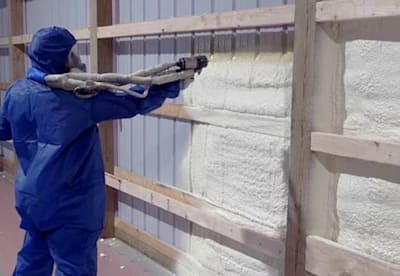 The answer to this question really comes down to the spray foam used and the conditions under which it is sprayed.
The spray foam itself in most cases won't rust the metal, but there are some lower quality products on the market that can have an acidic reaction. This is why it's important to know what product your insulation contractor plans to use. A good contractor won't use a material that will cause damage to your metal building.
Another thing to keep in mind, spraying closed cell foam onto the metal can cause a couple of reactions.
One of those reactions is condensation. Closed cell spray foam comes out at a high temperature, so if it's cold outside you can create condensation on the metal. This is because on one side the metal is cold and on the other, a hot material is being introduced. If the contractor sprays another layer over this, that condensation is trapped on the metal which can lead to issues.
If it's a cold day, it's best to start with a cold barn. Trying to warm the space up before installation again will introduce warmth to the cold metal.
Experienced spray foam installation crews know a few techniques to combat condensation issues when they spray foam metal buildings.
The first is a technique called flashing. In this instance, the installer will do a quick, really short pass to coat your substrate with a thin layer of foam. This allows the installer to spray onto this thin layer of foam instead of the cold metal.
Another sure way to avoid trapping condensation is old-fashioned monitoring. In this case, the installer is keeping an eye on the substrate and wiping it down before spraying the foam.
What it really comes down to is the experience of the spray foam insulation installation crew and the product your contractor uses. A non-experienced installer could also leave your metal walls warped or pitted from spraying closed cell too thick in one pass and not allowing the proper curing time.
Another issue that can arise is if the contractor places a plastic liner on the walls before spraying the foam.
The thought is that if the metal on the outside needs to be replaced, then the plastic would keep the foam in place so it wouldn't be torn out when the metal is removed. This is true, however, this method creates an air space between the foam and the metal leading to a steel building with spray foam insulation condensation issues.
We don't recommend placing plastic on the walls before the spray foam because of the possible condensation problems it can cause.
Spray Foam Insulation for Metal Buildings
When it comes to spray foam insulation for metal buildings you have two options – open cell or closed cell foam insulation.
While most people think closed cell is the answer for insulating steel buildings with spray foam, the truth of that is really whether the walls are exposed or not. Open cell is a great air barrier if your walls will be enclosed, while closed cell is much sturdier for walls that will be exposed.
One reason people are wary of open cell is that there are some metal building spray insulations that absorb moisture. Those products wick moisture and hold it against the metal building which will lead to rust.
As long as your contractor is using premium products, you won't have to worry about those kinds of issues. For example, the open cell spray foam we use doesn't retain water.
Learn More About Metal Building Spray Insulation
Now that you know how spray foam will affect the metal in your building, you might be ready to learn more about how it can benefit you.
If you want to check out even more about the benefits of spray foam insulation, take a look at the Learning Center on our website. You can also get a lot of great info from our article covering the most frequently asked questions about spray foam for pole barns.
Related Articles
What is the Best Pole Barn Insulation? (Spray Foam vs Fiberglass vs Foam Board)
Pole Barn Insulation Problems: 5 Issues to Keep an Eye Out For
What is the Best Insulation for a Grow Room?
About Amanda Ringler
Amanda previously has worked as a breaking news and crime reporter, TV news producer, and editor in Flint and Detroit. Throughout her career as a journalist, she has won several awards from The Society of Professional Journalists - Detroit Chapter and the Michigan Press Association. As part of the RetroFoam of Michigan family, Amanda uses her experience as a journalist to write content that will help educate homeowners on the benefits of foam insulation. When Amanda isn't writing, she's spending time with her husband and rescued huskies. She also loves knitting, making art, cooking, and hosting dinner and a movie night for friends and family.