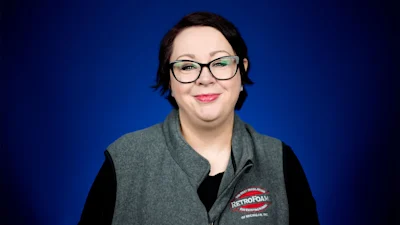 Spray Foam Essential in Transforming Amish Shed into Tiny Home
closed cell spray foam | spray foam insulation | Case Study | customer story | tiny house
Many people choose tiny house living because it is a way to lessen their carbon footprint, and saves them money on monthly utilities.
Sherry Rohn has enough property where her home is located that she decided to help her son out by giving him some space for a new home. This help comes in the form of a 12x24 Amish built shed that they converted into a tiny house.
With any kind of new construction, you have to make sure you meet and pass code. It was during the building stages when it was time for the insulation, that Sherry figured out the only way they were going to make it was with spray foam.
This is when RetroFoam of Michigan came to help.
"It was just a real good experience," Sherry said. "We had great customer service from the beginning to the end."
RetroFoam of Michigan is an insulation contractor servicing Michigan's lower peninsula. We have more than 15 years of experience insulating homes, even tiny ones, with spray foam insulation.
Insulating a Tiny House with Spray Foam
The tiny house for Sherry's son has 2x4 walls and the best way she was going to make code for the insulation was spray foam.
On the Building Prescriptive Code, there is no other material than closed cell foam that can meet code. This is because of its high R-Value. The material's high R-Value per inch is what makes it conducive to areas with minimal space for application.
In the case of this tiny house, we sprayed closed cell foam on the walls and ceiling, due to its low expansion. Sherry said she was very pleased with the attention to detail the installation crew showed during the install while trimming the foam.
"The best thing for me is the fact that your workers were so careful at getting everything smooth enough," Sherry said. "We haven't had any issues putting the walls on and that was a concern to me. The quality of the work the guys did was top notch."
Now that the paneling is up, the insulation and plumbing have passed inspection, Sherry said they are adding the finishing touches. She said she knows he won't have to deal with high monthly energy bills.
"I don't think it will take much to heat this," Sherry said of the tiny house. "Down the road, he will have good heating bills because it is very well insulated."
This is because foam insulation creates an air barrier that is going to keep the conditioned air in and the outside temperatures out.
Learn More About Foam Insulation
Now that you've read how foam insulation can work for even the tiniest house, you might be wondering what the benefits could be for you.
If you want the answers to all of your foam insulation questions, check out the Learning Center on our website.
About Amanda Ringler
Amanda previously has worked as a breaking news and crime reporter, TV news producer, and editor in Flint and Detroit. Throughout her career as a journalist, she has won several awards from The Society of Professional Journalists - Detroit Chapter and the Michigan Press Association. As part of the RetroFoam of Michigan family, Amanda uses her experience as a journalist to write content that will help educate homeowners on the benefits of foam insulation. When Amanda isn't writing, she's spending time with her husband and rescued huskies. She also loves knitting, making art, cooking, and hosting dinner and a movie night for friends and family.