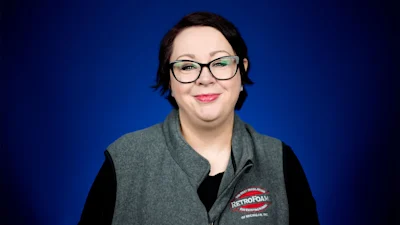 Comfort isn't always the biggest problem in a home – sometimes it's when the monthly energy bills show up.
Scott Hamilton and his wife Tina tried everything they could think of to cut down the costs of their monthly energy bills. He said while they could feel drafts through the walls, the big problem was how much their heating and cooling bills were.
"Our heating bill was over $300 a month," Hamilton said. "We don't pay over $130 now. That's a lot of savings."
About 3-years-ago, Tina told Scott she wanted to try foam insulation. He wasn't so sure at first but decided to give it a try.
"I was skeptical. I didn't want to do it, but my wife did," Hamilton said. "She was telling me it looked like a good idea and could save us money, and that's what we were looking to do – save some money."
Scott was happy his wife talked him into contacting RetroFoam of Michigan.
The walls and crawl space of the Hamiltons' home were insulated with foam insulation by RetroFoam of Michigan. Just insulating these two areas has cut the heating and cooling costs by more than 50 percent in their home. Something else Hamilton noticed – his house was much more comfortable than before.
"You could feel the drafts in the house," Hamilton said. "You don't feel those anymore. It's just more comfortable year-round."
The foam insulation created an air barrier in the walls and the crawl space that helped to keep the air he pays to treat inside where it belongs, while the outside air stays out. Foam insulation is the only material that creates this kind of air barrier.
Hamilton said he received a letter from Consumers Energy that compared his energy usage to other homes in the area. He was amazed to see his home is now performing about 50 percent better than the standard energy-efficient home.
In previous years, Hamilton said when he received these letters from his utility company his usage was significantly higher than the average. He said he knows his home is performing better because of the foam insulation.
"Every time I get my electric bill, I think of RetroFoam of Michigan," Hamilton said.
An added bonus the Hamilton's have experienced is the lack of insects in their home.
"I used to get insects in here and I have had none," Hamilton said. "That's the added bonus. They can't get in."
RELATED: Will Spray Foam Insulation Keep Pests Out of the Home?
If you would like to learn more about the benefits of foam insulation, check out the Learning Center on our website.
When you're ready to experience foam insulation for yourself, give us a call at 866-900-3626 or fill out the form on our website to schedule a free in-home estimate.
About Amanda Ringler
Amanda previously has worked as a breaking news and crime reporter, TV news producer, and editor in Flint and Detroit. Throughout her career as a journalist, she has won several awards from The Society of Professional Journalists - Detroit Chapter and the Michigan Press Association. As part of the RetroFoam of Michigan family, Amanda uses her experience as a journalist to write content that will help educate homeowners on the benefits of foam insulation. When Amanda isn't writing, she's spending time with her husband and rescued huskies. She also loves knitting, making art, cooking, and hosting dinner and a movie night for friends and family.