Why Andy Chose RetroFoam of Michigan as a Career and to Insulate His Home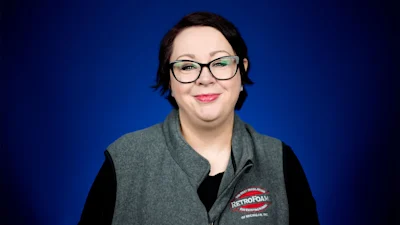 What better time to add spray foam insulation to your home than when you're smack in the middle of a remodeling project?
RetroFoam of Michigan project manager Andy Daul knew that when he recently remodeled half of his home, taking it down to the studs, would be the perfect opportunity to improve his insulation.
Andy has been working in the foam insulation industry for 17 years and gets asked by other homeowners if he would use spray foam in his own home pretty frequently.
"If anyone asks you if this is a product you would use in your own home the answer (from me) is absolutely, yes," Andy said. "Today I am blessed with the ability to do that and couldn't be happier."
Andy made the decision to add spray foam to his walls and ceiling.
"Even though we've added a lot of space to the house and more openness, I know that the house is going to be far more efficient now than it ever was with the areas that are being insulated," Andy said.
Because Andy was limited on space in his wall cavities, he chose spray foam because it is best suited for his project.
"The fact that my walls are only 3 ½-inches I wanted the greatest possible way to obtain maximum performance and foam is it," he said.
Before the installation, a crew came out to remove all of the old cellulose Andy had in his attic. That old insulation needs to be removed because the spray foam needs a clean surface to adhere to. Another reason Andy mentioned the cellulose should be removed is that over time the material gets dirty and can retain allergens.
Once the old cellulose insulation was removed, the crews got to work taping off doors, windows, and flooring to make sure the inside of the home stayed nice and clean. Once the prep work was done, the crew got to work spraying the foam in the walls and ceiling.
Once the spray foam was installed, the crews made sure to remove any foam that got onto the studs so there would be no issues hanging the drywall.
Immediately after the install, Andy said he could already tell the difference in his home.
"The first thing I noticed when the work was completed is how I couldn't hear the road noise," he said. "Secondly, after running the air conditioning for only five minutes it already felt better than I have ever experienced. I will never regret doing it right or choosing RetroFoam as my contractor. Not only did I choose RetroFoam to insulate my house, but I also chose RetroFoam as a career because I have complete faith in our crews and everybody from our office to the concierge."
Learn More About Spray Foam Insulation
There are a lot of benefits that come along with spray foam insulation, from a more comfortable home to a house that is more energy-efficient.
Andy mentioned one benefit in his testimonial – that the foam had reduced the noise coming into his home from the road.
If you'd like to learn more about the benefits of spray foam insulation for your project, check out the Learning Center on our website. If videos are more your thing, we also have the YouTube series Foam University on our YouTube channel where our Professor of Foam talks all things home insulation.
Related Articles
Spray Foam Insulation a Must Have in Alma Farmhouse Renovation
Spray Foam Essential in Transforming Amish Shed into Tiny Home
How Steve's Decision on Insulation Made His Home More Comfortable
About Amanda Ringler
Amanda previously has worked as a breaking news and crime reporter, TV news producer, and editor in Flint and Detroit. Throughout her career as a journalist, she has won several awards from The Society of Professional Journalists - Detroit Chapter and the Michigan Press Association. As part of the RetroFoam of Michigan family, Amanda uses her experience as a journalist to write content that will help educate homeowners on the benefits of foam insulation. When Amanda isn't writing, she's spending time with her husband and rescued huskies. She also loves knitting, making art, cooking, and hosting dinner and a movie night for friends and family.