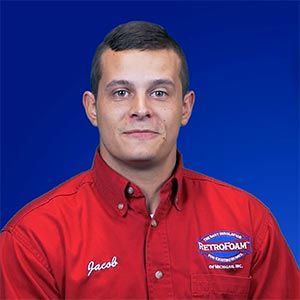 You prepare for all kinds of things in your life, so you know that nothing just magically happens.
You plan to paint your house – you prep by throwing up tarps, taping off areas, moving furniture, and adding a coat of primer. Prepping your cargo or sprinter van for spray foam insulation isn't a whole lot different.
As a customer concierge and project manager here at RetroFoam of Michigan, I like to help out with these van projects. We have van owners from all over the country drive here to our shop in Michigan so we can spray closed cell foam in their vans.
It occurred to me after a conversation with a van owner that some people might want to do the prep work before they drop their van off. That's how I got the idea to provide that information for those van owners who want to learn how to prep for cargo van insulation.
The Best Way to Insulate a Cargo Van
You have options when it comes to insulating your cargo, sprinter, or camper van – you can do it yourself or hire a contractor.
Honestly though, hiring an insulation contractor takes the labor and pain out of the project, especially if this kind of work is out of your wheelhouse.
Closed cell spray foam is going to be the option that creates the air seal you want to control the climate in your new work or living space. This is also a material you'll want to hire an insulation contractor to install, as DIY spray foam can be a real mess if it's not done right.
If you are set on doing it yourself, the second-best option would be foam board insulation. The foam boards will need to be cut to perfectly fit the walls, ceiling, and floor. You'll also have to use caulk or tape on the seams, so you don't create spaces for air to leak into and out of your van.
Enough of this though, you're here to learn how to prep your van.
How to Prep a Cargo, Sprinter, or Camper Van for Spray Foam Insulation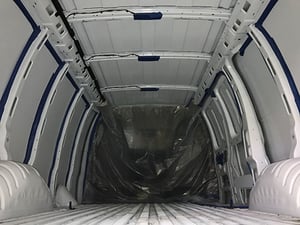 When it comes to prepping your van it can be similar to painting a room in your house.
When we talk about prepping the van we're talking about the space that will be used for either working or sleeping. The front two seats and door panels can stay right where they are because we would typically partition this area off from the rest of the van, but I'm getting ahead of myself.
First, you'll want to remove any seats or bedding you have in the cargo area. You'll also need to remove any paneling on the walls, ceiling, and even the floor if that is part of the installation.
As part of this, you'll want to pull out any stored items like jacks or spare tires.
Basically, when it comes to spraying the foam, it needs to be installed directly onto the metal.
Next up is a bunch of painter's tape.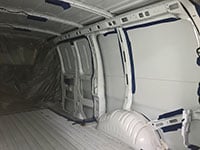 The next step in prepping the cargo area is using blue painter's tape to cover all the ribs or studs. Next is taping off the lights, the inside of the doors, the weather stripping, and the first few inches on the outside of the doors.
Lastly, the front of the van needs to be separated from the area that is going to be sprayed. Like I briefly mentioned before, this is done by creating a partition, between the front seats and the back of the van.
This partition is created using a one mil plastic sheeting and tape. This will protect the front from any possible overspray from the foam.
This is really it when it comes to the prep work. It's all just very tedious and sounds easy, but this alone can take up to several hours when done right.
Nobody wants overspray on the exterior side of the van – let's keep all that spray inside.
How to Get Cargo Van Insulation
This prep work doesn't have to fall on you, as it is something we do as part of the installation.
If you want to put the miles in and get spray foam for your van, we've got you covered. Just fill out the form on our website to request a free estimate or give us a call at 866-900-3626.
Related Articles
Van Insulation: DIY vs Hiring a Professional (Pros/Cons)
Van Insulation Problems: Consider These 8 Issues
Spray Foam Insulation for Cargo and Sprinter Vans
What are the Best Options for Cargo, Sprinter, and Camper Van Insulation?
About Jacob Stacy
Jacob has been with the company for more than 4 years and has worked as an estimator, installer, and in the office. This experience lends itself to his current position as a customer support concierge when answering customers questions. With 10 years of building and manual labor experience, Jacob has the unique ability to answer questions in detail when scheduling appointments. He also has the capabilities to jump onto a truck and help with installation at a moments notice when needed. In his free time, Jacob enjoys spending time with his twin boys and teaching them about the world around them.