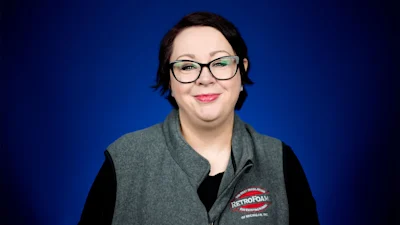 Your mobile home needs insulation, and you only have two options – fiberglass or foam.
It can be a little overwhelming to decide which materials will be best for your project. There are things to consider, like the cost to insulate your mobile home and the insulation's performance. Creating an air seal in your mobile home is important, so you don't have to deal with problems like drafts, uncomfortable rooms, mold, or high monthly energy bills.
RetroFoam of Michigan has been insulating homes for more than 17 years across the lower peninsula, so we understand what it takes to create an air seal and make a house more energy-efficient.
In our continued efforts to educate homeowners, we have gathered information on the best insulation options and how they work.
Let's take a look at a mobile home starting at the top, then the walls, and lastly, the underbelly.
Best Mobile Home Ceiling Insulation: Fiberglass or Spray Foam
Insulating the ceiling in your mobile home is important because it will help keep the air you pay to condition inside where it belongs.
There's nothing worse than cranking up the furnace, just to have that heated air go out through the roof. The best options for the ceiling will be either fiberglass or spray foam insulation.
Fiberglass insulation is a traditional insulation material that consists of extremely fine glass fibers.
For both fiberglass and spray foam insulation, cuts will need to be made to install the material in the ceiling.
Spray foam will create an air barrier and is Class One Fire Rated.
During installation, strips are cut into the ceiling so the foam can be sprayed into the cavities. Once the foam is sprayed, the drywall is secured back into place, and a rough patch of mud is spread onto the seams.
When everything is said and done, spray foam creates an air seal in the ceiling. Fiberglass does have insulating properties, but it also still allows for air movement. That air movement is going to cost you money in energy loss.
Of the $2,000 spent annually by the average American for energy, about $200 to $400 of that is wasted on drafts, air leaks, and outdated heating and cooling systems, according to the U.S. Department of Energy.
Best Mobile Home Exterior Wall Insulation: Fiberglass or Injection Foam
When it comes to the walls of your home, you have two options – either tear out the drywall or use a material that can be installed from the outside.
Again, with fiberglass installation, the drywall would have to be removed to install the material into the stud cavities. It would also have to be cut to precisely fit into the cavities to ensure there are no air leaks. Air will still be able to move through the material, but you'll have even more air leakage if it isn't installed properly.
Injection foam can be installed from the outside without taking down your drywall.
Depending on the type of siding your mobile home has determines the level of difficulty of the job. In most cases, the siding can be removed, holes will be drilled, foam injected into the stud cavity, holes plugged, and siding replaced.
In other cases, the crew may have to drill into the siding, like if it is wood or vertical aluminum. Some mobile homes may have siding attached directly to the studs, with no sheathing underneath. When this happens, the homeowner can either have all of the siding removed and spray foam sprayed into the wall cavities if the walls are drywall and secure, or they can have sheathing added once all of the siding is removed.
If there is brick siding, the crew will drill into the mortar, inject the foam, and fill the hole with a standard gray mortar.
Again, foam creates an air seal, and you won't have to tear down all of your drywall to install it. Fiberglass will require some demo to be installed. The choice really comes down to how much remodeling you want to do and what your home requires as far as performance.
Best Mobile Home Underbelly Insulation: Fiberglass or Spray Foam
You don't want to deal with mold and mildew issues due to moisture under your mobile home.
It's a given that there is moisture under your home, and this is why fiberglass may not be a good fit. Even when it is installed under the floor, once moisture comes in contact with fiberglass, it will lose its insulating capabilities, sag, and retain that moisture leading to mold and mildew growth.
Open cell spray foam sprayed directly onto the skirting and in the rim joist is the best route under your mobile home.
This method is best because the underside of the floor has mechanicals in most cases that are running. It also seals out the outside air keeping your floors warm and energy bills down.
Choosing the Best Mobile Home Insulation Upgrade
You've read through your options, so now you just have to choose which material works best for your project.
What it comes down to is deciding on the cost and what your expectations are. Foam insulation is a premium insulation that comes with a higher price tag, but it also creates an air seal that makes your mobile home more energy-efficient and comfortable.
Fiberglass is less expensive, so if you're working with a tight budget, then this might be the better option for you.
If you want to take back control of your comfort and hard-earned money, give us a call at 866-900-3626 or fill out the form on our website to schedule a free estimate. You might be feeling like you want to do a little more research, and we've got you covered. Head on over to our Learning Center, where you can find a ton of resources to help you out on your educational journey.
Related Articles
Home Insulation: Everything Homeowners Need to Know
How Much Does Foam Insulation Cost for a Mobile Home? (Prices/Rates/Factors)
Mobile Home Insulation Problems: Four Issues to Avoid
About Amanda Ringler
Amanda previously has worked as a breaking news and crime reporter, TV news producer, and editor in Flint and Detroit. Throughout her career as a journalist, she has won several awards from The Society of Professional Journalists - Detroit Chapter and the Michigan Press Association. As part of the RetroFoam of Michigan family, Amanda uses her experience as a journalist to write content that will help educate homeowners on the benefits of foam insulation. When Amanda isn't writing, she's spending time with her husband and rescued huskies. She also loves knitting, making art, cooking, and hosting dinner and a movie night for friends and family.