What is the Best Way to Insulate Concrete Block Walls in Commercial Buildings?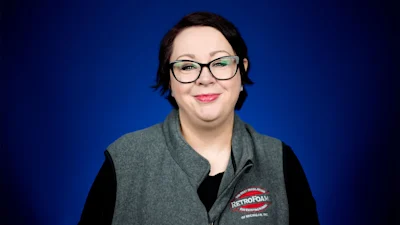 Big box stores, grocery stores, and even restaurants need insulation to keep the structure comfortable and energy-efficient.
These buildings are made using concrete block walls, which can still allow for airflow, which leads to money pouring right out of the walls. Creating an air seal is the best option, so you will want to find an insulation material that will do just that.
RetroFoam of Michigan got its start in 2002, insulating places like Meijer, Walmart, and McDonald's with foam insulation.
We are on a mission to educate homeowners, as well as business owners, on the best way to insulate their projects. Let's take a look at the best way to insulate concrete block walls in commercial buildings.
Commercial Block Wall Insulation Options
The method used for concrete wall insulation in commercial buildings will depend on whether it is a new building or an existing structure.
Here are some of the options for insulating concrete block walls.
Spray Foam Insulation
In the case of a school or commercial building that has concrete block walls, spray foam can be sprayed directly on the outside walls and covered with brick.
You have two options when it comes to spray foam.
The first option is to spray closed cell foam on the outside of the building before the brick exterior.
The second option would be to spray the foam on the interior of the block if drywall would be built out.
Spray foam insulation creates an air barrier that will keep the building warm in the winter and cool in the summer, as well as not cost a fortune in monthly energy bills.
Polystyrene Bead Insulation
In the case of new construction, one option to consider is polystyrene bead insulation.
This material can be poured from the top of the wall. The beads will pour down through the core of the blocks filling them.
One thing to keep in mind with this material and the mineral loose-fill insulation is that if the walls must be cut into, the insulation will pour out through the hole.
Mineral Loose-Fill Insulation
Mineral loose-fill is very similar to sand in consistency.
Much like the beads, mineral loose-fill can be installed by pouring it into the core through the top of the wall. It's important to note, if there are any obstructions in the core, the beads and mineral loose-fill may not completely fill the cavities.
These materials don't have enough pressure behind them to push around the obstruction, so you could be left with pockets that air can still move through.
Injection Foam Insulation
When we have insulated commercial buildings, like Walmart, Meijer, and McDonald's, we have always used RetroFoam injection foam insulation.
Injection foam insulation is going to completely fill the cores in each block. This is done by drilling holes in the middle of the wall, as well as the top and the bottom for taller walls.
RetroFoam insulation is made to fill every nook and cranny where it is installed. This creates an air seal and stops airflow into and out of the building.
Insulating Concrete Block Walls in Commercial Buildings
You have read through your options to insulate the concrete block walls, and depending on whether it's a new structure or an existing one will depend on the action you want to take.
Do you want to learn even more about the benefits of foam insulation for your project? The Learning Center on our website is full of answers to the questions you have.
Related Articles
What is the Best Way to Insulate Concrete Block Walls in Homes?
What is Spray Foam Insulation? What it's Made of, How it Works, & More
What is RetroFoam Home Insulation?
About Amanda Ringler
Amanda previously has worked as a breaking news and crime reporter, TV news producer, and editor in Flint and Detroit. Throughout her career as a journalist, she has won several awards from The Society of Professional Journalists - Detroit Chapter and the Michigan Press Association. As part of the RetroFoam of Michigan family, Amanda uses her experience as a journalist to write content that will help educate homeowners on the benefits of foam insulation. When Amanda isn't writing, she's spending time with her husband and rescued huskies. She also loves knitting, making art, cooking, and hosting dinner and a movie night for friends and family.