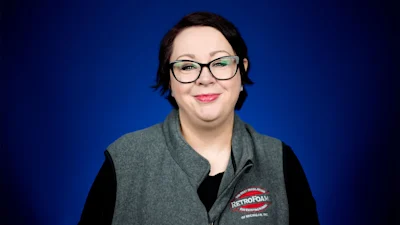 You're tackling a do-it-yourself spray foam project with a spray foam kit, or you're sealing up around windows and doors, but you've got one problem – how to trim the spray foam once you're done.
It's not difficult, but you could end up undoing all of your hard work if you don't do it correctly.
RetroFoam of Michigan has been in the spray foam business for more than a decade, so we know just how the trim that foam, so it sits nice and neat in the cavity where it has been applied.
As part of our ongoing mission to educate homeowners like yourself, we will share this secret with you. Well, it's not so much a secret as it is the right technique and tools to save you some hassle when trimming spray foam insulation.
How to Trim Spray Foam
Whether it's a small project in your home, or even smaller like the space around your windows and doors, cutting back the foam will likely be necessary.
So, whether you're using a froth pack or canned foam, there will always be some excess that will need to be trimmed. The big thing is to wait until the foam has completely cured before you try to cut it.
The time to wait before you start cutting is going to depend on the brand of spray foam you purchased. It could take a few hours to almost an entire day, so make sure to double-check your packaging and really check the foam to make sure it is cured.
Best Way to Cut Spray Foam Insulation
Now we're assuming everything is cured and ready to be trimmed.
There are a few different spray foam cutter tools you can use, and honestly, it really depends on the size of the job. You won't want to use a long-bladed knife to cut around your windows or a utility knife to cut back foam in a stud cavity. With that being said, make sure you have the correct cutting blade for the job you are working on.
A serrated blade is the key when cutting open cell spray foam. Open cell foam is very pliable, so there's no need to break out the big guns to cut it back from where it's applied.
If you need to cut back closed cell, you could use a file because the material is much denser, but that's not recommended on larger projects just because of the time it would take. A reciprocating saw can be used with either material or a professional-grade grinder.
Now let's talk about technique.
The key to properly cutting spray foam is a fast-paced back-and-forth movement as it will move through the foam easier. Basically, you are sawing through the foam with the serrated knife blade or saw. This method will also ensure you have less tearing as you try to cut.
If you are pulling down and out with the blade, you will pull that foam away from where you sprayed it. That's going to leave you with gaps that air can get through. If your technique is no good, then you could end up costing yourself money reapplying the foam you inadvertently just pulled out.
When using a reciprocating saw, the mechanics do most of the work for you. All you have to do is move the saw down through the material. Now, if you're using a grinder on closed cell spray foam, you'll need to apply some pressure and work your way down from the top to the bottom to make sure it is even moving down the stud.
Learn More About Foam Insulation
We've given you the goods, so now you can get to trimming that spray foam down.
But this isn't the only info we have to share with you. If you want to learn more about the benefits of foam insulation, check out the Learning Center on our website for more great articles, videos, and info.
Related Articles
How to Remove Spray Foam from Skin
DIY Spray Foam vs Hiring a Contractor: Which is Best?
Low-Pressure vs High-Pressure Spray Foam: What's the Difference?
About Amanda Ringler
Amanda previously has worked as a breaking news and crime reporter, TV news producer, and editor in Flint and Detroit. Throughout her career as a journalist, she has won several awards from The Society of Professional Journalists - Detroit Chapter and the Michigan Press Association. As part of the RetroFoam of Michigan family, Amanda uses her experience as a journalist to write content that will help educate homeowners on the benefits of foam insulation. When Amanda isn't writing, she's spending time with her husband and rescued huskies. She also loves knitting, making art, cooking, and hosting dinner and a movie night for friends and family.