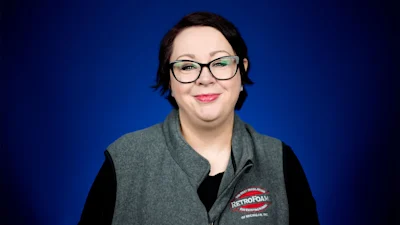 Your crawl space is a dark, dank space that can be a breeding ground for mold and mildew if the proper steps aren't taken.
One of those steps is a crawl space vapor barrier, especially if you have a dirt floor.
RetroFoam of Michigan has been insulating crawl spaces with foam insulation for more than 15 years. When we insulate the walls of the crawl space, we lay down plastic over the dirt floor that is a vapor barrier. This is the technique we use when insulating a crawl space with a dirt floor.
So, what's the big deal about a vapor barrier under the house, anyway?
In our continued endeavors to educate homeowners, we will break down what the crawl space vapor barrier is, how it's installed, and the cost.
What is a Crawl Space Vapor Barrier?
You're probably wondering why a crawl space vapor barrier is important if you have dirt floors.
Well, it comes down to nature and science. No, seriously.
You don't want moisture to seep into your crawl space because it can cause a ton of problems. The thing is, the moisture doesn't have to come from a leak, because it can come right up through the soil in your crawl space.
This moisture will lead to mold and mildew growth, which on their own are unhealthy. On top of that, if you have fiberglass already in your crawl space without a vapor barrier, then that will retain the moisture.
This can lead to structural damage to your home, including rotting wood and rusted metal.
Two more things to consider – any mechanicals, electrical, or plumbing you might have running through your crawl space.
Without a vapor barrier, the moisture that comes in through the soil can lead to electrical shorts, which is a fire hazard. That water can also cause your plumbing to rust and eventually break over time.
This is why a moisture barrier under the house is so important, as it can help prevent that damage and possible hazards. Installing a vapor barrier in your crawl space will keep the area dry and healthy.
Crawl Space Vapor Barrier Installation
A vapor barrier is part of a moisture control strategy when it comes to your home, and specifically to the crawl space.
When it comes to crawl space vapor barrier installation, a contractor will place a 6-mil polyethylene sheet across the crawl space floor and 6 inches up the walls. The sheet seams will overlap by 12 inches and be sealed with tape, according to the U.S. Department of Energy.
As an added measure, some contractors will recommend also creating an air barrier. For example, open cell spray foam would be sprayed on the walls after the vapor barrier has been put in place.
This method is recommended because around 98 percent of water vapor movement gets into your home through air movement, so it controls the moisture content in your home. The Department of Energy states for an effective crawl space moisture barrier, air sealing gaps must be included.
Crawl Space Vapor Barrier Cost
The cost of installing a vapor barrier under a house depends on several factors.
Do you plan to lay the plastic yourself or hire a contractor? On top of that do you plan to add insulation?
If you plan to do it yourself it could cost around $640 for a 1,500-square-foot home, according to the current prices at home improvement stores. This doesn't include the cost of other supplies needed, such as tape, utility knife, gloves, and other materials.
To hire a contractor could cost as much as two to three times that amount.
If you plan to add insulation in your crawl space as well, it makes the most sense to have your insulation contractor install the vapor barrier when they install the insulation.
Insulating Crawl Space With Dirt Floor
If you want to effectively combat moisture in your crawl space, the vapor barrier is a great start, but insulation can really finish the job.
If you want to learn more about creating an air seal, check out the Learning Center on our website.
Related Articles
Crawl Space Encapsulation vs Insulation: What's the Difference?
Best Way to Insulate Crawl Space with Spray Foam: Walls or Ceiling?
What is the Best Crawl Space Insulation? (Spray Foam vs Fiberglass)
About Amanda Ringler
Amanda previously has worked as a breaking news and crime reporter, TV news producer, and editor in Flint and Detroit. Throughout her career as a journalist, she has won several awards from The Society of Professional Journalists - Detroit Chapter and the Michigan Press Association. As part of the RetroFoam of Michigan family, Amanda uses her experience as a journalist to write content that will help educate homeowners on the benefits of foam insulation. When Amanda isn't writing, she's spending time with her husband and rescued huskies. She also loves knitting, making art, cooking, and hosting dinner and a movie night for friends and family.