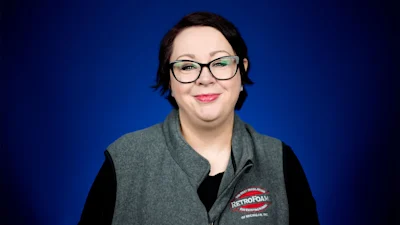 It's easy to confuse air barriers and vapor barriers when trying to do your research on making your home comfortable and healthy.
While you will see both of those terms used together, especially when talking about areas of your home that can be susceptible to moisture issues. That's really where the difference comes into play one seals against moisture while the other air seals the home.
RetroFoam of Michigan has been creating air barriers in homes across the lower peninsula using foam insulation, so we understand how to get that done. On top of that experience, we also help homeowners create vapor barriers in spaces prone to moisture issues.
So let's get down to the basics here and talk about what a vapor barrier is, what it does, and when to use one with insulation.
What is a Vapor Barrier?
A vapor barrier's job is to slow down the movement of water vapor into your home.
A vapor barrier is placed anywhere in the home that there is a high risk of moisture coming into the envelope – the attic, crawl space, or basement. A house wrap is also considered a vapor barrier and works to prevent moisture from getting into the exterior walls.
There are three classes of water vapor retarders or vapor barriers, according to the U.S. Department of Energy:
Class I Vapor Retarders (0.1 perms or less)
Glass
Sheet metal
Polyethylene sheet
Rubber membrane
Class II Vapor Retarders (greater than 0.1 perms and less than or equal to 1.0 perms)
Unfaced expanded or extruded polystyrene
30-pound asphalt coated paper
Plywood
Bitumen coated craft paper
Class III Vapor Retarders (greater than 1.0 perms and less than or equal to 10 perms)
Gypsum board
Fiberglass insulation (unfaced)
Cellulose insulation
Board lumber
Concrete block
Brick
15-pound asphalt coated paper
House wrap
It's important to note, a vapor barrier does not slow the movement of air. Because of this, it's usually recommended to include an air barrier with the vapor barrier.
What Does a Vapor Barrier Do?
A vapor barrier protects your home and in some cases your HVAC ductwork, wiring, and plumbing, from the moisture in the soil of the crawl space.
It also protects your home from moisture that can get in through your roof and basement walls.
This protection will keep moisture out of the space, prevent ductwork from rusting and corroding, help you maintain a drier home, and make access to the space much cleaner.
It's important to know that moisture moves into and out of your home three ways, according to the Insulation Institute.
Through air currents
Diffusion through materials
By heat transfer
So why does any of this matter?
Preventing moisture issues will keep your home happy and healthy. When moisture is introduced to a structure unchecked, it can lead to mold and mildew problems. Once mold gets a foothold in your home, it's a pain to get rid of and in some cases can be dangerous.
Rust and corrosion of your mechanicals and ductwork can greatly reduce their lifespan. This will end up costing you money in the long run for replacement items.
Now, let's talk about using a vapor barrier with insulation that is an air barrier.
When to Use Vapor Barrier with Insulation
There is a lot of confusion at times between the vapor barrier and the air barrier.
Basically, one stops the movement of moisture and the other stops the movement of air. There are times that the use of the vapor barrier and air barrier together makes the most sense to get the best results.
All areas of your home should have a vapor barrier, just like they should have insulation. If you want to create an air barrier as well, then foam insulation is the best bet. This is because your vapor barrier will stop the moisture from getting into your home but does nothing to stop air. That's where the insulation comes in.
Because 98 percent of water vapor movement is through the air, it's important to air seal your home. This will also help you control the temperature in your house, as well as the moisture content.
The Department of Energy states that effective moisture control in the basement, ceiling, crawl space, floors, slab-on-grade foundations, and walls must also include air sealing gaps throughout the structure.
Air Sealing Your Home
Now that you understand how a vapor barrier works, you may want to learn even more about how air barriers work.
If you want to read more about air barriers and how they benefit your home, check out the Learning Center on our website.
About Amanda Ringler
Amanda previously has worked as a breaking news and crime reporter, TV news producer, and editor in Flint and Detroit. Throughout her career as a journalist, she has won several awards from The Society of Professional Journalists - Detroit Chapter and the Michigan Press Association. As part of the RetroFoam of Michigan family, Amanda uses her experience as a journalist to write content that will help educate homeowners on the benefits of foam insulation. When Amanda isn't writing, she's spending time with her husband and rescued huskies. She also loves knitting, making art, cooking, and hosting dinner and a movie night for friends and family.