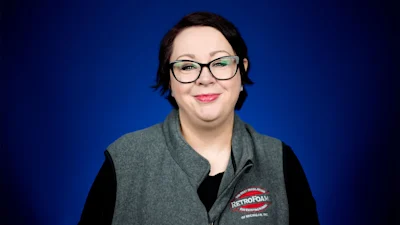 Whether you're remodeling your existing home or building a new house, in your spray foam insulation research you are probably seeing a lot about a thermal barrier.
There is a lot of confusion when it comes to thermal barriers and when exactly they are needed. Luckily, we have your back and will explain the thermal barrier and the International Residential Code (IRC) in a way that you understand.
RetroFoam of Michigan has insulated thousands of home since our start in 2002, so we understand how the IRC and Michigan Insulation Code work when it comes to new homes and remodeling projects.
We like to arm homeowners with all of the information they need to make the best decision for their insulation projects. As part of these ongoing efforts, we are going to explain what a thermal barrier is and whether your spray foam can be left exposed when it comes to your home.
What is a Thermal Barrier?
A thermal barrier is a material that is applied between spray foam insulation and the interior living space.
The thermal barrier is used mostly as a fire resistance measure. The IRC calls for this barrier between the occupied space and materials that could be considered flammable or a fire hazard.
The building code hasn't quite caught up with the advancements spray foam insulation has made over the years. Many premium spray foam insulation materials are Class One Fire Rated, which means it doesn't act as a catalyst in a fire.
Materials that can be used as a spray foam thermal barrier are drywall and plywood. Gypsum board is another thermal barrier as it is a drywall material with a fire retardant built in. There is also DC-315 paint that is sprayed directly onto the foam insulation at a specific pressure.
Not every area of your home has to have a thermal barrier. So, what needs to be covered and what can be exposed.
Can Spray Foam Be Left Exposed?
The quick answer is yes and no, because spray foam can be left exposed in some areas of the home with others require a thermal barrier according to the code.
If the area of the home that has been sprayed with foam is directly connected to the living space, then it has to be separated by a thermal barrier. This would be your exterior walls and ceilings.
Exceptions to this rule are the crawl space, attic, and basement rim joists. The only time a crawl space or attic needs a thermal barrier is when the space is used as an auxiliary living space or storage, according to Green Building Advisor.
Learn More About Michigan Insulation Code
You now have a pretty good grasp of thermal barriers, but you might have more questions about meeting code.
If you live in Michigan and want to make sure your new home or remodeling project meets code, check out our article on insulation requirements on our website.
About Amanda Ringler
Amanda previously has worked as a breaking news and crime reporter, TV news producer, and editor in Flint and Detroit. Throughout her career as a journalist, she has won several awards from The Society of Professional Journalists - Detroit Chapter and the Michigan Press Association. As part of the RetroFoam of Michigan family, Amanda uses her experience as a journalist to write content that will help educate homeowners on the benefits of foam insulation. When Amanda isn't writing, she's spending time with her husband and rescued huskies. She also loves knitting, making art, cooking, and hosting dinner and a movie night for friends and family.